Key takeaways from this article:
There are two major SIM card suppliers in Cape Verde – CVMóvel & Unitel T+.
You can purchase SIM cards from multiple locations on the popular islands, such as at the airport on Sal island.
There is good coverage across most of the islands, however if you venture into more rural locations you may find that the coverage drops.
Data is not overly expensive compared to other African countries, but we recommend buying a lower amount of data first – you can always top this up if you need to at a local kiosk.
Cafés and co-working spaces are great places to seek Wi-Fi instead of using lots of data.
What do I need to buy a SIM card?
To begin, you'll need an iPhone or Android phone that is 'unlocked', which means that it is not tied to an exclusive SIM plan or carrier.
Most modern phones are compatible with the frequencies used in Cape Verde, which are:
900 MHz (2G)
2100 MHz (3G)
800 MHz (4G/LTE)
If you are unsure, check online, searching for your mobile phone model and the frequencies it supports.
Finally, you'll also need the cash for the local SIM card. While we'll go into more detail on the pricing later, it's generally a good rule of thumb to always carry cash with you in Cape Verde, as many places do not accept card.
It is also worth noting that, depending on the area you are visiting, there may also be ATMs where you can withdraw cash. This means that you do not have to carry too much money on you at any one time.
Which suppliers operate in Cape Verde?
Within Cape Verde there are two primary SIM suppliers, these include:
CVMóvel is the largest carrier in Cape Verde with the most complete coverage, as well as a variety of packages available. This would be our personal choice between the two; however, we welcome you to consider the information that follows and choose which carrier you prefer.
Where can I purchase a SIM card?
Both CVMóvel and Unitel T+ have dedicated stores located across the islands of Cape Verde. CVMóvel tends to be more commonplace, as they also have stores across multiple islands, including Sal, one of the most popular tourist destinations.
You'll most likely be taking a flight to Sal on your journey from Europe, which means you'll be landing at Amílcar Cabral International Airport. Here, you'll find stores for CVMóvel and Unitel T+, making it quite straightforward to locate a place to buy a SIM card and use your phone abroad with mobile internet. You can also find CV Telecom and Unitel T+ stores at Praia international airport.
We've included photos of both of the stores in Sal airport below.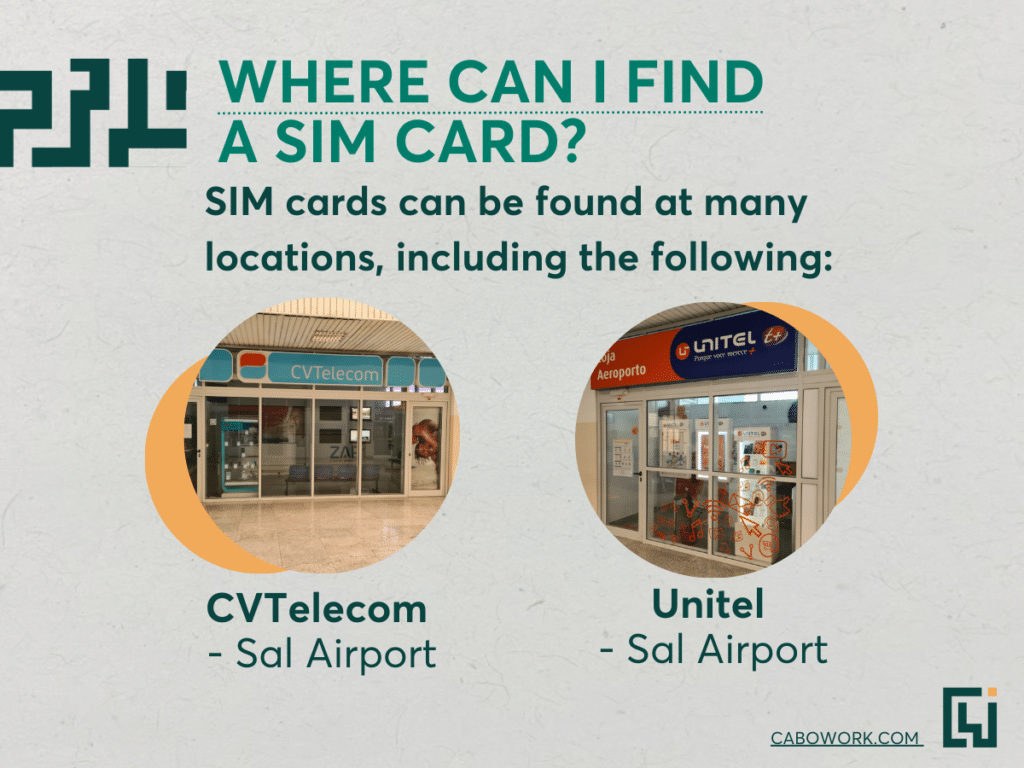 In the case that your flight arrives outside the stores' opening hours, there is also a CVMóvel store in Santa Maria, which is likely close to where you will be staying. A short trip there will help you to resolve any issues. We've included the store's opening hours below:
Monday – 8AM–12PM | 2:30–7PM
Tuesday – 8AM-12PM | 2:30-7PM
Wednesday – 8AM-12PM | 2:30-7PM
Thursday – 8AM-12PM | 2:30-7PM
Friday – 8AM-12PM | 2:30-7PM
Saturday – Closed
Sunday – Closed
#Note: Please be advised that the store may close for a short period of time around midday. We recommend arriving earlier in the morning to resolve any issues you are facing.
Other areas you can purchase SIM cards and credit:
Aside from the main stores for Unitel and CV Móvel, you can often also buy SIM cards and credit (Saldo) for internet and calls from markets, cybercafés, and petrol stations – to name a few. You'll usually see a sign on the door for these shops that lets you know if these services are available. We've included two examples below for your reference: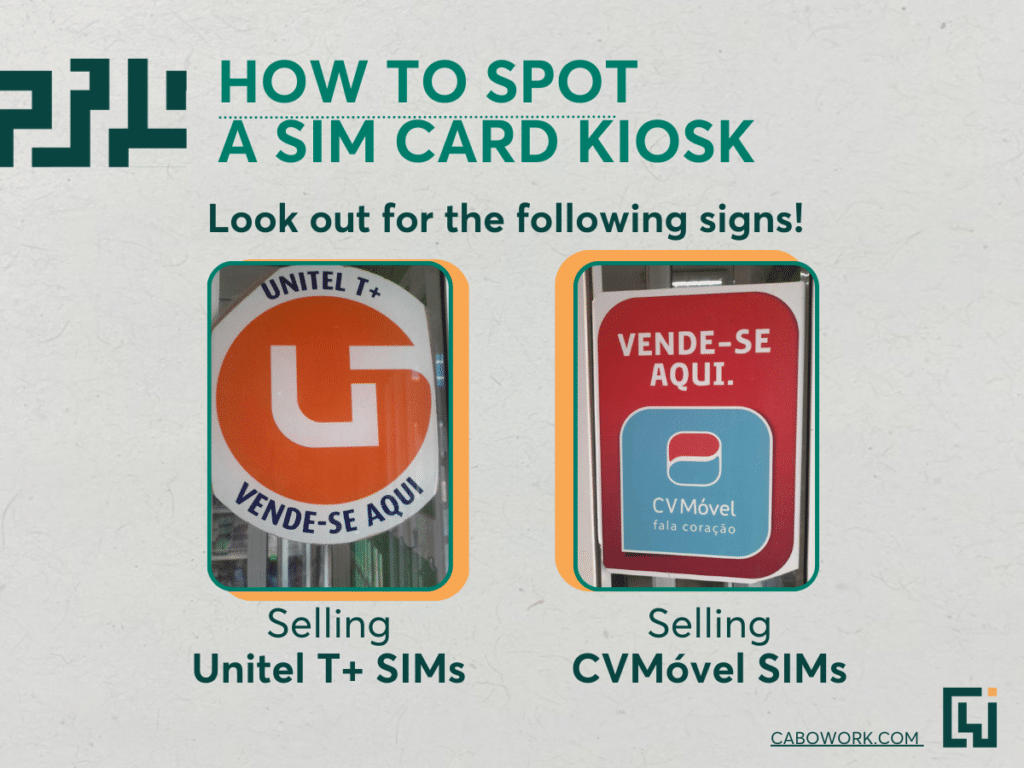 Which SIM cards are on offer?
Firstly, it's important to note that there are no-prepaid SIM cards with data available yet. Instead, there are generally two purchases that are made when you buy your SIM card.
The initial purchase is buying the SIM card itself – for both CVMóvel and Unitel T+ these are approximately 100 CVE (around €1).
Next, there are two steps:
The first step:
For CVMóvel, you have the option of either purchasing a credit voucher, speaking to a member of their staff who will redeem it directly for you, or topping up via the app.
For Unitel T+, you can either top up directly with a member of staff or do so via their app.
Please note that the possibility to top up via app can vary. We recommend visiting a store in person to purchase credit and receive a receipt.
The second step:
The next step is to use this credit to buy data packages and more directly from your phone. The method to do so varies slightly depending on the carrier (more information to follow).
You can also buy a package deal directly from a CVMóvel/Unitel T+ store or kiosk which includes data and minutes. The staff there will assist you in activating your SIM, which allows you to skip the previous step of converting the credit into data yourself.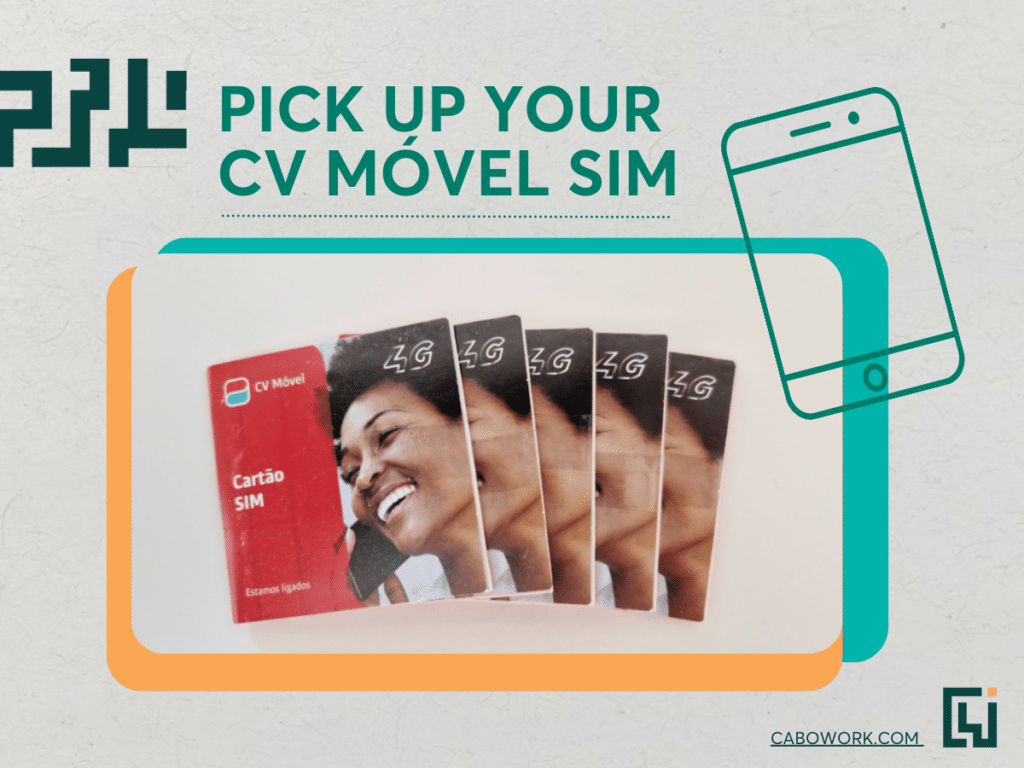 CVMóvel: Buying/using credit and checking your balance
Once you have purchased your SIM, you can start buying credit with credit vouchers. Be advised that the credit you top up does have validity depending on how much you top up, as follows:
50 CVE – 499 CVE 30 days
500 CVE – 1199 CVE 45 days
2000 CVE – 4999 CVE 90 days
5000 CVE – 150 days
Once you have bought your credit voucher, you can use the voucher code by dialling *1882[ENTERCODE]#
For example, if the code was 111111, you would dial *1882111111#
Alternatively, you can dial 188 and follow the instructions to top up, or have a staff member at a CVMóvel store assist you.
CVMóvel has an app which you can use to top up and check your balance. (Android) (iPhone).
#Tip: To check your balance, dial *#123#, or call 1881.
What packages are available from CVMóvel?
As we have stated, once you have purchased your credit, you can then proceed to purchase your packages. The four main types of packages for CVMóvel include:
Mega Recharge Service (Serviço Recarga Megas) (Data)
Instead of purchasing a traditional 'package', the Mega Recharge Service directly transfers any top-ups made into data. You can find out just how much data you receive below: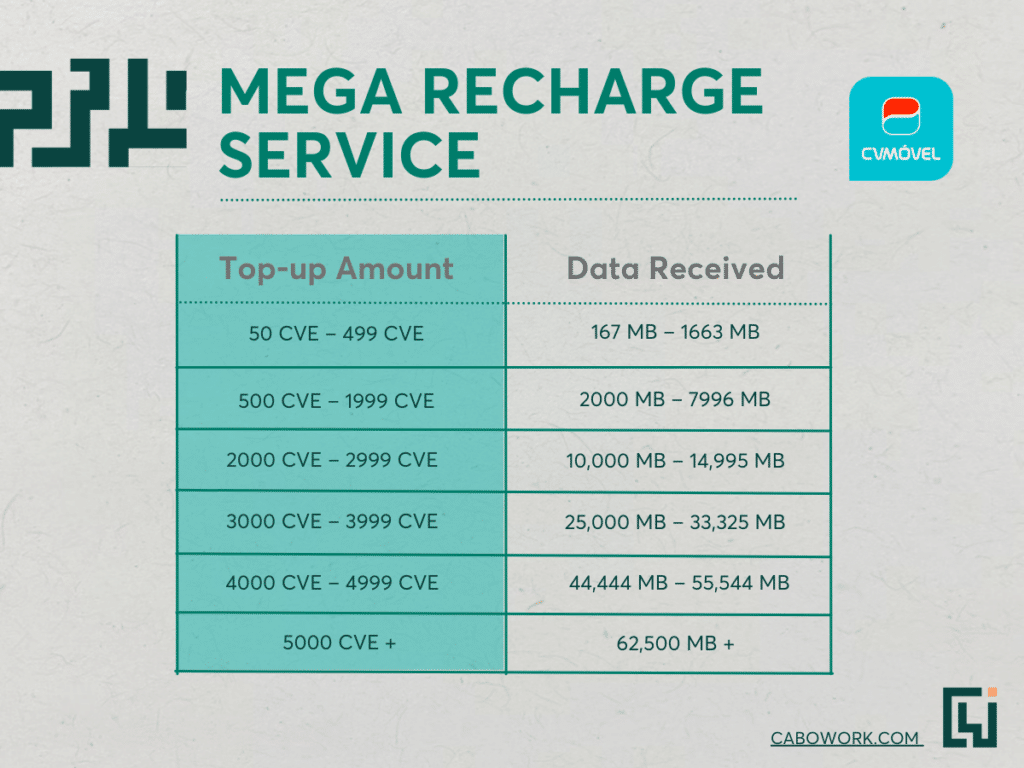 To use this service, you'll need to go into a CVMóvel store and ask for a mega top-up. You can then use the mega recharge voucher by dialling 1882[VoucherCode]*2 (no brackets). This will load the data onto your SIM immediately.
Net N@ Mon
Net N@ Mon packages are bundles that only include data – they do not include minutes or texts. You can find the package breakdown below: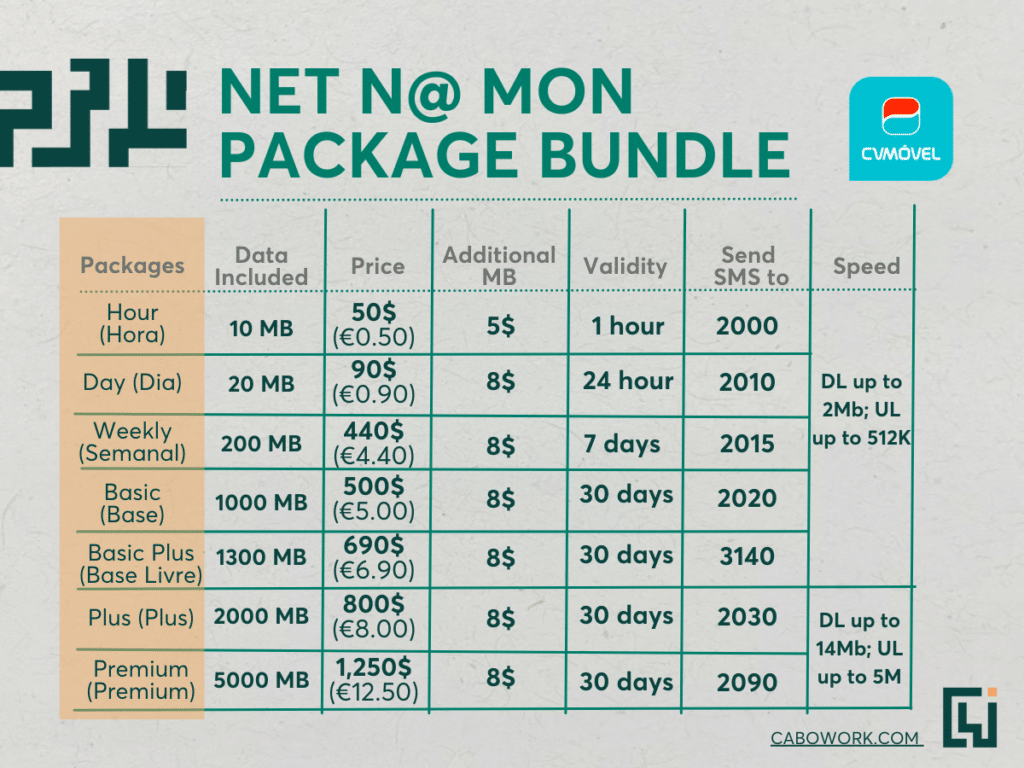 Please note that the above table from CV Móvel has not been updated on the website for quite some time, and may now have discrepancies.
Once you have purchased a package, you'll receive that much data allowance for the valid period. If you spend more data than you have purchased, you will be charged the 'additional MB' cost per MB.
#Tip: Net N@ Mon plus and premium packages currently feature the highest possible download speed in Cape Verde, 14 MB/s.
NetMóvel
The third package type, Netmóvel, differs slightly from Net N@ Mon in that the download speeds of Netmóvel packages are capped at 7 MB/s. Upload speeds are capped lower at 3 MB/s. You can recharge these packages at a CVMóvel store or kiosk.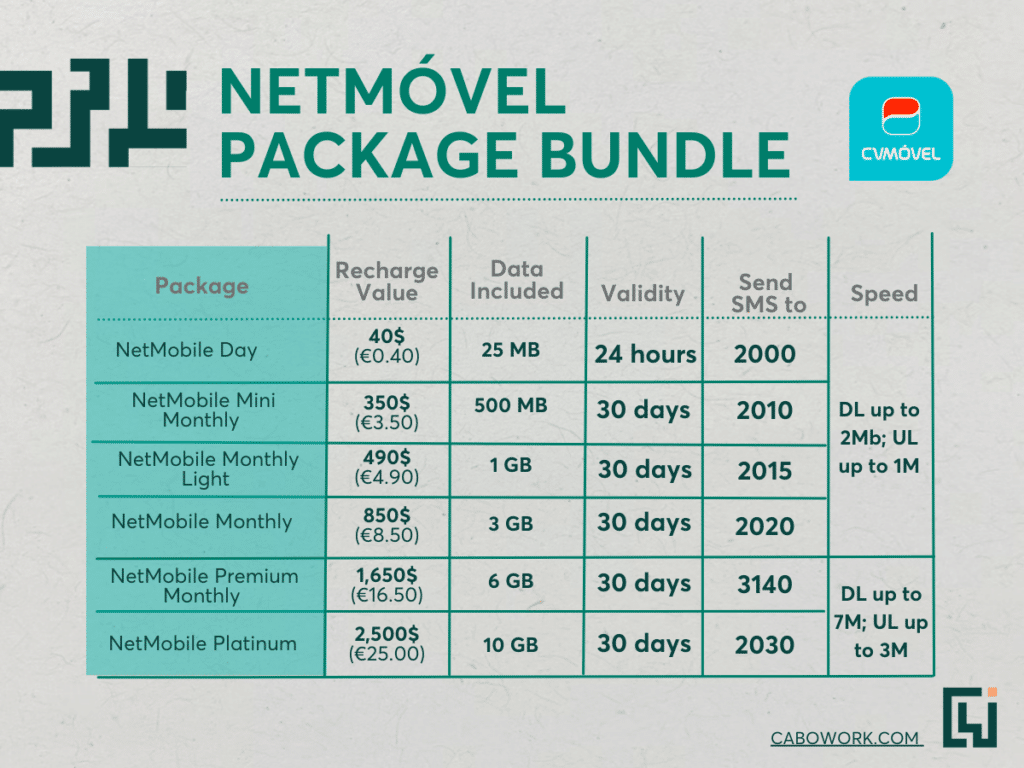 D'Kel Bom
The final tariff option available from CV Móvel are the D'kel bom packages. These packages provide a good mix of data as well as free minutes, perfect if you need pocket WiFi while being able to make phone calls when necessary. You also have unlimited calls to other CV Móvel numbers.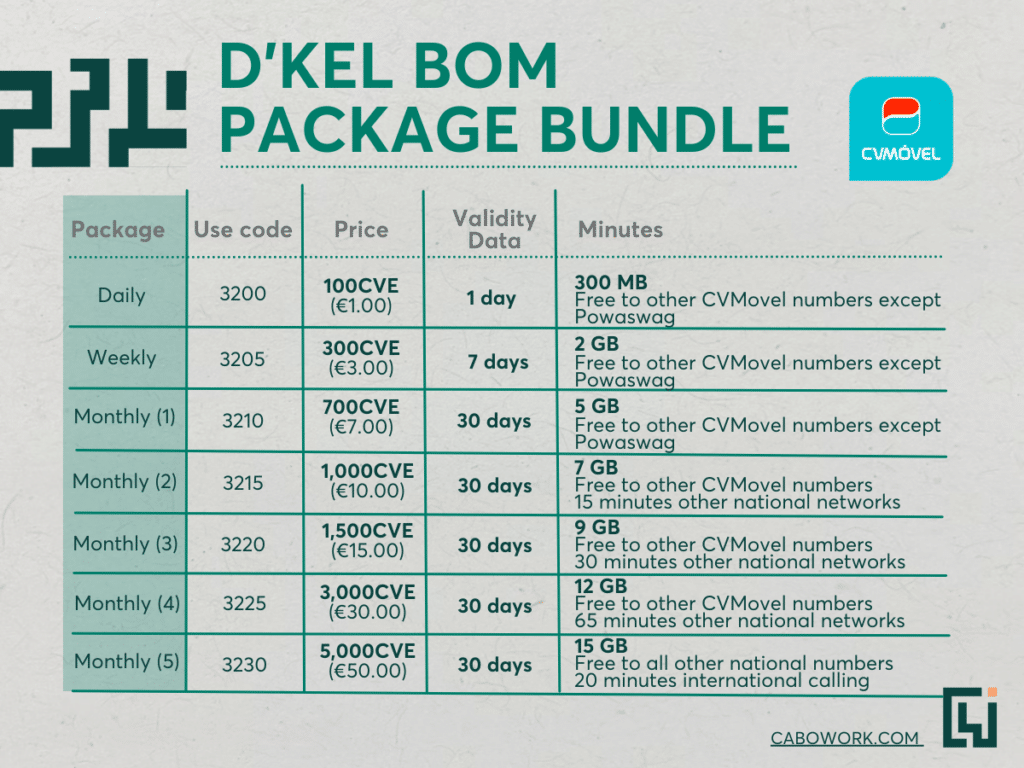 Unitel T+: Buying/using credit and checking your balance
To top up your Unitel T+ SIM, head to a Unitel store and speak to a member of staff, or top up with your existing balance by texting the Unitel number.
What packages are available from Unitel T+?
Unitel lists several options for prepaid internet packages on their website, which are as follows.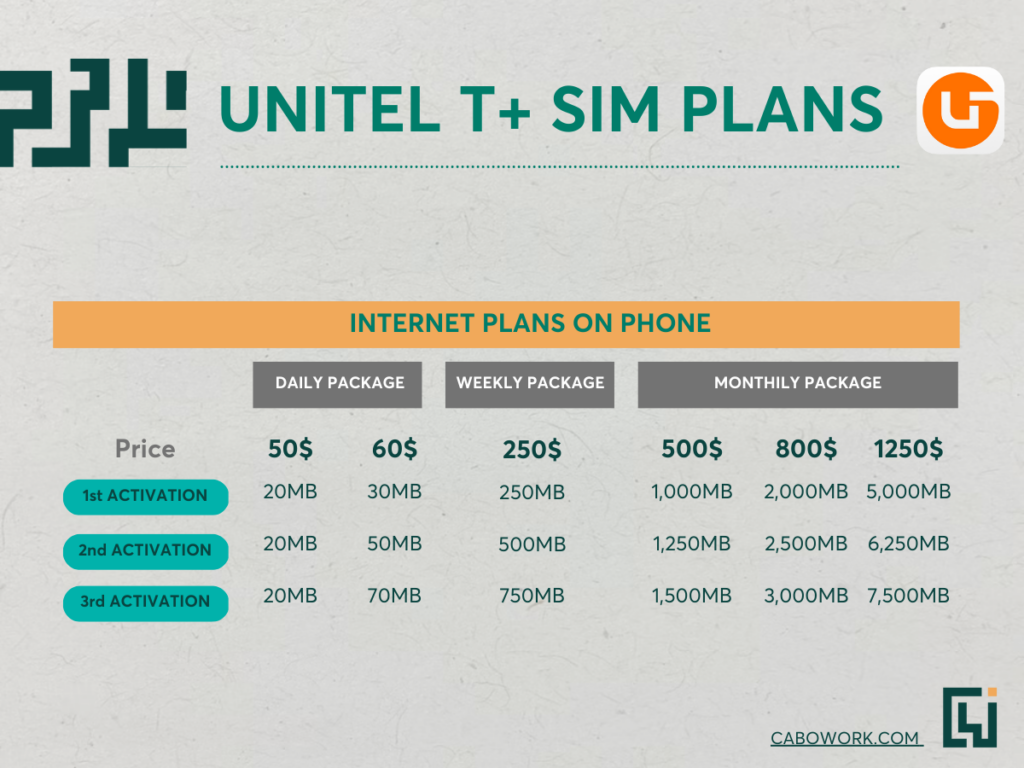 Packages Keywords:
Daily package 20 MB: keyword is d
Daily package 30 MB: keyword is d3
Weekly package 250 MB: keyword is s
Monthly package 1,000 MB: keyword is m1
Monthly package 2,000 MB: keyword is m2
Monthly package 5,000 MB: m5
As outlined in the table above, there are three categories of 'activation.' This means that the first time you purchase a package, you will receive the 1st activation data amount. If you then purchase that package again, you will receive the 2nd activation amount, until you reach the 3rd and final activation amount.
To activate your desired package, first load the required amount of credit onto your SIM at your local Unitel T+ store or kiosk. Next, type the keyword of the package you want via SMS text message to 707. This will then automatically withdraw your credit and activate the correct package.
Below, you will find a list of the appropriate codes and phone numbers to access certain services for Unitel T+: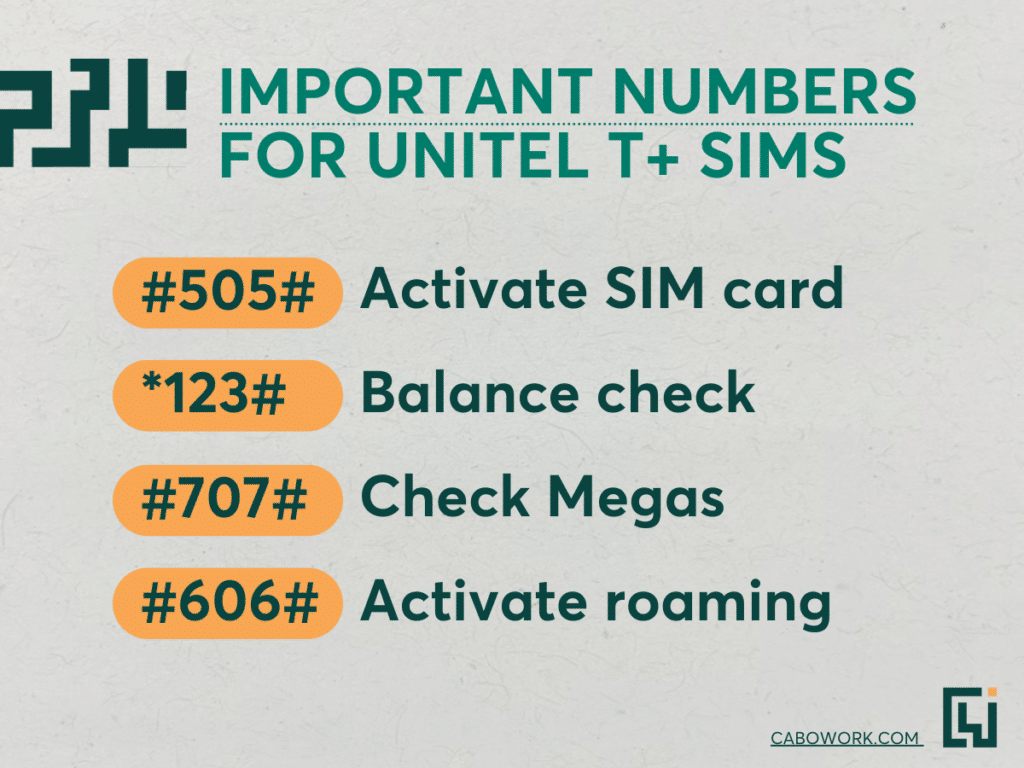 If you would like to check how much credit you have, you can either use the Unitel T+ app, dial #707#, or send an SMS to 707 with the word "balance" (no quotation marks).
Combination Tariffs
Unitel also offers several packages which combine texts, minutes, and data. You can find details of these packages below.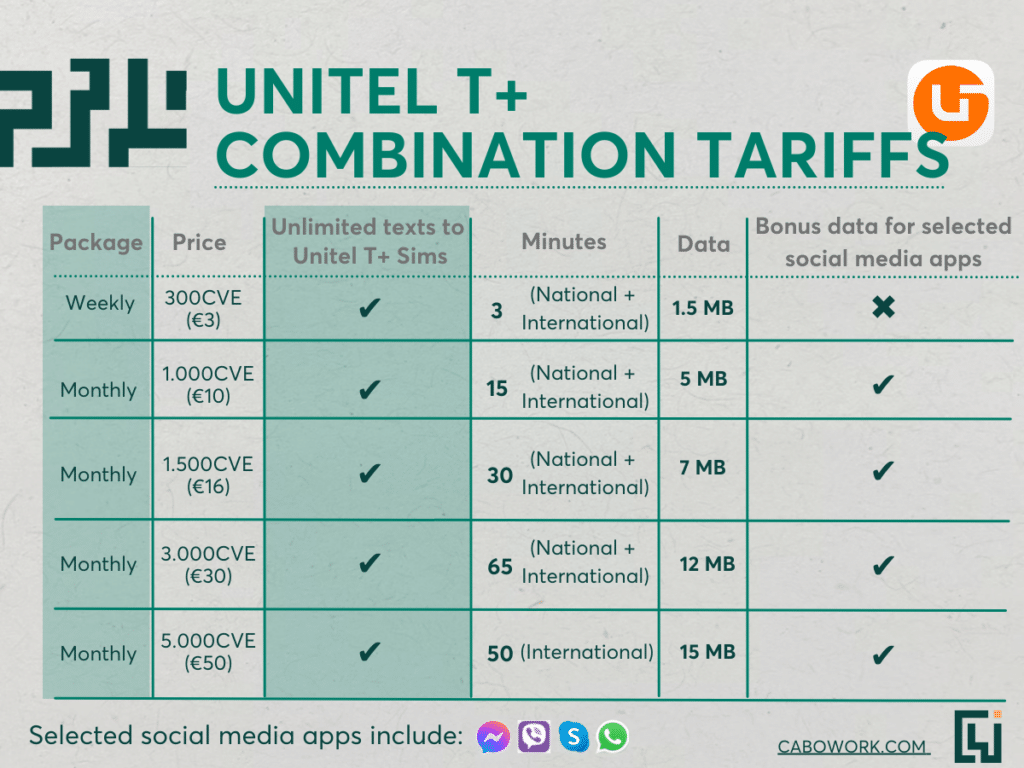 As you can see in the table above, these packages range from weekly to monthly, with all plans including unlimited SMS. The packages also include unlimited use of select apps, including. WhatsApp, Messenger, Skype, and Viber.
How to troubleshoot issues with your SIM
First, try to identify the problem – is your signal too weak? Are you unable to connect to a certain network or having trouble accessing data? Once you understand the issue, try resetting your device at least once by turning it off and on again.
If that doesn't work, check whether any of the tabs or slides on your device have been moved inadvertently – for example, this could indicate that aeroplane mode has been enabled.
If in doubt, we recommend going to a local shop for your SIM carrier and ask for them to check the SIM.
What is the internet quality like in Cape Verde?
Generally, the internet coverage in Cape Verde is quite good, covering the majority of the islands. If you are travelling to Sal or Boa Vista, you should have no problem connecting to data services when using a Cape Verde SIM card.
Unfortunately, the download speeds are capped at a maximum of 14.4 MB/s, although this shouldn't be a problem for general browsing and for social media. We recommend connecting to a Wi-Fi hotspot where you can, in order to conserve your data.
Are there public Wi-Fi networks in Cape Verde?
Free WiFi connections can often be found in cafés and restaurants, but are not necessarily guaranteed! Whilst connecting to these services is usually free, as a token of respect it is recommended that you purchase food or drinks while you are there (you are filling a seat, after all).
Places you can find Wi-Fi networks include:
Coworking spaces:
Coworking spaces are a paid service where you rent out a dedicated workstation for a certain period of time. You'll have access to lightning-fast Wi-Fi, as well as other office-based amenities.
Building a digital nomad community is often a core objective for coworking spaces, connecting remote workers together through social and networking events. We recommend checking out local coworking spaces when you arrive in Cape Verde.
Coffee shops
Ahh, the classic coffee shop. Who doesn't love grabbing a warm (or cold!) brew while chatting with friends or flicking through notifications? The good news is that coffee shops are plentiful on the islands of Cabo Verde. While you'll often find free WiFi networks at these cafés, make sure to grab a coffee or two to say thanks!
For remote workers needing to get their caffeine fix, spending time at a coffee shop can be a great way to catch up on emails while sipping a local brew.