Cape Verde Transport – Travel by aeroplane
Travelling internally by plane in Cabo Verde is extremely simple and is one of the most popular options for domestic travel. The only Cape Verdean airline operates under the name BestFly Cabo Verde.
We recommend booking your tickets in advance to secure your space – this can be done on the BestFly website. We have also found that these flights do not always appear on flight comparison websites like Skyscanner, so it is worth checking directly on their website.
#Tip: Make sure to check the local travel advice when moving between the islands.
Pros:
Fast and seamless travel between islands
Flights available between most Cape Verde islands
Cons:
More expensive than the ferry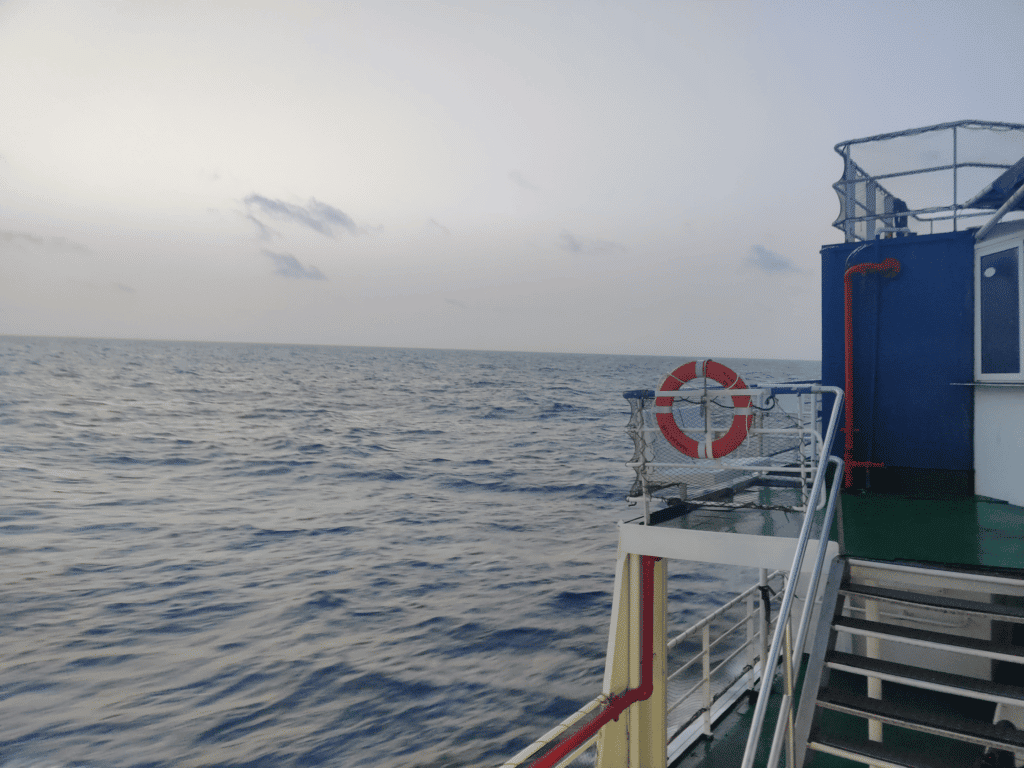 Travel by ferry services
Calling all sailors! For those looking to get or already have their sea legs, then a trip by ferry across the Atlantic Ocean cannot be missed. The ferry routes operate between every island, including Brava (from Fogo) and Santo Antão (from São Vicente).
As for how long the ferry rides take, this is heavily dependent on which islands you are travelling between and the weather conditions that day. While travelling between the islands can make for a great experience, you may choose to opt for the flight option where ferry journey lengths are long.
For the latest internal travel advice and timetables for ferries, view the official website: https://www.cvinterilhas.cv/home
Pros:
Ferry tickets are cheaper than flight ones
Meet with locals and other travellers on the decks
Cons:
Depending on the weather, the trip can be extremely smooth or very choppy
Ferry boarding times should be taken with a pinch of salt
Not all journeys taken while in Cape Verde need to be long-distance. In fact, there are plenty of options available for those looking to explore the islands by land.
The aluguer / collectivo
This is common form of transport used throughout the islands. Essentially a minibus that travels along a scheduled route, the aluguer or 'collectivo' as it is commonly known, is a very affordable method of transport when you're looking to travel around the islands.
On Santiago island, for example, collectivo routes run throughout the island. This includes a route from Praia, the capital city of Cape Verde situated on the southern side of Santiago, all the way through to Taraffal, a city located on the northern part.
Pros
Very cheap. A journey from Praia to Taraffal took 90 minutes and cost only 500 Cape Verde escudo
You'll fit right in with the locals here as you see them load and unload goods along the way
Cons
Depending on the route you take, the collectivo can take a bit longer than a taxi would
If you carry extra luggage, you'll need to pay for any extra seats occupied
Taxi
Travelling by Taxi can be an affordable and convenient method of transportation, especially over shorter distances. Taxis in Cape Verde are held to the local laws and regulations, including insurance as well as a taxi license.
Taxis are also more common in the bigger cities such as Santa Maria on Sal and Praia on Santiago. The taxis in Santa Maria are a distinctive blue and yellow colour and are very easy to spot. However, every city has its own taxi colour. Don't be afraid to ask the drivers for local advice either, they often can tell you about activities to try and things to see during your stay.
Prices are often negotiable, however most drivers will offer a fair price the first time. For example, a trip between Sal airport and Santa Maria during the day will cost approximately €15, however this price can increase during the nighttime.
On the more tourist-popular islands, such as Sal, you will be able to use either euros or the local escudos. However if you are planning to travel to other islands we recommend keeping some escudos on you to be on the safe side.
Pros
Quick and efficient means of travel over land
Drivers usually speak English which is a bonus for communication
Cons
Can be expensive over longer distances when compared with the collectivo
Rental car
While some may be quick to recommend renting a car if you are planning to stay for a while in Cape Verde, we find this to be extremely subjective depending on the island you are visiting. Some islands have greater road infrastructure, which makes exploring on your own easier, others however are not so easy to traverse. We recommend doing a bit of your own research on the island you would like to visit before coming to a decision.
What's more, rental cars are more expensive when compared to taxis, and navigation apps like Google Maps do not cover the islands completely. Many tourist hotspots are located down dirt roads which are likely not visible on these apps.
For those looking to achieve self-sufficiency, another option is to rent out a taxi for the day. You won't have to worry about driving and navigation, and you'll be accompanied by a driver who knows the local area well.
Pros
Able to explore at your own rate
Good for day trips and longer excursions
Allows you to be completely self-sufficient
Cons
Fuel prices can be expensive
Smaller pool of available rental vehicles on the islands
Navigation apps like Google Maps only have limited use
Rent a bike
For a relaxed island, sometimes you also need a relaxed form of transportation, especially if you are planning to stay in one place for a while. Bikes shine in both urban and rural areas, so if you're a cycling enthusiast you'll be happy to know there are numerous rental bike services across the islands.
If mountain cycling is your thing, then Santiago and Santo Antão are great islands to explore, with fantastic views to reward you when you get to the top. Aside from regular street bikes, you'll also find e-bikes available to give you an extra boost when you are tired.
However, it should be noted that, especially on remote routes, environmental factors such as the common thorny bushes can quickly lead to punctures. If you do decide to take a bike out, you will need to either bring the tools necessary to patch the tires or have the number of the rental company to call for help if necessary.
Pros
An affordable means of exploring the local area
Environmentally friendly
Cons
You will likely not be travelling long distances with them
Punctures are common thanks to thorny bushes and sharp objects