Key takeaways from this article:
Sal island is the most popular island in Cape Verde for international visitors.
There is a range of restaurants available, specialising in a variety of cuisines.
The peaceful island provides a good mix between an international and Cape Verdean lifestyle.
You can find plenty of cafés to work from here!
Part 1: Setting the scene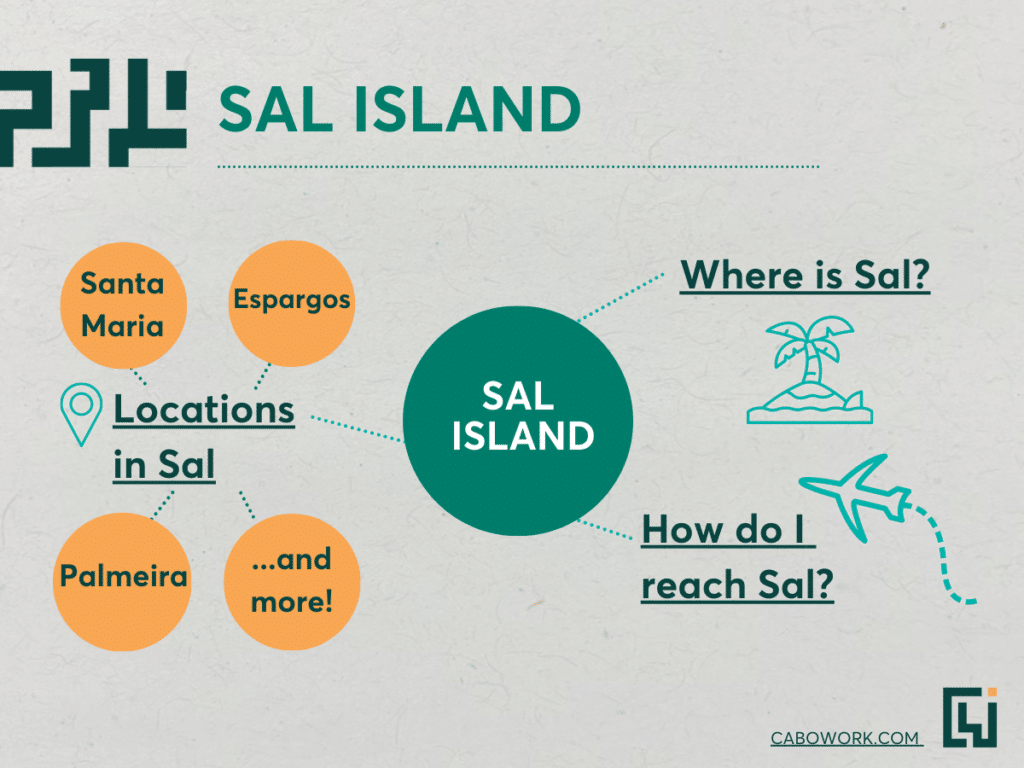 Where is Sal?
Sal is the most north-easterly island in the archipelago, which enjoys warm climate of between 20-30 °C year-round. Due to its proximity to the African coastline, Sal is one of three Cape Verdean islands (Sal, Boa Vista, Maio) that have been eroded over time by the Saharan winds. This has made the island very flat with a distinctive red colouring.
How do I reach Sal?
Sal is one of the easiest islands to reach for international tourists, as it has its own airport with daily inbound and outbound flights. You won't find too many of the world's leading travel companies flying to Sal, however the TUI group, one of Europe's most popular airlines, does frequently fly to the islands.
From many European countries, Sal is approximately a 6-hour flight away, however from Lisbon the flight time is reduced to just over 4 hours. Due to its relative closeness to Europe, many people take flight-inclusive holidays in Sal.
Locations in Sal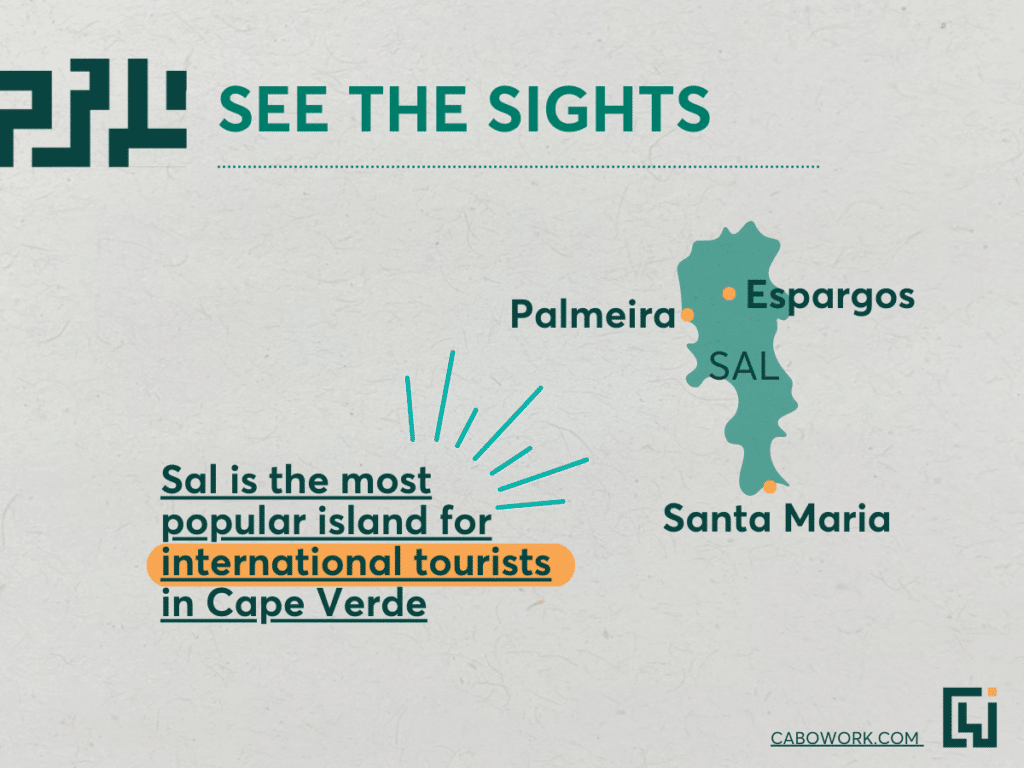 While many travellers flock to the popular town of Santa Maria in Sal, there are other fantastic locations to visit for those looking to venture a little outside of town. We'll be looking at three locations today: Santa Maria (and the beach!), Espargos, and Palmeira.
Santa Maria
The most popular destination on Sal island for international travellers, Santa Maria is well-equipped to cater for tourists, with many restaurants, bars, and cafés available to choose from. Santa Maria is situated on the southern side of the island, a great location for food lovers and tourists that is a 15-20 minute taxi ride away from the airport.
Santa Maria Beach (Praia de Santa Maria)
You can't go on a trip to Santa Maria without spending some time at the gorgeous Santa Maria beach. Whether you are taking a relaxing time away from work for a week or are planning to move to the islands as a digital nomad, Santa Maria is the perfect place to get some much-needed R&R time.
You can also find many beach bars and restaurants right next door, so as soon as you're feeling peckish you can sate that appetite with some delicious local food.
Espargos
Espargos is the official capital of Sal, with an estimated population of around 6000-7000 people. Situated in the centre of the island, it forms the main commercial centre of Sal island with a predominantly local feel. Although it can be tempting to spend all of your time in Santa Maria (especially at the beach), we highly recommend checking out Espargos as well, as part of an island tour or a self-led expedition.
Palmeira
A relatively quiet town located on the western side of Sal, Palmeira harbour is the main port of Sal and is where you will arrive if you take the ferry to Sal from another island. We recommend spending a couple of hours here at a local bar or restaurant as a quiet retreat from Santa Maria. There are also quite a few ocean excursions that begin in Palmeira.
Part 2: Getting to know the island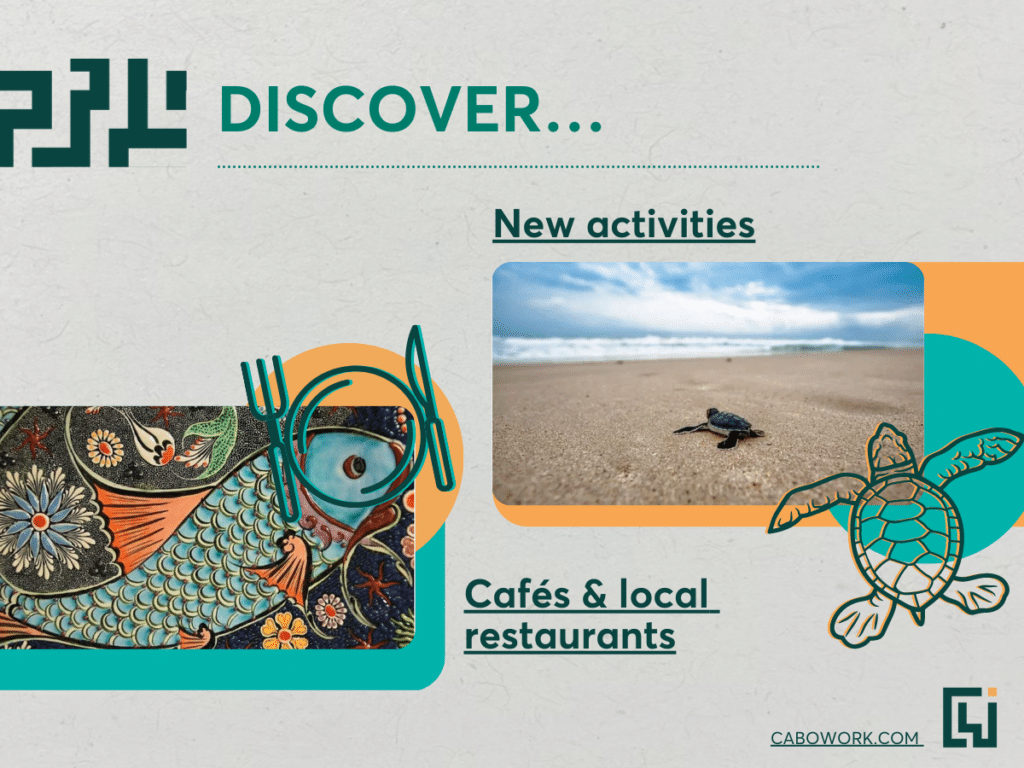 Now it's time to look a little closer at the popular island of Sal. From local restaurants stocked with fresh fish to embarking on journeys that will thrill and amaze you, Sal has a lot to offer both tourists and remote workers.
Cafés & local restaurants
Due to the number of tourists that visit the island every year, there are plenty of restaurants for you to visit during your stay. You'll find restaurants and cafés primarily focused in the town of Santa Maria; however, they can also be found in Espargos and Palmeira.
The perfect way to wake up in the morning is to take a stroll down to a local cafe, such as Cape Fruit or Esplanada Bom Gosto, sipping away at a piping hot coffee while planning the day ahead. Or you can truly embrace the local motto of "no stress" and see where the day takes you.
Depending on how long you stay on the island for, eating every meal at a beachside restaurant can quickly add up. Unless you are staying at an all-inclusive resort, we recommend heading a little further into the town to find better deals on food and keep costs down.
Activities
Although Cape Verde has a reputation for providing the perfect laid-back holiday atmosphere, something we definitely need from time to time, one of the best parts about Sal island is that there are activities to suit all tastes and budgets.
Island tour
An island tour is great to get a first impression of the whole island and the variety of possible activities offered on the island. You can see not only the highlights of Sal Island but also engage in other activities along the way! We highly recommend booking onto a tour like this full-day Sal island experience, which dives deep into the history and culture of the island, showing you some really incredible spots along the way.
Tickets for this tour start at €35 and can be booked online here.
Windsurfing
If you're an adrenaline junkie that wants to try out a new sport, or you're an experienced wave-tamer, Sal features some of the best spots to go windsurfing. Santa Maria beach is popular for beginner and intermediate windsurfers alike, so if your accommodation is located close by, why not give it a try?
Kite Surfing
For a great kite surfing experience, you need a location with the perfect wind conditions and air temperature. Look no further than the island of Sal, which features waves of all sizes, perfect for beginners and experienced kit surfers. It's also very rare for there to be no wind days, so you won't experience much downtime due to a lack of waves.
Turtle watching
For a truly magical experience, an excursion to see the turtles at night is highly recommended. From June to October, there are three different species of turtles that call the islands their home. The most common is the loggerhead turtle, and you can witness these turtles emerging on the beaches for yourself!
Visit the sharks
While turtles may be cute and cuddly, there's also something special about spending time close to sharks as well. Located on the northern side of the island is a stretch of coast known as Shark Bay, which hosts a nursery for the small lemon sharks. These sharks are harmless to humans, and there are plenty of local tours which provide information on the sharks and get you up close and personal.
Transportation
The primary form of transport on the island of Sal is by taxi. Unless you are taking a bus from the airport to your hotel, you'll be using a taxi to get to your accommodation. If you're planning to take a trip to other parts of the island, then you'll also most likely use a taxi to get there. In Santa Maria, you'll find taxi drivers throughout the town, so it's never an issue to find a friendly driver. It costs about €10 for a one-way trip from Sal airport to Santa Maria.
Once you've found a driver that you like, you can also ask for their card, which can be very useful if you choose to venture a little further afield and need a return journey.
There is also the option for car rental; however, this can be quite expensive and isn't necessary thanks to the availability of taxis.
Scenery & climate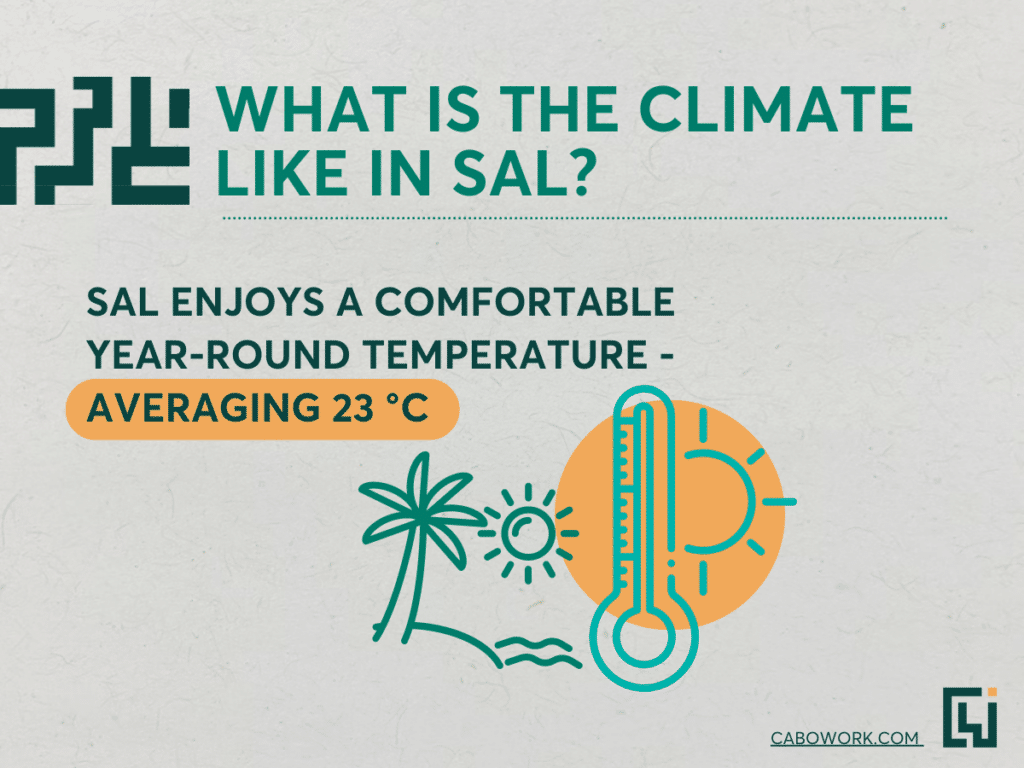 Every Cape Verdean island features its own unique scenery and Sal island is no exception. When you first fly to Sal, you'll be struck by the red and flat landscape that is typical of most of the island. However, there is so much more to see, with golden beaches and swaying palm trees waiting for you too. Sal enjoys around 350 days of sunshine a year and thanks to the consistent climate it's possible to do kite surfing all year round.
Accommodation
Your choice of accommodation will depend on your preferences, as Sal features all-inclusive resorts to cosy guest houses. Costs will vary depending on your chosen accommodation, and generally, longer-term accommodation will work out cheaper on a day-by-day basis.
Examples of longer-term accommodation include fully-furnished apartments which can be found in Santa Maria. Accommodation costs do also vary depending on whether you are travelling during the high or low tourist season. In the low season, good deals can be found on packaged flight and hotel stays, as well as rented apartments.
Nightlife
Once you've spent a day full of relaxation or enjoyable excursions, it's time to let your hair down with Sal's nightlife. When the sun goes down, the bars and cafés turn into dance floors with local music and more. This is a good place to mingle with locals and other tourists, as the party spills out onto the streets.
In Santa Maria, you can hop between bars to find the atmosphere you like the most. DJs will mix both international and local tracks, and live music can be found on almost every corner. The nightlife is at its busiest at the weekends.
Hidden treasures
There are a few things to do on Sal that are easy to overlook for the first-time traveller to Cape Verde. We highly recommend taking the time to visit and do some of the following, helping you to see all of what Sal Island has to offer.
The Blue Eye (Buracona)
Tucked away along the coastline of Palmeira, The Blue Eye is a must-see for anyone spending time on Sal. The Blue Eye is a natural rock pool that, when the light hits it just right, transforms into a majestic turquoise colour that is truly breathtaking.
There is an entrance fee of approximately €3, as well as a gift shop which sells hand-made jewellery and other souvenirs.
Try some grogue/ponche
For those who enjoy a sip of alcohol from time to time, why not try out some of Cape Verde's local brews, such as grogue or ponche? Grogue is similar to rum, distilled from sugar cane at approximately 40% alcohol. Ponche, on the other hand, uses grogue as a base alongside a variety of fruit to make a delicious cocktail.
Part 3: Should you move to Sal as a digital nomad?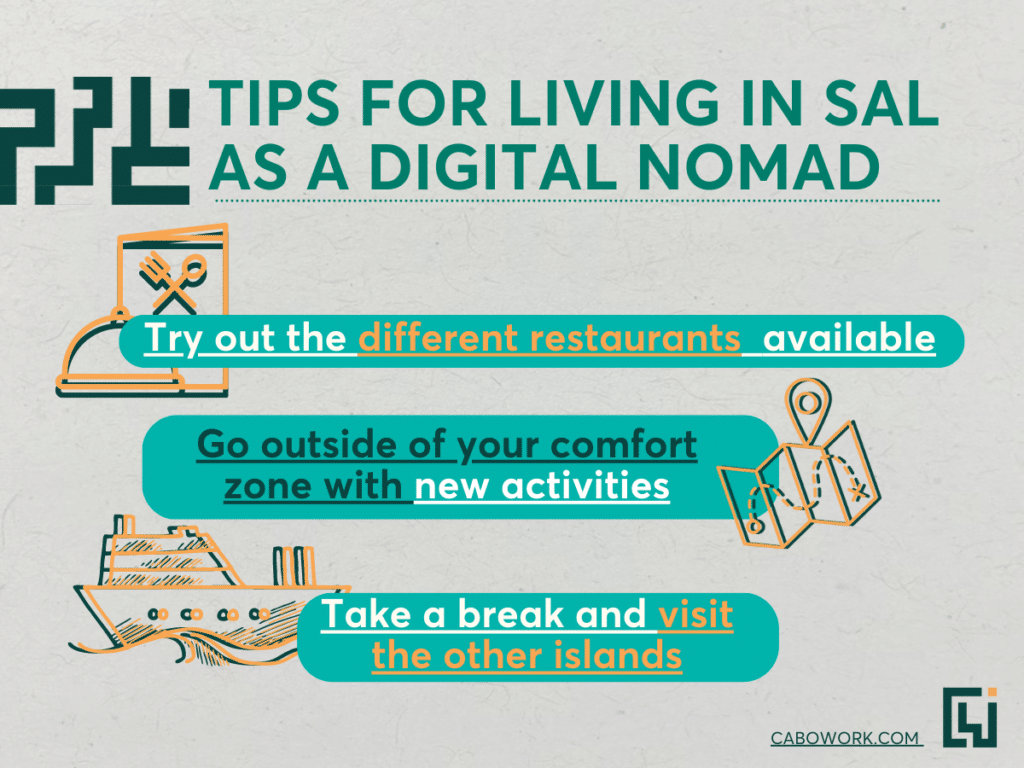 For remote workers and digital nomads, it can sometimes be a bit of a head-scratcher to decide where to go next. You'll need to take in a bunch of factors, including visa availability, budgeting, activities available and more. If you'd like to spend some time in Cape Verde on a more touristic island, then we think Sal is a fantastic island for you to make your base. There's plenty of accommodation available, as well as cafés and restaurants where you can work from!
From Sal, it's also easy to hop across to other islands, such as Santo Antão or Santiago, and experience a more local way of life. One of the best parts about living in Cape Verde is that you are not tied to a single island, but have many to explore as you travel.