Complete Cost of Living Cape Verde – An overview.
Just as each island in Cape Verde features unique geography and culture, so too do they differ when it comes to the cost of living. For more touristic islands, such as Sal & Boa Vista, the cost of living tends to be higher. No farming takes place here, so all products have to be imported, which increases costs. On the other hand, for the more local islands such as São Vicente or Santo Antão, prices for goods tend to be lower.
Of course, no matter where you live, your cost of living will depend on your lifestyle. If you prefer some of your home comforts, then you will likely pay more than you did back home. If you choose to live more locally, however, you can live relatively cheaply.
So let's dive into our cost of living guide for Cape Verde. First, we'll go over a few reasons why we think it's a great idea to move to Cape Verde, both in the short-term and in the long-term.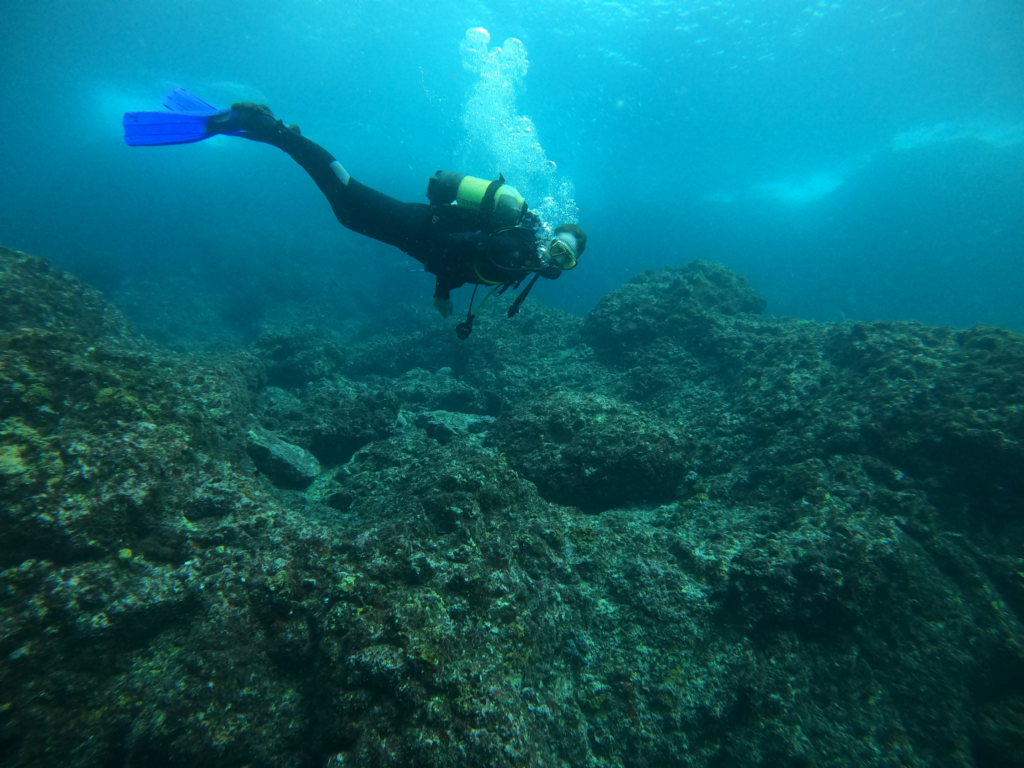 Why should you move to Cape Verde?
Cape Verde is known as the Caribbean of West Africa for a reason. 'Laidback' and 'no stress' form the core of what makes Cape Verde so special. No wonder the islands are a popular destination for tourists seeking a relaxed holiday from Europe.
While we're on the subject of holiday destinations, Cape Verde is approximately a 6-hour flight from Europe, making it a very accessible country to visit. You can fly in the morning and be sipping cocktails on the beach by the afternoon.
Cape Verde has a lot to offer travellers seeking an easygoing lifestyle, however don't let that fool you. For those looking to amp up the pace, activities such as windsurfing and diving are also very popular.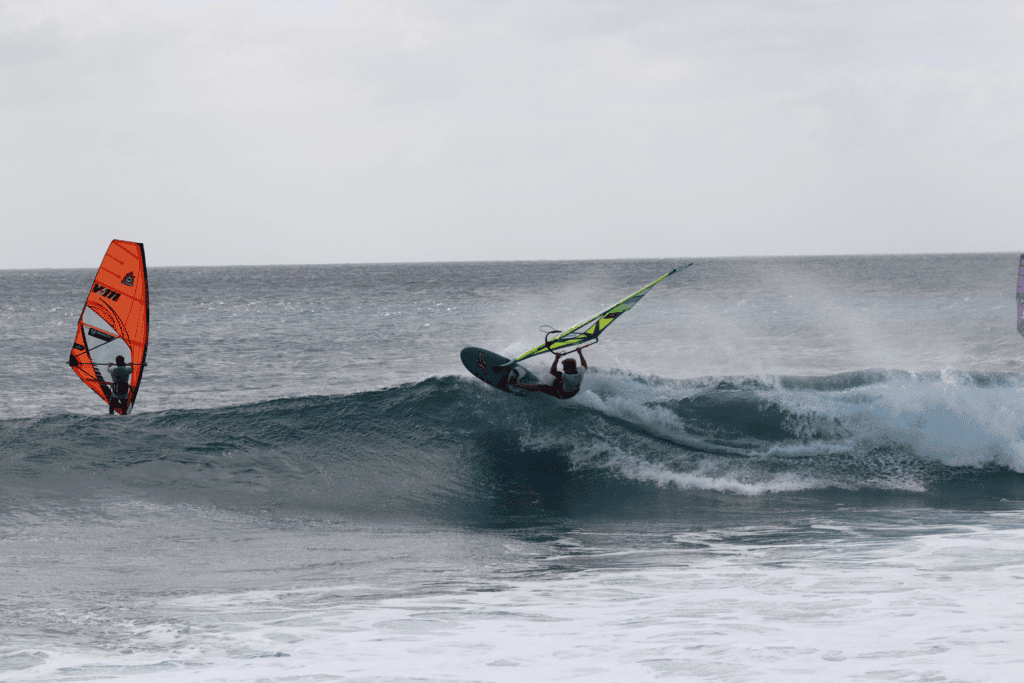 Digital nomad essentials
For remote workers considering moving to Cabo Verde, you'll find a strong mobile network service, low data costs, as well as dedicated WiFi network providers that will keep your online operations running smoothly. There are also plenty of cafes and restaurants that you can visit and work from should you wish to.
Cape Verde also has a growing digital nomad community drawing in remote workers from across the world. If you're looking to be a part of the community (and we recommend it!), join our Facebook group to ask any questions and view our tips on living here.
Cape Verde cost of living – the breakdown.
We've broken the typical costs you'll find associated with living in Cape Verde into individual categories, including accommodation, food, luxury goods, transport, and activities. One thing to take note of is, no matter the category, the cost of living does vary from island to island. This can be due to a number of factors, including how touristic an island is, to the availability of resources.
Accommodation:
The cost of accommodation will vary depending on how long you intend to stay for. If you are planning to travel as part of the remote working program, you will be able to stay for 6 months with the possibility of extending for another 6 months.
This means that it will be more affordable to search for long-term accommodation. On the other hand, if you are looking to travel for a few weeks, then a short-term option would be ideal for you.
In general, short-term deals tend to be more expensive on a night-by-night basis than long-term equivalents. Short-term deals include options such as hotels and guesthouses (although some hotels do offer long-term deals), which would comparatively be more expensive than renting a flat for a few months.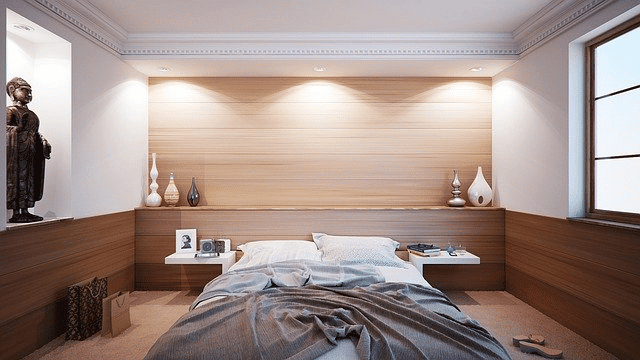 Accommodation deals do also vary depending on island location. The more touristic islands such as Sal and Boa Vista will likely have a higher fee than accommodation options on less-touristic islands, such as Santiago or São Vicente. You can often find good deals on the less-touristic islands if you search carefully.
When considering which island to stay on, think about how local you would like to live – as such amenities which are on Sal or Boa Vista may not be as available on the other islands. At the end of the day, it depends on which sort of lifestyle you would like to have while on the islands.
Tourist centres on Sal and Boa Vista
In Santa Maria on Sal and in Sal Rei on Boa Vista, studios and flats with one bedroom are available at European standards for shorter-term and long-term rentals. This includes tourist accommodation such as aparthotels or holiday flats from 500 euros. However, prices often range from 700 to 1,500 euros. Semi-furnished or one-bedroom flats can also be rented from private landlords for as little as 300 euros.
When comparing prices, it is important to pay attention to whether ancillary costs such as electricity, water, and WiFi are already included in the rental price or whether they have to be paid additionally. This is handled very differently, especially for long-term rentals in aparthotels and holiday flats.
If the additional costs are billed separately, it is important to find out in advance at which prices per kWh the consumption is billed in order to avoid unpleasant surprises. You should also be careful when "condominium fees" are mentioned. Here, it must be clearly regulated how high these monthly costs will be.
Larger cities on Santiago and São Vicente
In the capital Praia or in Mindelo on São Vicente, there are many more flats and houses available for rent. Accordingly, the prices are often lower. It is important to note here whether flats or houses are rented furnished or unfurnished.
You'll find furnished houses available from 35 euros per day to 500 euros per month available in the city centre and surrounding areas. For unfurnished properties, the rent varies between 250 and 400 euros. If you choose to live in the more rural areas, you can expect to find unfurnished houses for 170 to 220 euros.
Other cities and islands
Prices vary greatly depending on the standard and location. Especially in smaller towns, you often have to search for the right property yourself, as they rarely work with estate agents. But if you are interested in getting in touch with locals anyway, this is the first step.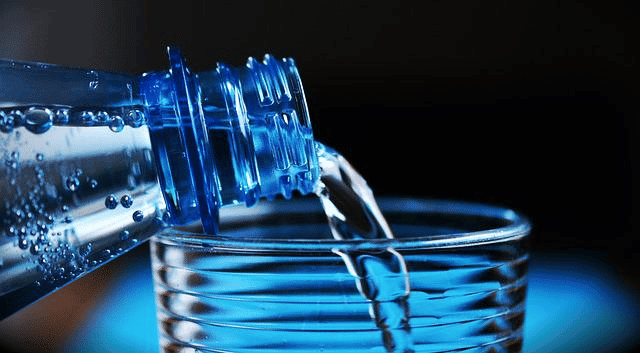 Utilities
Water and electricity bills are comparable to Europe in cost. However, it's also important to mention that, should you opt for a property with AC, then these units will draw more power and increase your electricity bill.
While Cabo Verde does feature near year-round sun and a warm climate, in some areas, such as the villages in the mountains of Santo Antão, the temperature can dip substantially. In this case, a source of heating will be required when the temperature lowers at night – so be sure to bring thick blankets!
Internet
Cape Verde features quite advanced and quality internet which is available either through a dedicated router in your apartment or via mobile. We do recommend getting a SIM card in Cape Verde as this can serve as a backup mobile hotspot as well. In any case, there will be a mobile service provider tariff associated with this.
If you are planning a long-term stay in Cape Verde, you may need to install internet in your apartment. This can be arranged by getting in touch with a local provider, such as CV Telecom.
Unlimited internet with phone and cable TV can vary between 40 to 80 euros per month.
Food & Groceries:
There are many fantastic food options to try in Cape Verde. From local restaurant meals to buying from local markets, you'll be spoiled for choice. Seafood lovers will also revel in the fantastic fresh fish that is on offer daily. Learn from local chefs or experiment for yourself, the culinary options are endless.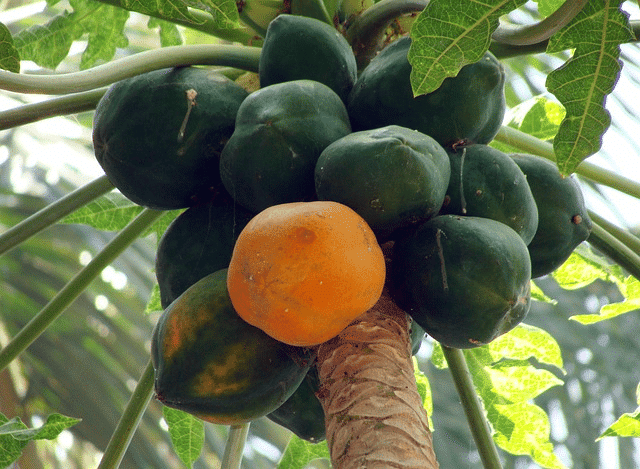 Imported products vs Local grown
A large factor in the price of goods is whether they are imported, as they are often subject to high shipping fees. The average grocery prices and product prices of these goods will be higher than if you were to buy them from within Europe.
As Sal and Boa Vista are more tourist-driven islands, the availability of international goods is broader – the equivalent cost will be higher as previously mentioned. However, even Cape Verdean products imported from the other islands will have a higher price tag.
The average prices of fresh fruit and vegetables also vary greatly, depending on the season. Prices drop significantly during the main harvest season. In the off-season, prices rise significantly because the vegetables are only available from certain regions or because of higher costs due to the irrigation of the plants.
In general, the prices for groceries will vary depending on the island. In Santiago, for example, quite a lot of local vegetables are grown there. In a good rainy season, more crops will be produced.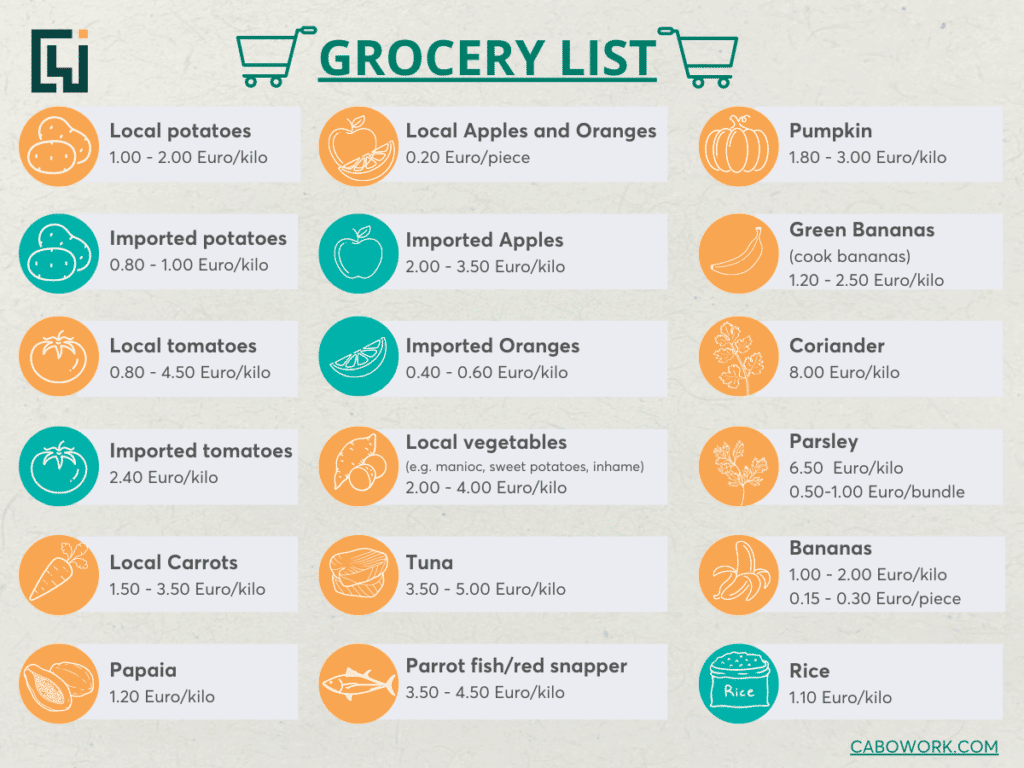 Local Cooking
Living on a less touristic island such as Santiago or Santo Antão and cooking with local ingredients can be quite cheap. With the average price of local ingredients being low, this can be a good way of saving money, and your accommodation costs will also be lower than in Sal or Boa Vista.
When living on the less touristic islands, most local restaurants will focus on local cuisine, rather than featuring other cuisines which you would find on Sal or Boa Vista. Visiting an inexpensive restaurant that serves local food will better orientate you as a local, which is perfect if you want to live a local lifestyle.
Clothing & luxury goods:
When disaster strikes and you stain or rip your trusty pair of shorts, it may be high time for you to get yourself a new pair. You won't find a major international retail store or global chain store in Cape Verde, but rather local markets which sell clothing and other useful products. Markets often operate on specific days, you'll quickly learn which days these are when you arrive. Haggling at the markets makes for a super-interesting activity and you can come away with a bargain if your are successful.
A lot of clothes that are sold in stores are imported, which consequently means that they will be subject to importing fees and taxes, making them more expensive. By purchasing African-style clothing at the market you can buy affordable clothing, you can feel much more at home in the local environment.
It's worth noting as well that the quality of certain local products, such as sun cream, can differ when compared to those from a quality international brand. Unless you are planning on bringing 20 bottles of sun cream, you'll eventually need to buy some from local supermarkets. If you are living in a rural area, you'll likely need to travel to a local city or town which stocks these.
#Tip: Tailors also make made-to-measure clothing, such as dresses or shirts.
Transport:
One of the best parts about living in Cape Verde is the options available for inter-island travel. There are so many sights to see and activities to do across the islands, so it's inevitable that you'll be travelling between the islands at some point. For inter-island travel, you'll either be taking the ferry or flying.
Ferries are the cheapest form of inter-island travel, however the journey time is usually longer than flying. On the other hand, the cost of flying can quickly add up but will save you travel time. It's a good idea to budget for island travel during your stay.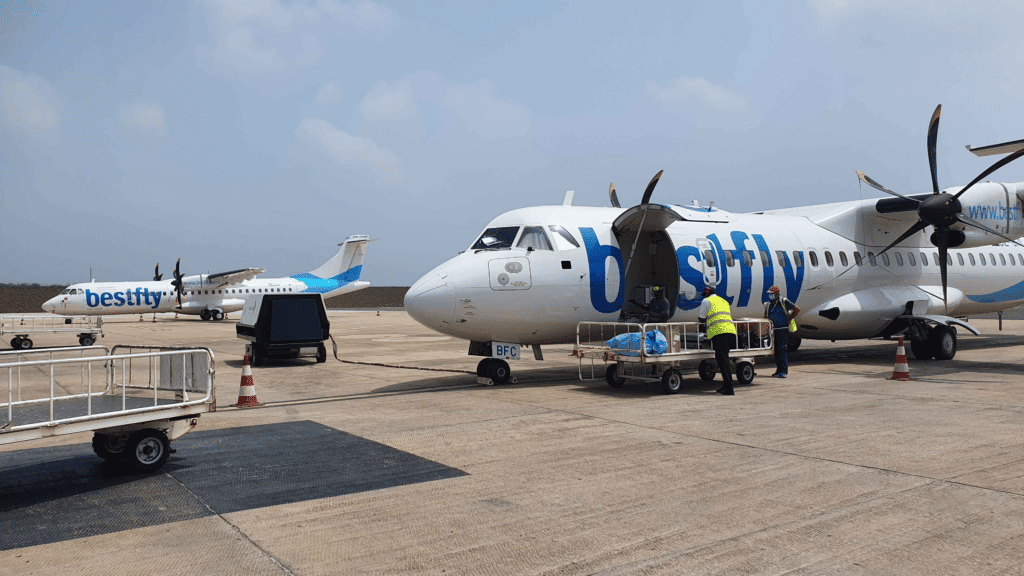 Ground transport
When travelling around on an island, a popular form of transport is taxi. Taxis can be quite cheap when travelling a short distance, however they are more expensive as you travel further. You can negotiate the price with the driver before you leave, however they are for the most part fair with their prices.
Another option is taking the 'collectivo' or 'aluguer', which is essentially a shared minivan that transports individuals along a set route. This is a much more cost-effective method of travelling long distances and will connect you to more rural areas.
International flights
As there are currently only a limited number of airlines flying to Cape Verde, prices can rise, especially during the holiday season. At the same time, however, the range of flight connections and airlines flying to Cape Verde is constantly expanding. Those who rely on flying out of the country often should take a closer look at the airfares to the destinations that are relevant to them.
Activities & Fitness:
There are many activities on Cape Verde to sink your teeth into. Some are suited for high-octane individuals, such as windsurfing or jet skiing, and some are more relaxing, including spending time at the beach and going on a boat cruise.
When it comes to cost, activities such as hiking and spending time at the beach will be free. If you decide to do some more tourist-orientated activities, such as day excursions, you can expect to pay tourist prices. That's not to say that you won't find good deals on activities, especially in the low season for travel.
Fitness
Keeping fit is an important part of staying healthy, both mentally and physically. There are gym options available on different islands, however these will generally not be as well-equipped as European gyms. If you do decide to go for this option, there will be an associated sports club membership cost. Even so, they are great places to work out and meet like-minded individuals.
Many people choose to do their fitness outside, such as jogging or working out on the beach, hiking, or walking. This is free and you'll also be able to explore the beautiful islands while doing so.