Key takeaways from this article:
The Cape Verde islands are extremely safe to visit, especially when compared to many other African countries; however, we recommend taking the usual precautions to protect your valuables.
Be extra careful when heading into crowded areas, as these areas may be frequented by pickpockets.
Travelling solo as a woman is very safe; however, authorities recommend avoiding walking alone at night, especially in darker urban areas.
Where does crime occur in Cape Verde?
The majority of crimes tend to happen in urban areas, with the capital Praia having the highest crime rates in the country. Crime levels are lower in popular tourist islands, such as Sal and Boa Vista, however petty theft still does occur – we recommend being extra cautious with valuables.
Are the beaches in Cape Verde safe?
Beaches in popular tourist areas (such as Santa Maria beach on Sal island) are largely regarded as safe, with lifeguards often on duty to assist those in need of help. The police also regularly patrol these areas, which helps to deter potential crime.
However, beaches located away from tourist areas will likely lack lifeguard supervision; therefore we recommend taking sensible precautions and only swimming if you feel confident in your ability. The currents surrounding Cape Verde can be quite powerful, with large waves resulting from high winds. Other important beach safety tips include:
While uncommon, jellyfish can wash up ashore – avoid contact wherever possible.
Do not venture out into deep sea, even if you are a strong swimmer.
Only swim if you are with someone who can alert the authorities if needed.
Do not leave any valuables on the beach. Instead, leave them in a safe place in your hotel.
Is it safe to travel with children in Cape Verde?
Cape Verde is very popular with families looking to enjoy a relaxing beach break, with many resort hotels offering attractive package deals. Many of these hotels have dedicated children's facilities, as well as direct access to the beach.
It is important to wear sun cream and stay in the shade where possible. As the seas around Cape Verde can have strong currents, we recommend young children only swim in the hotel swimming pool or in shallow and safe areas.
Is it safe to travel as a woman in Cape Verde?
Women travelling through Cape Verde can do so without facing any issues (1). It is possible, especially in the urban areas, for women to face irritating cat calling from local Cape Verdean men, however reports of assault on foreign travellers are very low (2).
We recommend avoiding travelling alone at night where possible, especially through unlit urban areas.
Travelling with a disability in Cape Verde
While there are a few areas within Cape Verde that are more accommodating towards travellers with a disability, those visiting may be frustrated by the general lack of infrastructure allowing easy travel.
While there are local laws in place to help eliminate discrimination against disabled persons, Cape Verde's tourism is developing faster than its infrastructure.
To ensure you have the most comfortable trip possible, we recommend contacting a specialist Cape Verde travel agent that is very familiar with the areas you would like to visit. From there, they will work with you to create a travel itinerary that suits your needs.
What is the political situation like in Cape Verde?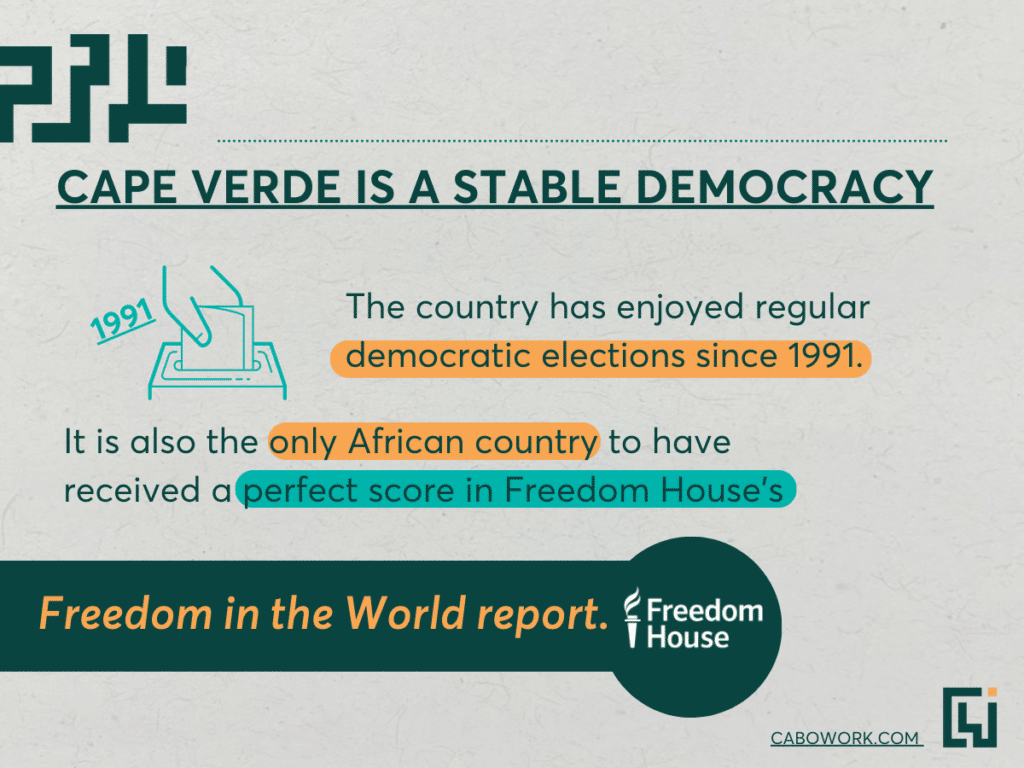 In 1992, Cape Verde established itself as a democratic republic and consequently upholds all the rights and freedoms typical of a democracy. As a result, Cape Verde has continued to be one of the most stable countries in Africa and is considered very safe for tourists to visit. There is also freedom of press enjoyed throughout the country and the elections are considered unbiased and fair.
Very few demonstrations in Cape Verde pose a risk to tourists. However, we recommend reviewing advice from your local country on this before your holiday.
Is transport safe in Cape Verde?
When it comes to taking transport in Cape Verde, taxi is by far the most popular option. It is also very safe to do so, as any illegal activity is dissuaded by the fact that the locals know each other. If you feel uncomfortable about calling a taxi straight from the street, you can also organise a taxi through your hotel.
Another option available to you while staying in Cape Verde is to hire your own vehicle. This tends to be a more expensive alternative to taxis, especially when staying on the smaller islands. If you do find yourself looking to take trips to multiple destinations in one day, then hiring a taxi for a day may be a more suitable alternative.
Driving in Cape Verde
When driving in Cape Verde, roads within urban areas tend to be in good condition, however roads in more rural areas may be more difficult to drive on. Always be aware of other motorists in your area and drive defensively. City buses and taxis may also stop without warning.
Diseases and medical treatment in Cape Verde
Cape Verde has a robust healthcare system on its most populated islands, with hospitals on Santiago and São Vicente. However, it is important to note that if you are planning to head to the more remote islands, medical equipment and coverage will likely not be as comprehensive there.
This is why it is essential to have full medical insurance that includes returning you to your home country in the event of serious injury.
Many of the diseases found in mainland Africa are not found in Cape Verde; however, we recommend ensuring you are up-to-date with any vaccinations recommended by your home country.
Climate and volcanic activity
Cape Verde enjoys a warm and sunny climate throughout most of the year; however, there is a minor rainy season between late July through to early October.
Try to stay hydrated when travelling, especially if you intend to take part in more strenuous activities, such as walking hiking trails or spending a lot of time in the sun. Heat exhaustion is a common problem, and you should drink water as often as you can!
The potential for natural disasters occurring is also very low; however, there is the slight possibility of volcanic activity in certain areas, such as Fogo, one of the southern islands and home of the Pico do Fogo volcano. Do make sure to listen to local reports on volcanic activity if visiting the island, to ensure you stay on the safe side.
Terrorism levels in Cape Verde
As a stable democratic country, the threat of terror-related activities in Cape Verde is extremely low. Political gatherings that may pose a potential threat to foreign nationals are also extremely rare. If you do spot any suspicious activity, we advise reporting this directly to the local authorities.
Our Top 7 Cape Verde Safety Tips:
1) Keep your valuables safe
Petty crimes such as theft and pickpocketing tend to be more common in areas with high tourism. It is a good idea to keep your valuables in a secure location, such as a hotel safe. It is also not advisable to keep a lot of cash on you at any given time, we do not recommend wearing lavish jewellery, as this may persuade potential pickpocketers to target you. We also highly recommend that you get travel insurance to cover your valuables.
2) Ensure you have proper medical coverage
Unfortunately, accidents do happen, and in such an event it's best to be prepared. There are medical facilities available, with the most comprehensive services offered in hospitals in São Vicente and Santiago. Operations are also performed on most of the other islands as well, however the medical coverage may not be as complete as in São Vicente and Santiago.
In the event of a serious injury, especially on the other islands, you must have adequate insurance to cover your medical expenses.
3) Be aware of your surroundings
While most areas across the archipelago are safe for you to visit, it's best to avoid isolated areas when the sun goes down, and to be alert in crowded environments – even if you are a seasoned adventurer. These areas can be prime spots for theft and make it extremely difficult to identify the perpetrator.
Try to be as aware as possible when travelling to new areas and remember that as a tourist, you do have a slightly higher chance of being a victim of pickpocketing or bag-snatching.
4) Drink plenty of water
A golden rule when travelling outside in countries with a warmer climate is to drink plenty of water. Dizziness and headaches can result from dehydration, which will affect the quality of your holiday. In serious cases, overexposure to high temperatures can cause heat stroke, so remember to also take breaks in the shade and rest often if you are taking part in strenuous activities.
5) Check you are up-to-date with your vaccinations
Many of the diseases which can be found within mainland Africa are not found in Cape Verde, in part due to the quality of the medical facilities available. There have been some isolated cases of malaria and dengue fever registered in some of the more remote locations in the country, however these are generally not a risk to travellers.
6) Read local advice before you visit
For the most up-to-date travel advice on visiting Cape Verde, we recommend reading local advice from your home country before you visit. This advice can help ensure you are aware of any potential risks associated with your visit and prepare appropriately.
7) Travel in groups
Not only does travelling in groups help ensure your safety, especially at nighttime, but it will also give you peace of mind that someone else can assist you if any troubles arise. This does not mean that crimes against groups of people do not happen, so we still recommend staying vigilant at all times.