Key takeaways from this article:
Praia is the capital of Cape Verde and is where the most accommodation and amenities can be found!
The town of Tarrafal is well worth a visit! It's full of music, great food, and a wonderful beach.
You can use a taxi to get around, but taking a collectivo (shared minibus) is much cheaper!
Strap on your shoes and give hiking in Santiago a go! There are plenty of amazing trails to try.
Part 1: Setting the scene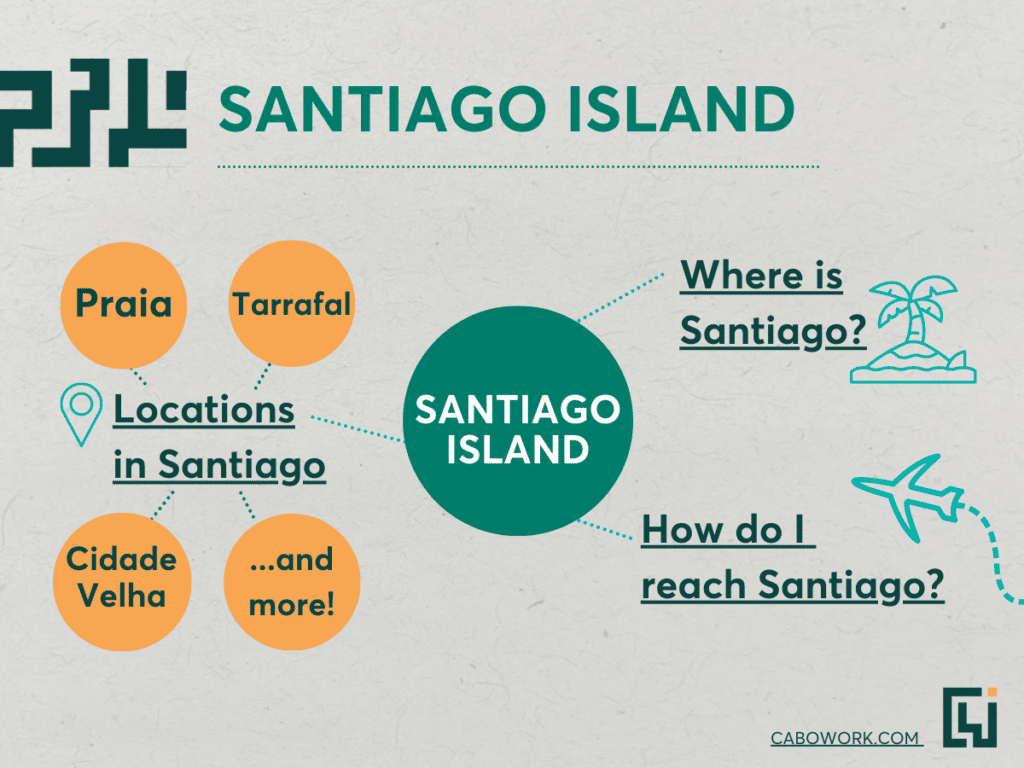 Where is Santiago?
While all of Cape Verde's islands are of volcanic origin, Santiago island features some of the most stunning and dramatic landscapes found anywhere in the archipelago. Situated in the southern region of Cape Verde, it's easy to travel to the other islands, either by plane or by ferry.
How do I reach Santiago?
Most international flights travel to either Sal or Boa Vista, with these areas being popular amongst tourists. From there, Santiago is only a 45-minute plane journey from Sal and 35 minutes from Boa Vista.
However, with TAP you can fly directly from Lisbon to Santiago up to twice a day. Flights from many international destinations are possible via the hub in Lisbon. You can also fly directly to Praia from the Azores with SATA. Royal Air Maroc offers connections from Casablanca.
Locations in Santiago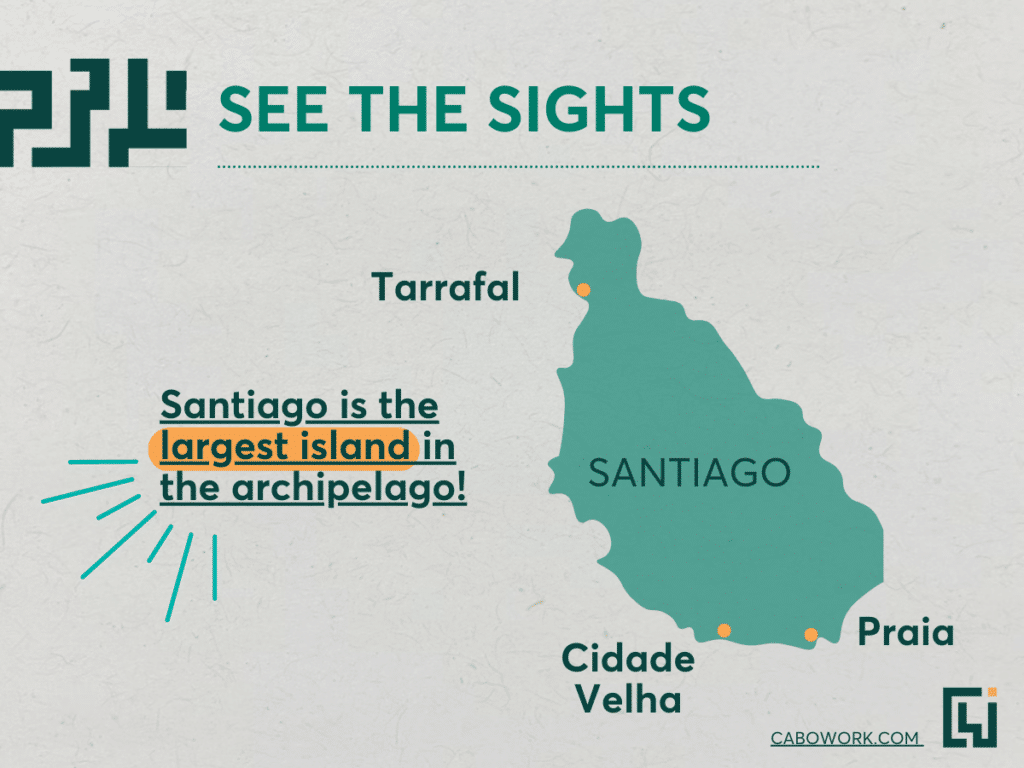 One of the most inviting aspects of Santiago is the range of places to see, from historic cities to peaceful and rural villages. Most of the areas can be seen within a few days, however, even in this short time span, you can learn a lot about not only the local culture but Cape Verde's history too.
Praia
It's impossible to visit the island without first seeing Praia, the capital city of Cape Verde. You'll land at Praia international airport, where you'll then most likely take a taxi into the heart of the city. It's then easy to take the collectivo (shared minibus) to other parts of the island, or travel by taxi.
You can also check out the Plateu, which is home to many old colonial houses. Over the years, the modern capital of Praia has continued to develop around the Plateu. If you're looking for accommodation that is cosy and rich in history, we recommend looking for accommodation here.
Tarrafal
Popular amongst both Cape Verdeans and international travellers alike, Tarrafal is known for its fantastic beach and chilled atmosphere. There's also plenty of history to explore here too, with Tarrafal being home to Cape Verde's former concentration camp.
Cidade Velha
As the oldest settlement in Cape Verde, Cidade Velha (or Old Town in English) was once the capital of Cape Verde. However, after frequent pirate attacks in the 16th century, the growth of the city slowed down, while the popularity of Praia continued to rise.
In modern times, Cidade Velha is well worth seeing for the rich history to be found. Only about a 20-minute drive away from Praia, the city is also recognised as a UNESCO World Heritage Site!
Part 2: Getting to know the island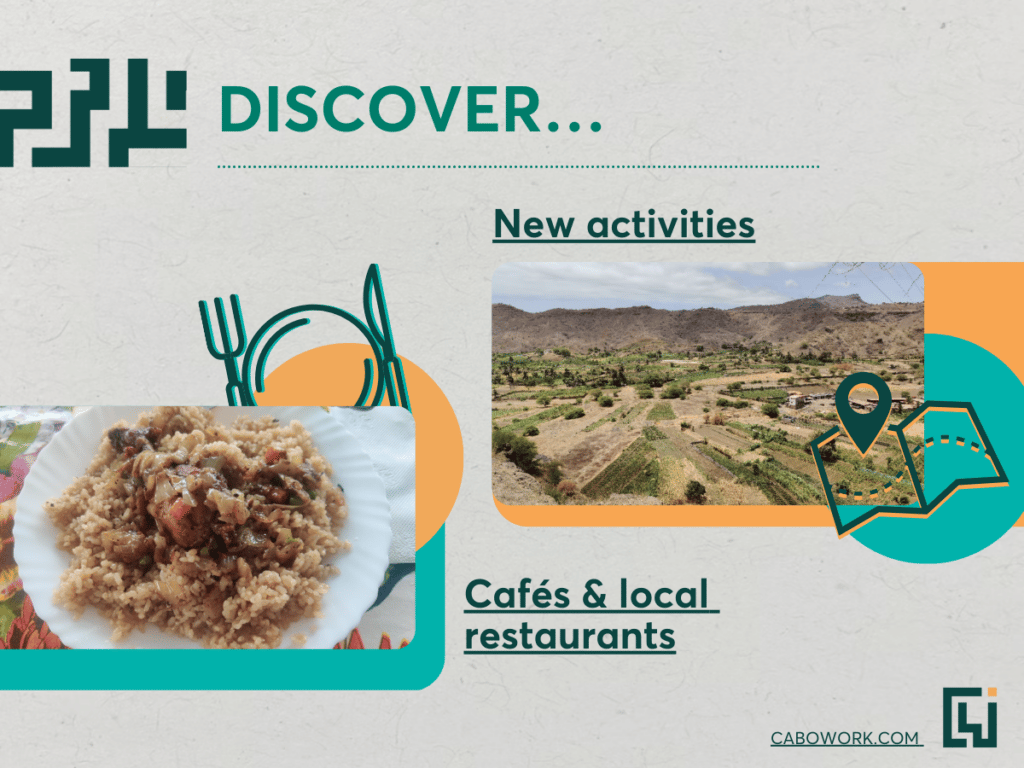 Cafés and local restaurants
From the busy streets of Praia to the calm beachfront of Tarrafal, there are plenty of local cafés and restaurants for you to try during your travels. Explore the heart of Praia with local food from Café Sofia and Kaza Katxupa, or go further afield and explore some of the weekly markets.
In Tarrafal, you'll also find many wonderful places to explore, such as Café Central Tarrafal, where you can grab a coffee during the day, or get a larger bite to eat at Restaurante Maracuja.
Activities
Travelling away from popular tourist islands like Sal and Boa Vista may mean you're away from the bulk of the international crowd, but that doesn't mean there's any shortage of things to do. In fact, we'd go as far as to say there's even more things to explore and see in Santiago!
Explore the Capital
You can't say you've truly seen Cape Verde until you've visited and explored its largest settlement. You can quite easily cover the majority of the city in a day or two. Here are some notable locations to check out in Praia:
The presidential palace – Constructed in 1894, the pretty presidential palace was originally built to be the residence of the Portuguese governor of Cape Verde. Today, the palace serves as the official seat for the prime minister.
Mercado de Sucupira – Praia is home to many markets, however the Mercado de Sucupira stands out as one of the most popular amongst the locals. It's a joy to take a journey through the market while traders haggle over prices. Although there are many markets in Praia, Sucupira is the only one where you can find everything. Due to the hustle and bustle, it can be quite easy to get lost, and you should always take care of your belongings. In the case that you do get lost, we recommend finding the nearest exit and establishing where you are from there.
Prainha Beach – Taking a step away from the vibrant city streets to Prainha Beach is a choice you won't regret. Soak up some sun or enjoy some drinks at the beachside cafés, or do both!
Hiking
Santiago offers some truly stunning scenery that is best explored not by car or ferry, but on foot. There are hiking routes all across the island, with routes for beginner and experienced hikers alike. While you can reach many of these areas by car, we do recommend getting in touch with a local tour guide, who will be able to show you the hiking trails.
For beginners, we recommend taking a few hours' trek through the Calabaceira Valley, also known as the Green Valley. You can opt to do this with a local guide or make the trip solo.
For those with some extra experience under their belt, you may even consider the greatest challenge on the island, hiking Santiago's tallest mountain, Pico da Antónia. At 1,392 metres, you'll have a stunning panoramic view of Santiago island in all its glory.
We only recommend hiking with a local guide on Santiago for two reasons:
Hiking trails on Santiago are not pure hiking trails, but utility trails. Therefore, they are not recognisable as hiking trails and are not marked or signposted. It is therefore very easy to get lost and suddenly turn off into the wrong valley. Especially in and after the rainy season, some paths may not be passable. Guides can then quickly find out which alternative paths can be used.
As a second reason, it must also be taken into account in Santiago that it is much better to travel with a local guide for safety reasons.
G0 on a photo shoot
Pictures are an amazing way to document your travels, and Santiago certainly has a lot to offer on that front! We highly recommend either renting out a car or a taxi for the day and taking a tour around the island. Travel through the sleepy fishing villages on the east coast and wind through the scenic mountain valleys – great photos guaranteed.
If you bring a waterproof camera with you while snorkelling, you may even grab a few great shots of the local marine life!
Transportation
There are a few methods of transport available in Santiago, with taxis being the most popular for inter-city travel and travelling from the airport. However, we recommend that you be careful when taking a taxi to more remote areas on the island, as costs can increase substantially.
Instead, we recommend taking the aluguer (or collectivo) for long-distance travel. This is a shared minibus that zips through the mountain passes. Whereas a taxi from Praia to Tarrafal might cost you around 7000 CVE (€70), taking an aluguer costs approximately 700-800 CVE (€7-8).
You also have the option of renting a car, which can be good if you are looking to tour the island at your own pace. However, do be aware that certain roads can be difficult to travel, even by car.
Scenery & climate
Arguably one of the most geographically diverse islands, Santiago is home to two volcanic mountain ranges. There's the Serra Malagueta that stretches from the west coast of the island to the east coast, as well as the central Serra do Pico de Antónia, which as the name suggests contains the Pico de Antónia.
The weather in Cape Verde is also generally quite similar across the islands, however the coming of the rainy season in August brings a dramatic change to Santiago's landscape. Whilst some valleys on the island remain green for the year, the vast majority of the island experiences a drought for many months. When the rain does come, the grass is revived and the mountains are covered in green once more.
Accommodation
Options for accommodation in Santiago do vary depending on where you are planning to stay. From apartments to hotels, there are plenty of options available to you in Praia, however you will find far fewer options outside of the city. That's not to say that you can't find a good deal though. If you do decide to stay outside the city, you'll find rent to be much cheaper.
In Santiago, you will also be less affected by the high and low tourist seasons, with the majority of tourists staying on Boa Vista and Sal. You may find the pricing of hotels in Praia to fluctuate, however.
Culture and nightlife
The wonderful culture of Cape Verde can be enjoyed across every single island, from the locals speaking Cape Verdean Creole to the tasty food. However, Santiago island does enjoy a more 'local' feel than Sal and Boa Vista, especially as you travel to the more rural villages and towns on the island.
In the more urban areas, such as Praia and Tarrafal, you'll see plenty of bars and restaurants keep their doors open late into the night, often with live music spilling out onto the streets on the weekends.
Hidden treasures
Branch off from the 'Top 10 best things to do in Santiago' with some of our hand-picked selections. They're sure to give you a great taste of local life on the island, filling you with memories that you won't forget!
Assomada Market
Come Wednesday and Saturday every week, the Assomada market erupts into a flurry of bartering and spending, with locals selling fruits, meat, clothes and more. Located in the central portion of the island, the city is a great stop-off point when travelling between Praia and Tarrafal. If you can time your travels with market day, we recommend hopping off to explore for a bit!
Nossa Senhora do Rosario church
Built in 1493, Nossa Senhora do Rosario was the first Christian chapel in sub-Saharan Africa. While relatively simple in structure, it's still an inspiring sight to see, especially when you consider that it's now over 500 years old! As the oldest colonial church, it's well worth a visit when you are in Cidade Velha.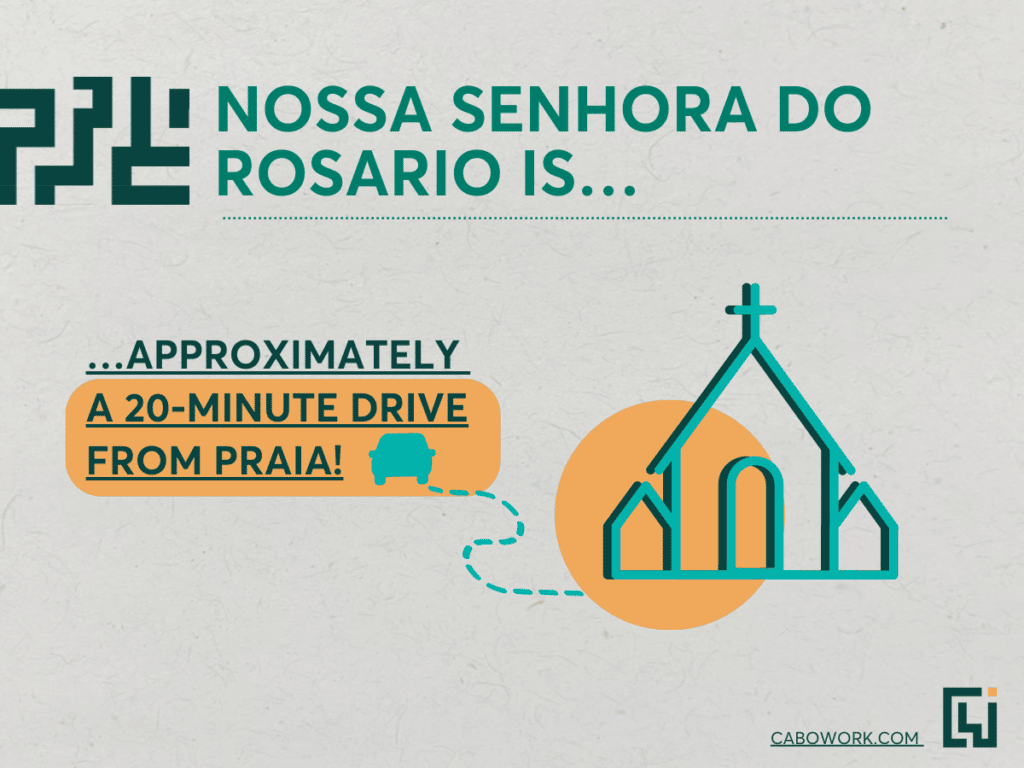 Serra Malagueta National Park
Did you know that Santiago is the most forested island in Cape Verde? Towards the peak of the Serra Malagueta mountain range, you'll find the protected national park, which covers around 774 hectares of land. It's a great area to hike which you can either do solo or with a local guide.
Part 3: Summing Up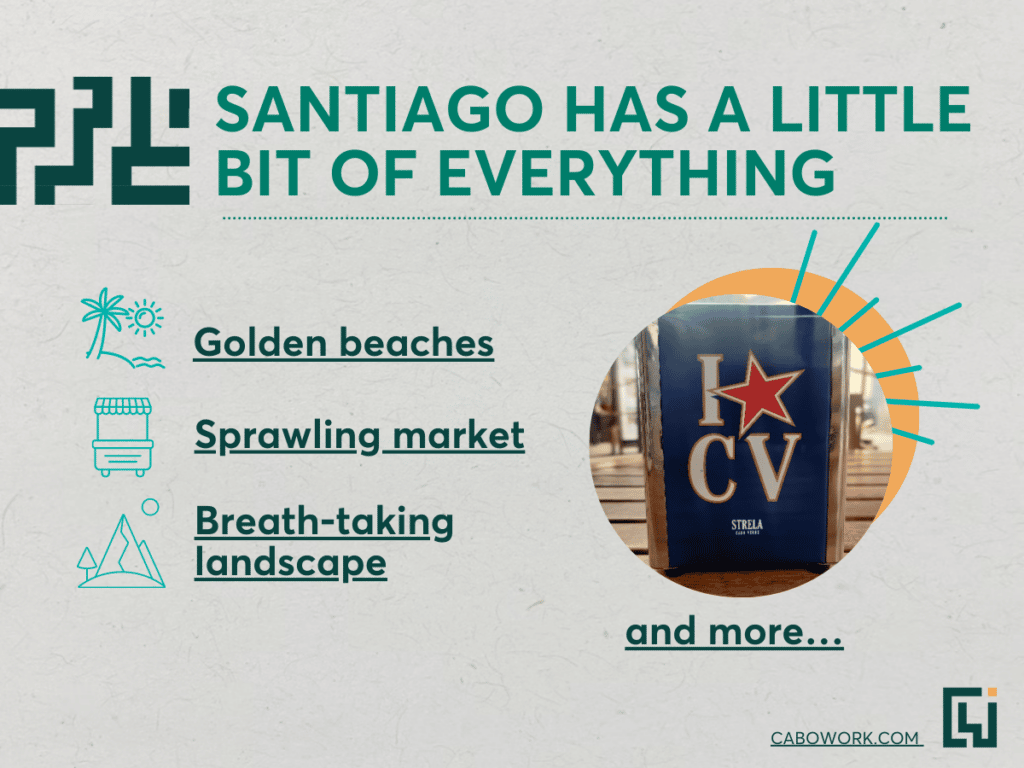 Santiago, Cape Verde's largest island
With the highest population out of all the islands in Cape Verde, Santiago is a must-visit for travellers who want to see more of Cape Verde. There are plenty of different areas to suit all people, from fantastic beaches to challenging hiking routes and more. You can easily spend a few days at each of the major locations, such as Praia and Tarrafal, to really understand the local lifestyle.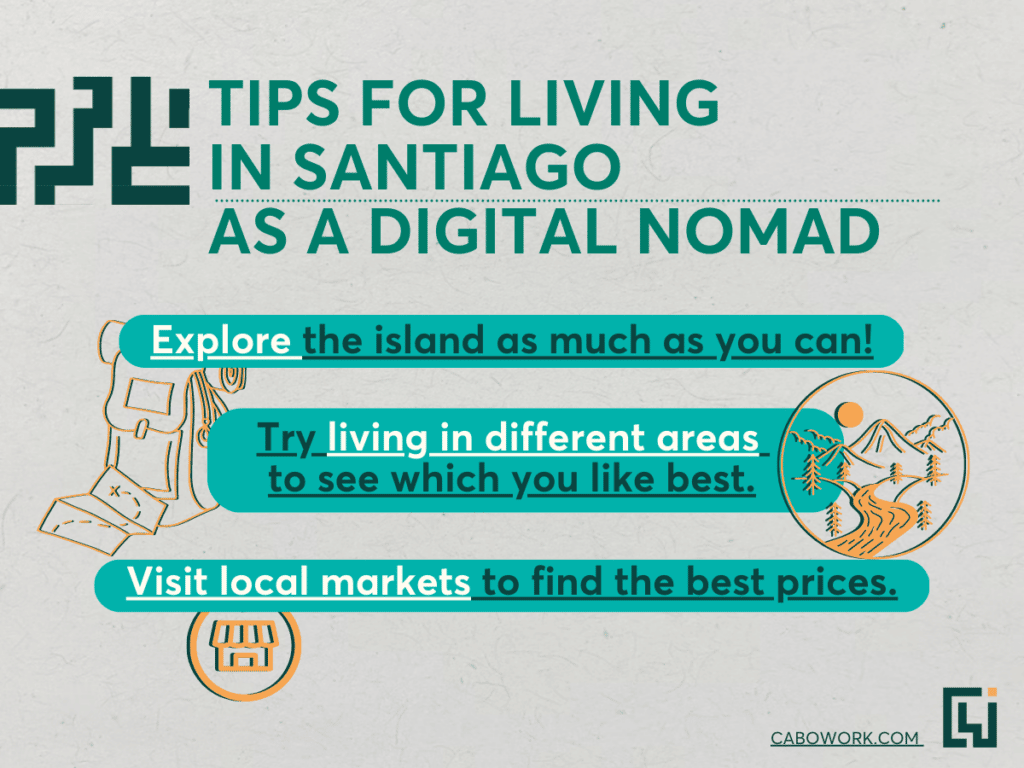 Where can I work in Santiago as a digital nomad?
While many digital nomads relish the ideal of adventuring into the unknown with nothing but their laptop and their clothes, we do still need a reliable internet connection to keep us online. The more urban areas are more likely to have stronger Wi-Fi than the rural areas, so it is worth keeping this under consideration if you often take lengthy video calls and require a stable connection.
Praia is also home to several coworking spaces which you may choose to visit during your stay, including Prime Coworking Palmarejo and the Business Incubation Center. If you prefer cafés, you'll be delighted to explore some of the wonderful options available in the city as well.
Should you move to Santiago?
Santiago island is a fantastic destination for travellers who want to head a little off the beaten path, yet still want to have the availability of developed areas and great travel links. You can easily visit all the other islands in Cape Verde, while using Santiago as your home base. Of course, you can also opt to live a more rural lifestyle as well.
As the island is quite big, you also have the option of moving from one area to the next, such as from Praia to Tarrafal, so that you can get more variety.