Digital nomad guide to São Vicente: Key takeaways
Mindelo is the only city in São Vicente and is home to many important cultural festivals.
You can fly or take the ferry to reach São Vicente.
Café culture thrives here, there are plenty of places for you to try out!
Don't forget to head to the bars and restaurants in the evening to hear live Cape Verdean music.
You can also find a handful of welcoming coworking spaces in Mindelo.
Part 1: Setting the scene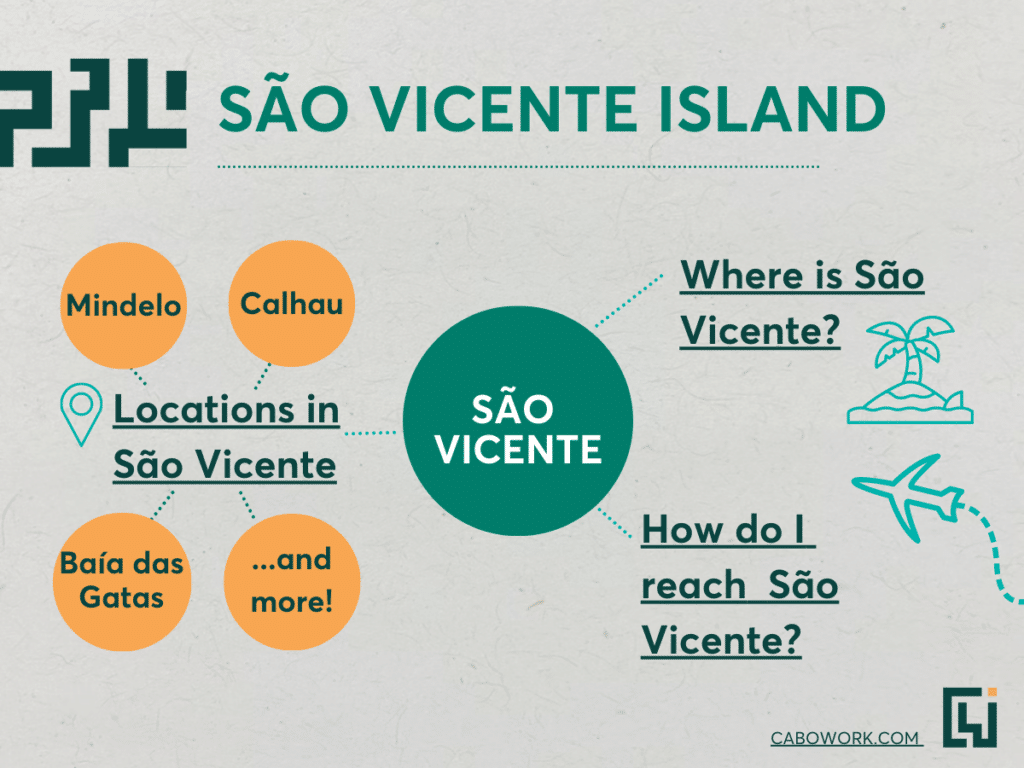 Where is São Vicente?
Situated close to the island of Santo Antão, São Vicente is one of Cape Verde's northern islands (barlavento islands). From a population of 356 in the 1830s, through to 76,140 in 2010, São Vicente is the second most populous island in the archipelago, shortly behind Santiago. It is also a relatively flat island; however, there are some mountains to be found, including Monte Verde, São Vicente's highest point.
How do I reach São Vicente?
In order to reach São Vicente, there are two forms of transport that you can take, either arriving by air or via ferry. There are direct flights available from Europe from select countries (Portugal, Luxembourg, and The Netherlands), however it is also possible to fly to one of the other international airports in Cape Verde. For example, you can fly to Santiago or to Sal, and then continue by domestic flight to Mindelo on São Vicente.
On the other hand, you also have the option of taking the ferry from another island. This tends to be the cheaper option, however this form of transport can be a little less reliable, relying heavily on the temperament of the Atlantic Ocean, and the journey duration will be longer than if you were to fly between islands.
Ultimately, the choice between which form of transport you would like to take comes down to your own personal preference. Learn how to travel between the islands here.
Locations in São Vicente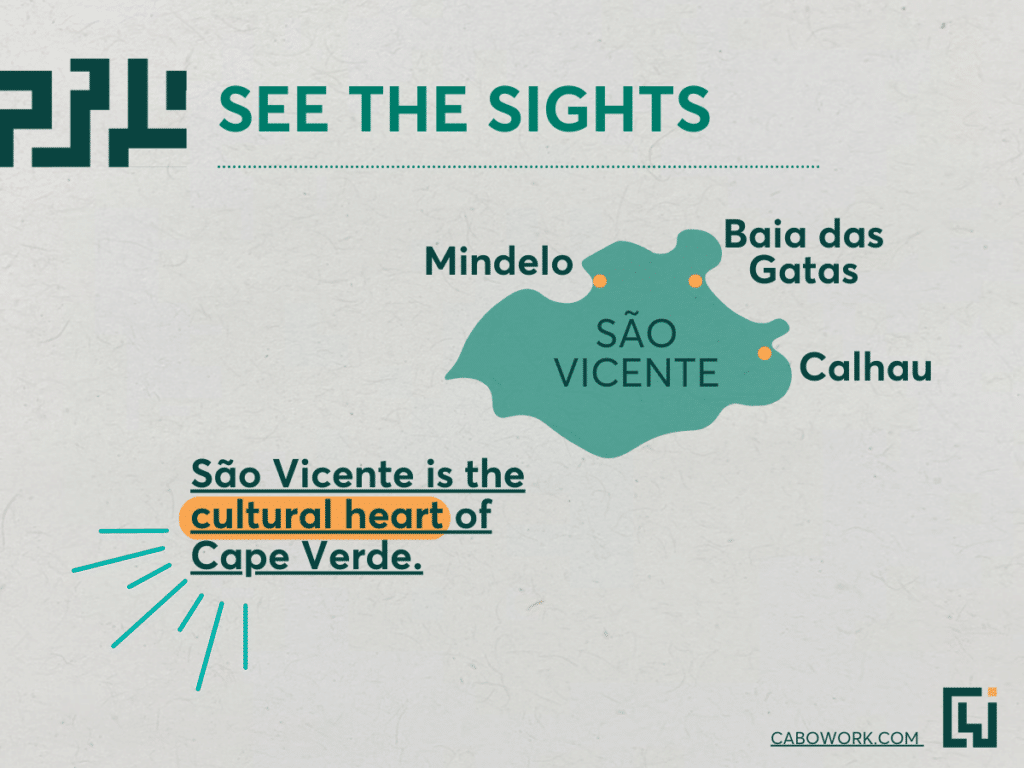 From small fishing villages to the cultural capital of the archipelago, São Vicente offers a wide variety of places to visit, depending on your own preferences. Visit one, or visit them all, the choice is up to you!
Mindelo
Having mentioned the city many times already, it's safe to say that Mindelo is the most famous location in São Vicente. The port city is home to 93% of the island's population and has a history stretching back all the way to 1793. Nowadays, Mindelo has transformed from its roots as a site for depositing coal to an important location for Cape Verde's arts.
It is also a city where you can get a great impression of Cape Verde's colonial history, as many of the 19th and 20th-century buildings have been preserved. Once you've had your daily dose of history, you can meander through the streets and try some coffee at a local café.
Calhau
For a real taste of adventure and a break away from Mindelo, we recommend visiting the small fishing village of Calhau. You can either get there via private taxi or by taking the collectivo (aluguer), the latter being the cheaper option. During the week, there isn't too much to see here, which makes it great for a quiet trip away.
On Sundays, the fishing village shows its true colours, with visitors arriving from around the island and beyond to try out the many fish restaurants available. From fish cachupa to grilled octopus, there's plenty for you to sink your teeth into!
Baía Das Gatas
Home to the famous music festival that goes by the same name, Baía das Gatas is situated on the northeast side of the island, approximately a 20-minute car journey from Mindelo. The famous music festival takes place in August every year, however for the rest of the year the area remains quiet, and is another great place to visit if you would like to journey away from Mindelo for a while.
Part 2: Getting to know the island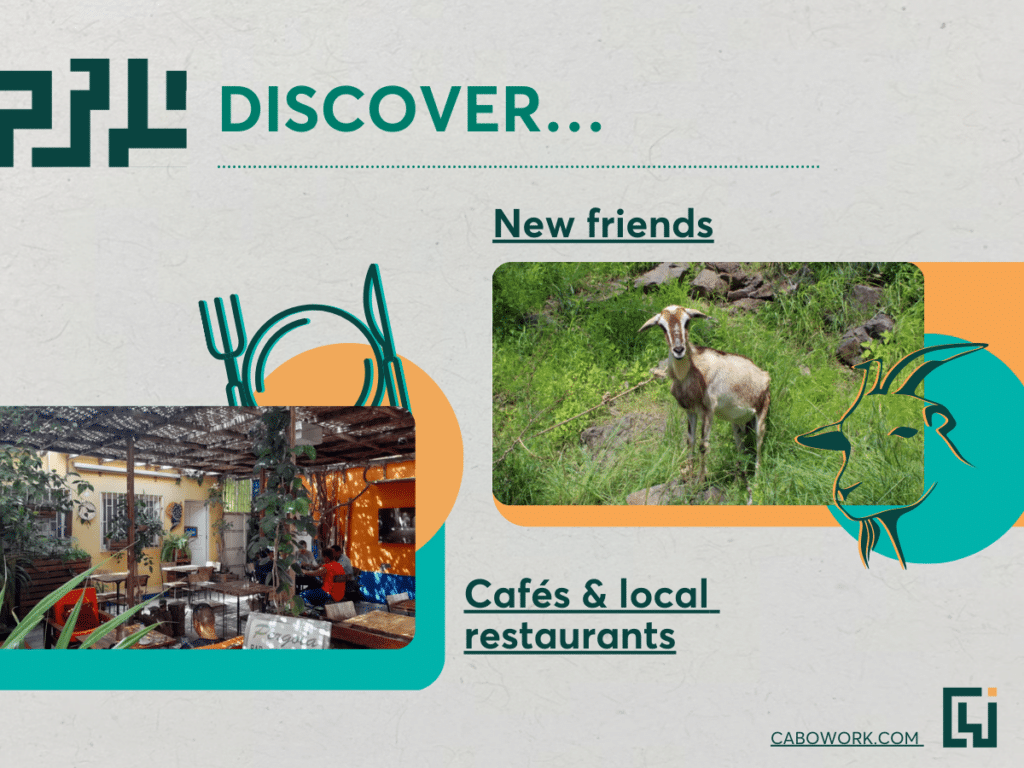 Cafés and local restaurants
The local scene is where Mindelo really shines. Although we will mention this a lot within our guide, you really can get a taste for what it is like to live in São Vicente, and in Cape Verde in general, by visiting some of the many cafés around!
Popular cafés in Mindelo include:
Activities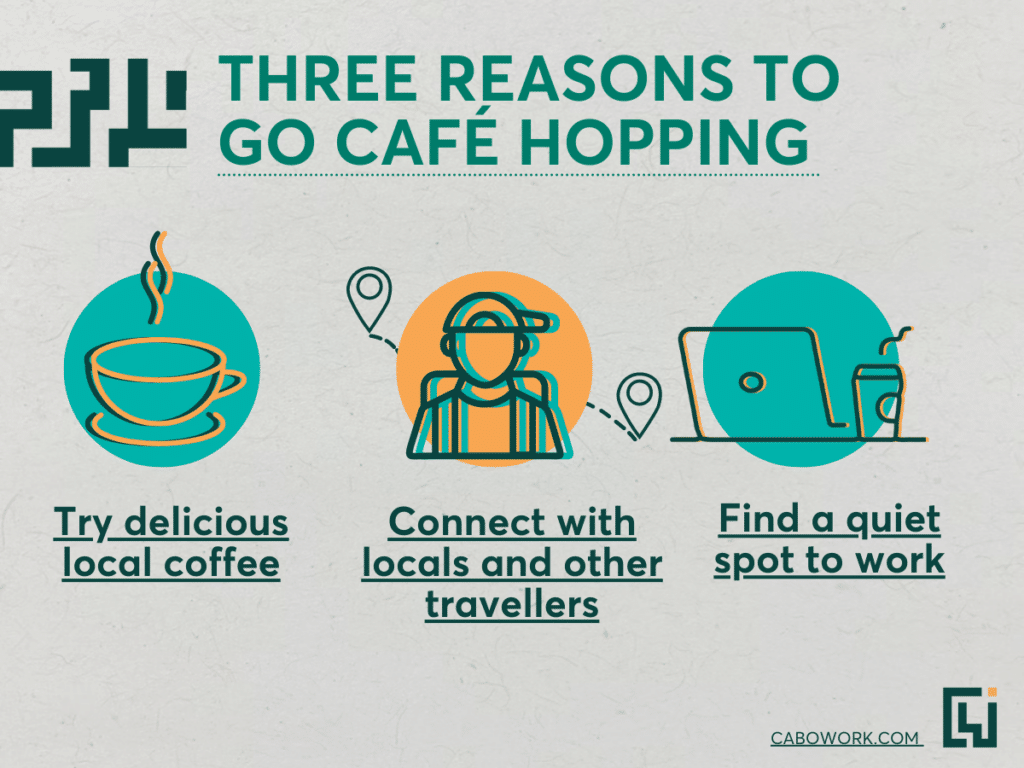 There's a real range of activities to sink your teeth into in São Vicente, whether you're a fan of history or favour heading out into the mountains on a hike.
Hiking
Many of the Cape Verde islands are fantastic for hiking, with dramatic landscapes and gorgeous views. Santo Antão is only a 50-minute ferry journey from São Vicente, which makes for a great day trip should you want to see the sights there.
However, there are some great hiking routes and mountain ranges to be found in São Vicente as well. Monte Verde is the highest point on the island, and is a fantastic option for hikers looking for a challenge. The journey from base to summit takes approximately 3 hours, so don't forget to pack water.
If inclines aren't really your thing, there are also plenty of coastal walks that you can take. One such route stretches through Praia Grande, on the east coast of the island.
Relax at the beach
Sometimes, it's nice just to put your feet up while basking in the sun's golden rays. Sounds nice, doesn't it? Well, São Vicente has its fair share of fantastic beaches for you to explore. One of which is Laginha beach, which is arguably the best beach for swimming on the island. The best part is that the beach is situated within Mindelo, and the lack of a current makes the area perfect for swimming.
Another great beach to visit is Praia de Bote, also found within Mindelo. This sandy beach is not best suited for swimming, as there are many boats anchored around the area, however it is a great spot for relaxing and immersing yourself in the local culture. Families hang out with their kids while teens play volleyball and football in the sand.
Go café hopping
We've already touched on some of the wonderful cafés to be found in Cape Verde, but we really mean it when we say you should give them a try! Especially if you're a digital nomad, as many of these cafés have free WiFi. Do try out some of their local coffee and food, either as the perfect start or end to your day.
Transportation
Just like the majority of the Cape Verde islands, taxi is the king of land transport when you need to get somewhere quickly. It's also a relatively cheap option if you are heading a short distance, however over longer drives it can add up. You can hail one directly from the street or book one via your hotel.
Another option that is popular with the locals is the collectivo or aluguer, which is a form of shared minibus that operates along selected routes. This can be a cheaper way to travel long distances; however, the drawback here is that you do not get to set your own routes, and seating may not be the most comfortable.
Scenery & climate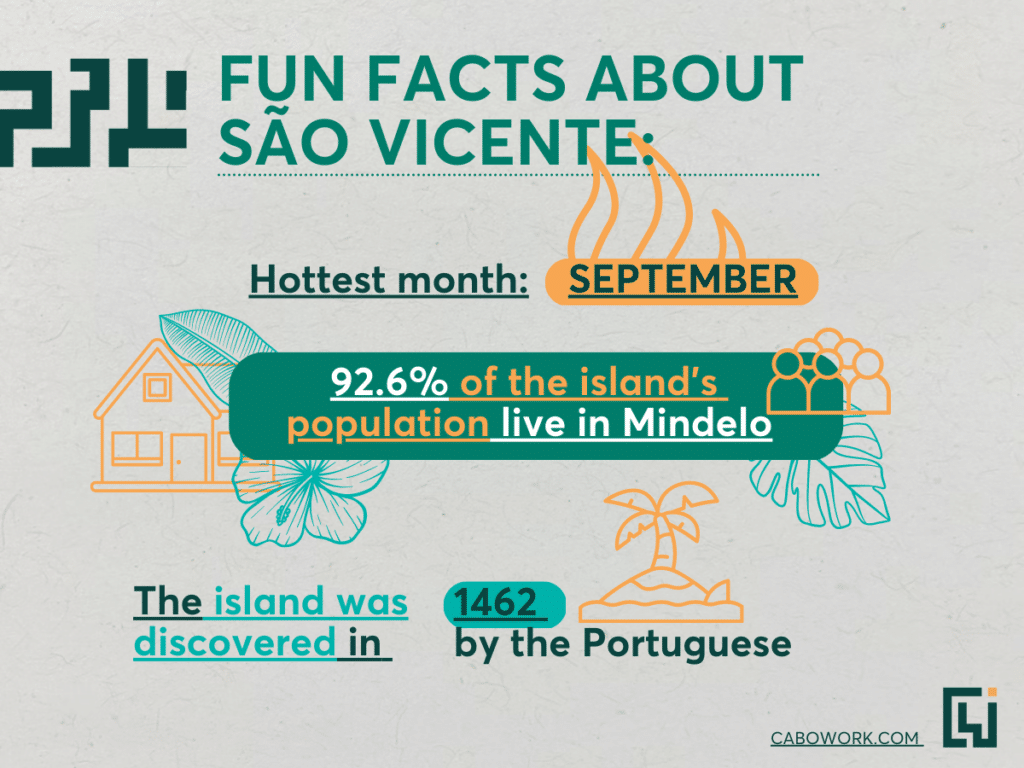 With each island offering something special in terms of scenery, São Vicente is a real treat for those who love hiking, as well as those who are searching for the best beaches. There's a little of something for everyone here – although the island is relatively flat, there are mountain ranges to be found, as well as the famous Monte Verde.
Vegetation also differs greatly between parts of the island, with some areas, such as Monte Verde, enjoying lush green surroundings, with the majority of the other areas on the island being a deeper red.
Temperatures fluctuate from the mid to late twenties throughout the year, with most of the rainfall occurring in September during the rainy season. We don't recommend hiking at this time, as the extra humidity can make doing so quite strenuous!
Accommodation
If you are planning a short stay on the island, then your best option would be to book a room at one of the hotels or guest houses, most likely found in Mindelo. Even if you are planning to stay for a longer period of time, if this is your first visit to the island it is advisable to book some short-term accommodation. This will give you the opportunity to get to know the island and choose an area that you would like to live in.
For longer-term stays, there are apartments to rent that can be found in Mindelo. The price of these apartments does depend heavily on the time of year, as the latter months between October and April tend to bring more tourists, causing accommodation prices to rise. You can get a good deal, however, if you book ahead.
Culture and nightlife
São Vicente is the place to be if you want to experience Cape Verdean culture to the fullest. However, it's important to be aware of which events take place when, so you can time your visit to align with them. Whether you're looking to enjoy a music festival with live music, want to experience the beautiful colour of the yearly carnival, or simply sit back with a coffee at a local café, there's something for everyone here.
São Vicente Carnival
Without a doubt, this is the most popular event in Cape Verde that takes place every Shrove Tuesday in Mindelo. Heavily inspired by the Brazilian Carnival, preparations for the festival begin a week before, followed by an explosion of street parades, with colour, costumes and much more.
Baía das Gatas
This festival also takes place once a year, on a night with a full moon in August. It's located in a village by the same name and attracts people from across the archipelago. Transforming from a sleepy village into a live music festival with bands from all over the islands, this is a real treat for music lovers. If you're in town, check it out!
Nightlife – Music Clubs
Mindelo has a splash of clubs where you can enjoy live music and performances by DJs, these include:
Nho Djunga – The city's most popular club following renovation. There are performances on Thursday, Friday, and Saturday. These do not start before 10 pm.
Jazzy Bird – You'll find that many of the bands that play at Nho Djunga, also do at Jazzy Bird. The performances on Friday and Saturday also tend to start a little later than at Nho Djunga.
Casa da Morna – The bands are generally quite good, and if you're lucky, you may also see bands from other islands playing there. Performances take place on Thursday, Friday, and Saturday and start after 11 pm.
Restaurants with Live Music
A common trend in Mindelo is for restaurants to offer live music, which often begins around 7.30 pm and ends around 10 pm. Below, we've included a list of restaurants that are confirmed to provide live music.
Hidden treasures
Every island has its secrets, and they are waiting to be found! Here are two of our favourite places to visit on the island:
São Pedro
A short trip outside of Mindelo (around 15 minutes), São Pedro is a quiet little stop with a great beach for windsurfers, as well as some picturesque walking trails too. You can watch as the fishermen bring in their latest catches, ready to be sent to the local restaurants and fish markets.
Mercado de Peixe
Speaking of fish markets, if you've a taste for fish, you'll enjoy the Mercado de Peixe, Mindelo's very own fish market that is brimming with activity each morning (except Sundays!). You can spot all different kinds of seafood here, from lobster to wahoo. It's a great way to see what the locals get up to in the morning, starting at a respectable time of 8 am!
Part 3: Summing up
Although wonderful examples of Cape Verdean culture can be found across the archipelago, no island has the most colourful and dramatic displays as does São Vicente. Even so, there are plenty of quiet, cosy cafés to be found, especially in Mindelo, which are perfect for reflecting on what you have seen so far and what you plan to do.
Even if your plans don't exactly align with some of the bigger events that take place, there's still much to experience, from climbing Monte Verde and witnessing the stunning view, to enjoying walking through the streets of Mindelo. Even if you don't plan to stay for an extended period of time, a short trip to the island will be well worth your time.
Where can I work as a digital nomad?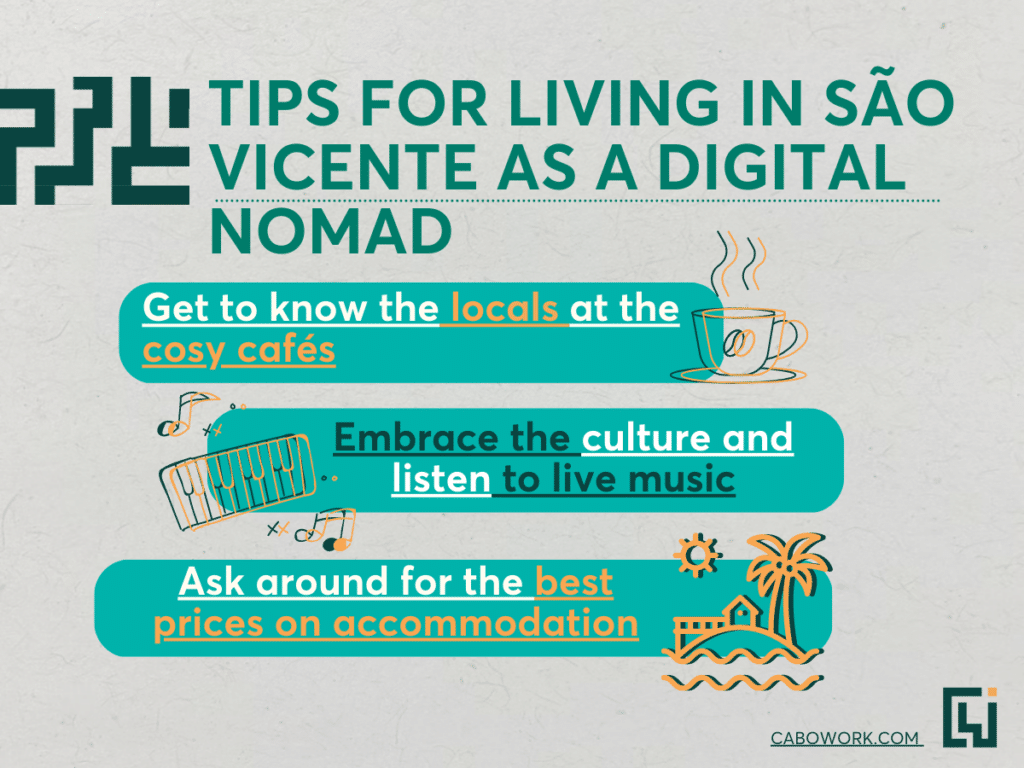 If you are planning an extended stay in São Vicente, then chances are you'll be staying in Mindelo, which is where there is the most infrastructure, as well as things to do. Working remotely, you'll have the option of working from a café, your apartment, or anywhere you like using a mobile hotspot. The cellular data connection is quite strong across the islands, so if you fancy tapping away at your blog from the beach while sipping a caipirinha, then you can do just that.
We've broken down the top spots available for coworking across the Cape Verde islands, you can check that out here.
Should you move to São Vicente?
São Vicente is a wonderful place to stop and enjoy the culture of the archipelago, while also getting to know the locals better and exploring the local area. If you are planning a longer stay, we'd recommend trying to include the Mindelo Carnival or Baía das Gatas music festival as part of your itinerary. You may find after a month or two that you have seen most of what there is to see, after which you can hop to another island if you decide you'd like a move.