Key Takeaways from This Article:
Boa Vista can be seen as the quieter alternative to Sal; however, it is still a popular tourist destination.
You can explore miles of undisturbed beaches!
Sal Rei is the capital of the island, you'll find plenty of accommodation options there.
It takes around 40 minutes to fly from Boa Vista to Praia.
The island is very important for both turtles and whales.
Part 1: Setting the Scene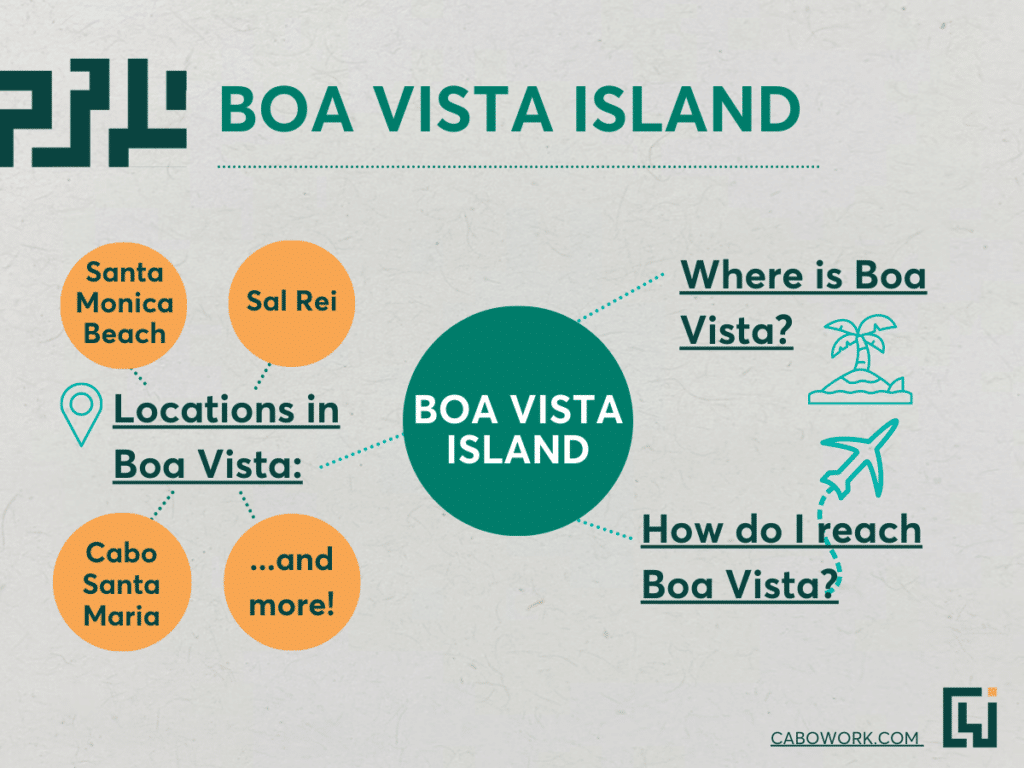 Where is Boa Vista?
Boa Vista is one of three islands that make up Cape Verde's eastern side, which also includes the popular island of Sal as well as the more local island of Maio. Boa Vista is actually the third-largest island in the Cape Verde archipelago at 631.1 square kilometres, just behind Santo Antão and Santiago. Approximately 450 km of the Atlantic Ocean between Boa Vista and Senegal places Boa Vista as the closest island to the African continent.
How do I reach Boa Vista?
The journey to Boa Vista is made much easier thanks to the fact Boa Vista has its own airport. Not only does it connect the island to the other islands of Cape Verde, but Boa Vista airport is also reachable via direct flight from many European countries, including Portugal, Germany, the UK, France, and more.
For those feeling a little more adventurous, there is also the ferry option operating between Sal and Boa Vista. The average length of this journey is around 3 hours, however this can vary depending on the weather conditions.
Locations in Boa Vista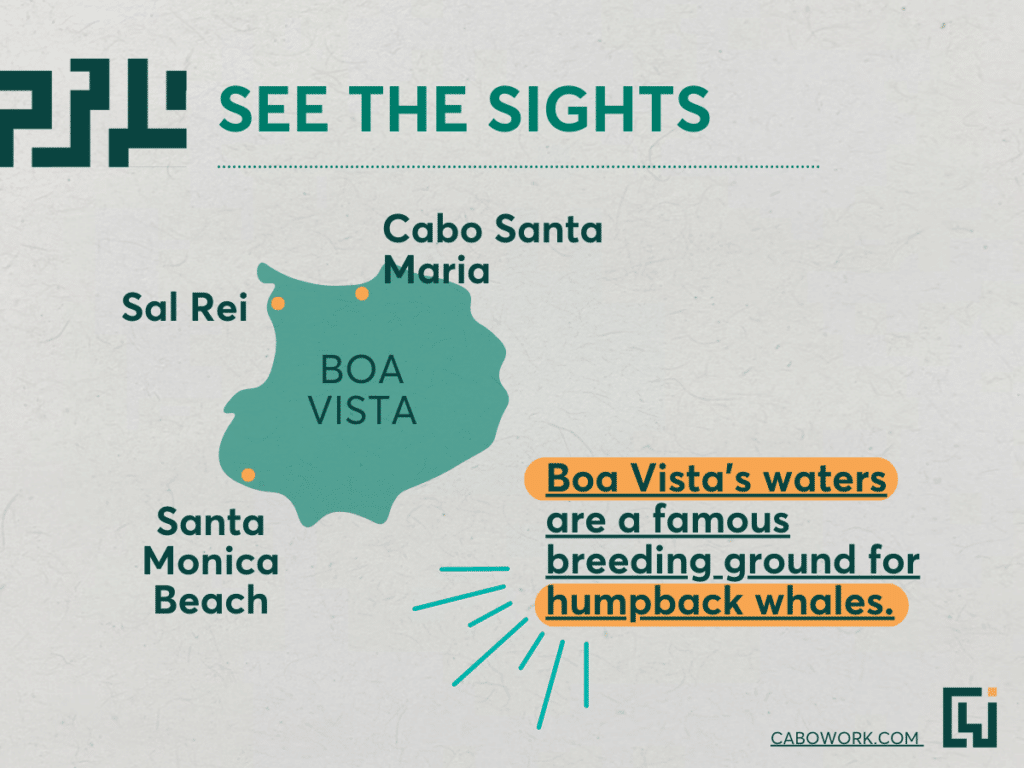 Let's look at some of the best places to visit during your trip to the island and see what they have to offer. Whether you plan to stay for a few days or a few months, you can't miss spending some time in these locations.
Sal Rei
Situated on the northwestern part of the island, Sal Rei is the main town and the island's capital. Much like Santa Maria in Sal, it is where you will most likely stay when you are visiting. The local beach to Sal Rei, the Praia de Cabral, is very popular among tourists and is a beautiful spot to relax and sunbathe.
Santa Monica Beach
Arguably the most stunning of Boa Vista's beaches, Santa Monica beach is a must-see. Even if you are staying for only a few days, it's well worth spending a few hours here to take in the sights. There is little vegetation to be found here, instead the sprawling dunes transport you to a desert world that is not to be found anywhere else in Cape Verde.
Cabo Santa Maria
On the north coast of Boa Vista, you will find a beautiful beach home to an unlikely structure. At about 6km away from the island capital of Sal Rei, it won't take you very long to reach it either. Praia de Atalanta forms a part of the Boa Esperança Nature Reserve, a collection of beaches with their natural wildlife and beauty protected.
Marooned off the coast, you can't miss the wreck of the Cabo Santa Maria, which has been stranded for over 50 years. The wreck has become a tourist icon for the island, and is a source of inspiration for painters, photographers and writers.
Part 2: Getting to know the island

Cafés and local restaurants
As Boa Vista is a natural paradise that receives a lot of tourism every year, you'll find plenty of cafés and restaurants that cater for an international crowd. The majority of restaurants and cafés can be found in the island capital of Sal Rei. If you prefer to try some local cafés, there are lots of options to choose from here as well.
Popular restaurants to try include Porton di nos Ilha (pictured above), Sodade – Casa da Cultura, and Ca' Baby. All are situated very close to the beach and serve incredibly fresh food for you to try.
Activities
While Boa Vista does have a reputation for being a laid-back and relaxing holiday destination (and it certainly is that too!), for the adventure lover or thrill-seeker there are still lots of activities for you to try out.
Kite Surfing
If you're spending a considerable amount of time in Boa Vista, you can't help but try your hand at kite surfing. As one of the island's most popular sports, Boa Vista sports some of the best kite surfing conditions you could ask for, with the crosswind providing flatter waves with a steady wind.
Dune Sledding
An incredibly fun activity for everyone to try, dune sledding is exactly what it says, sledding down the beautiful dunes of Boa Vista! As the dunes are a very delicate habitat, it's important to only sled in areas which have been designated for the activity so that you don't disturb the ecosystem to be found there.
Whale watching
Boa Vista has been called the best island for whale watching, and it's easy to see why. Every year, the peak months to see humpback whales are between March and April; however, it is possible to spot whales as early as February and as late as May.
See the Sea Turtles
If you are travelling between the months of June and October, you can't miss out on seeing the loggerhead turtles laying their eggs while the moon is shining. The long sandy beaches on the west coast of Boa Vista are the perfect grounds for the turtles to lay their eggs and local laws seek to protect them as much as possible from poachers and other threats. Similarly to whale watching, we recommend travelling with a local guide to give you the best possible chances of seeing a turtle.
Transportation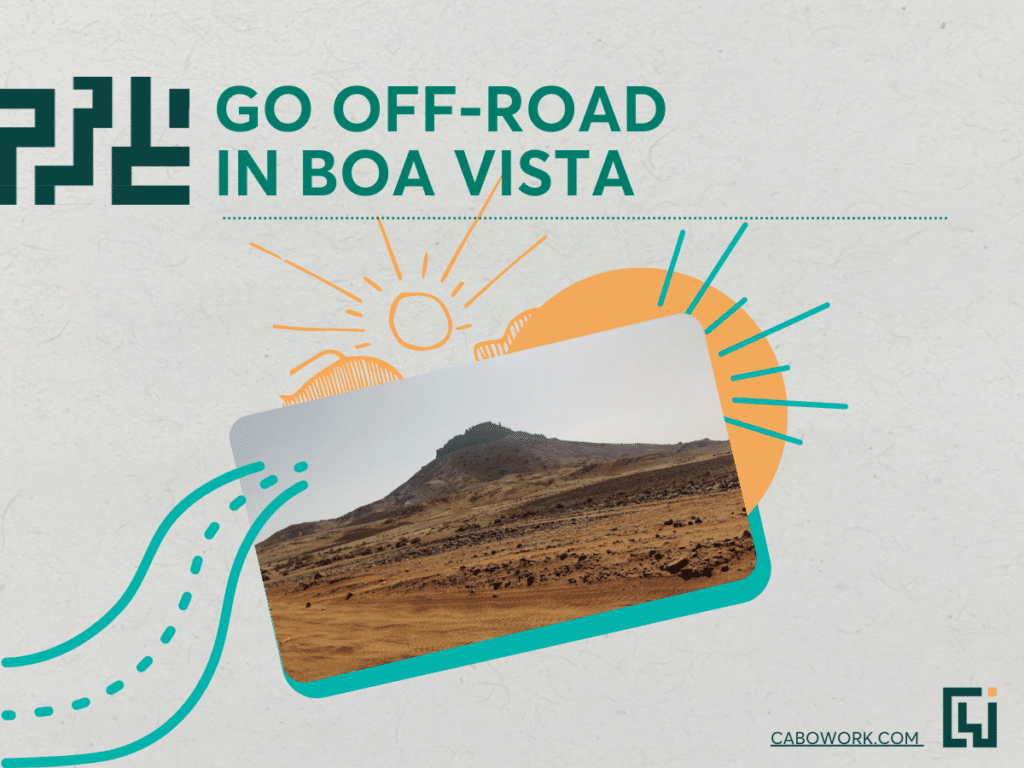 The most popular and straightforward form of transport on the island is taxi. You can find taxis waiting along the main streets of Sal Rei, or driving from street to street. Taking a taxi is also the best way to get from the airport to your accommodation.
You may also see people travelling from place to place via quad bike. While this can be quite fun, we recommend sticking to a quad bike tour if you'd like to explore the island with this form of transport, as the main cobbled roads can be quite uncomfortable to travel with a quad bike.
#Tip: If you do take a quad bike tour, don't forget to take a mask for the dust!
Scenery & climate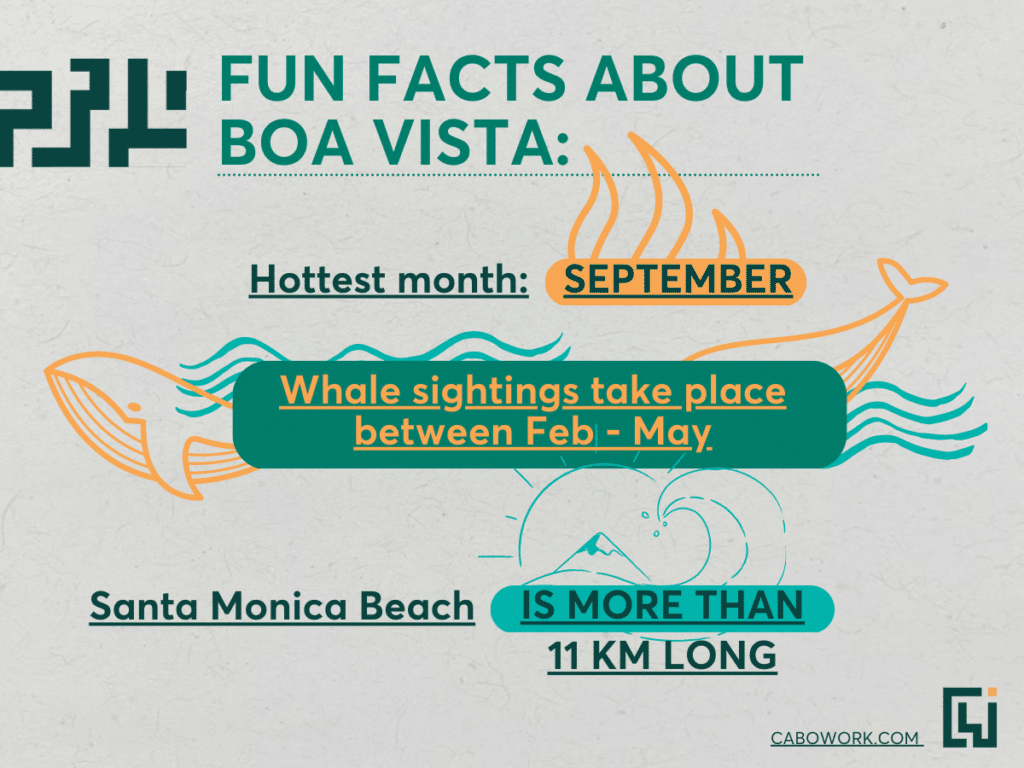 You don't have to look far in Boa Vista to find stunning natural beauty. From the beaches all the way to the centre of the island, there are so many wonderful places to visit and take a few photos! There are 11 named islands dotted around the island, each the perfect spot for an incredible panoramic view of the island.
As for the climate and weather, Boa Vista enjoys similar weather to Sal, which is a regular temperature of between 20-25 °C and near year-round sun. Don't forget to bring your sun cream!
Accommodation
As for accommodation, there are a variety of different options available to suit your individual preferences and budget. For those intending on staying for a few months at a time, then renting an apartment would be the most cost-effective choice. However, there are also several guest houses or short-term apartments that you can rent if you are only planning to stay for a few days.
The price of your chosen accommodation will also fluctuate depending on whether it is high or low tourist season. In high season, the cost will generally be higher, and vice versa. You can often find good deals on accommodation in the low season.
In order to decide which accommodation would be best for you, we always recommend checking out the guest reviews first, if they are available.
Nightlife
You won't find any large clubs on Boa Vista, instead many people come outside to socialise and dance to live music performed in smaller bars or on the streets. You'll also find lots of people hanging out at the beach after the work day is done, all the way until the sun sets. Look out for local cafés that may hire a DJ on the weekends, transforming into a great place to mingle and make new friends.
Hidden treasures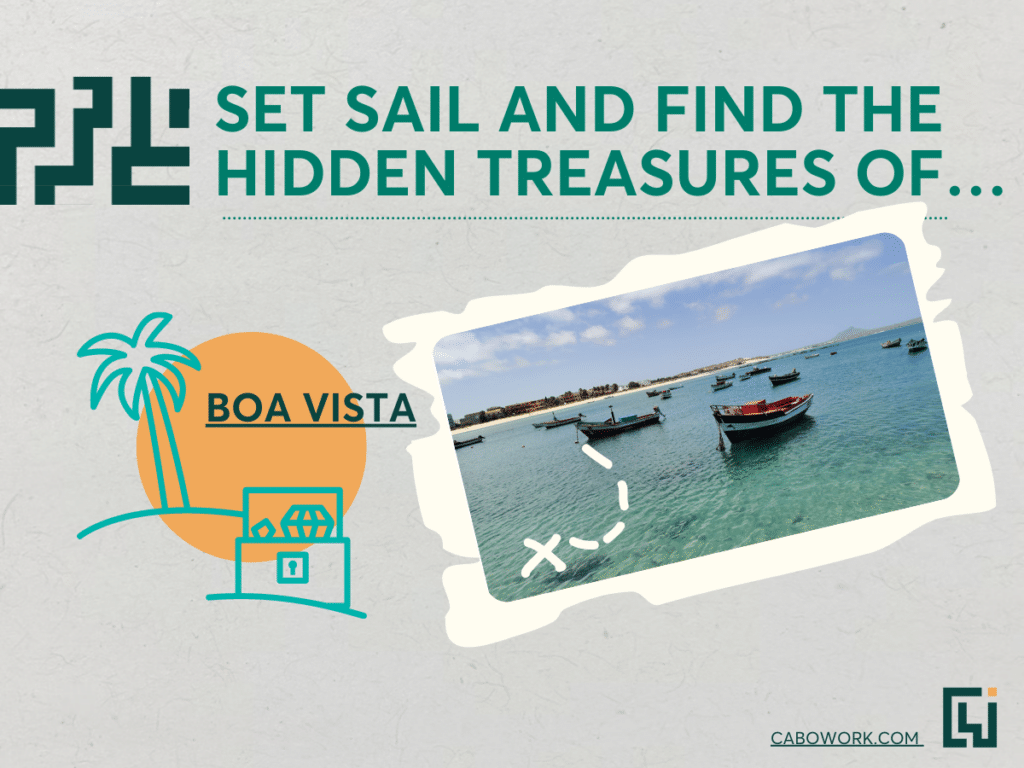 The islands of Cape Verde each have their hidden gems that are worth seeing before you leave, and Boa Vista is no exception. We've done our research and collected a few must-see spots for you, so you can get to see everything that the island has to offer.
Viana desert (Deserto de Viana)
Boa Vista also boasts its very own desert! Located at the northwestern part of the island, the Viana desert is a mini-desert that is made up of sand blown across from the African continent. There are real dunes to be found here, with volcanic rock strewn throughout the area. We particularly recommend coming here as part of an excursion.
#Tip: Stargazing in the Viana desert is an unforgettable experience. Give it a try!
Praia de Chaves
Situated in the western part of the island, Praia de Chaves (or Chaves beach), is another destination that cannot be missed. It is approximately 5 km long, and gives meaning to the word 'idyllic'. If you are lucky enough to book your accommodation close to the beach, you'll have this paradise on your doorstep.
Morro de Areia Nature Reserve
Morro de Areia is Boa Vista's very own nature reserve, covering 21.31 square kilometres of the southwestern coast. The protected area also includes an additional 4.36 square kilometres of protected ocean.
The nature reserve was established to help safeguard some of the endangered species that called the area home. This includes the osprey, turtles, the nurse shark and much more.
Part 3: Summing up
Comparing Sal and Boa Vista
While both Sal and Boa Vista are popular destinations for international travellers, there are a few differences that you should be aware of between the two. Firstly, Boa Vista is generally less developed than Sal – you'll find that there are many more bars and restaurants available on Sal than on Boa Vista. However, with greater infrastructure also comes more tourists, so you may find you prefer the quieter and laid-back atmosphere of Boa Vista.
Another aspect to consider is the travel connections between Boa Vista to other islands. In part due to its geographical location and being a less developed island, Boa Vista's travel connections are more limited. The two primary forms of travel are by plane and also by ferry. While flying by plane is quicker, it can be more expensive, while travelling by ferry is slower but also cheaper.
Have a look at our article on interisland travel in Cape Verde to learn more!
Where can I work as a digital nomad?
At the time of writing, there are currently no coworking spaces situated on Boa Vista. However, for the adventurous digital nomads, there are still cafés and restaurants that you can work at which not only provide WiFi but also great local food. Below, we've listed two of these locations to give you a head start on your journey.
Sodade Casa da Cultura
Sodade is a beautiful café and restaurant that is well worth a visit during your time on Boa Vista. At night, the outside areas are lit up by fairy lights to create a very warm and cosy atmosphere. Or you can choose to sit inside and marvel at the rich culture and history of the place. The choice is up to you!
With very friendly staff and great food to keep you fuelled, Sodade Casa Da Cultura is a must.
Catchupa Coffee shop
As the name suggests, this is one of the best places on the island to get your coffee fix, and the wonderful staff will make you feel right at home on the island. This is a great place to start your day of work, with fresh orange juice and breakfast served as well.
Check out their Facebook page for their location.
Should you move to Boa Vista?
Boa Vista certainly has a lot to offer tourists and short-term visitors; however, those looking to stay for months at a time may need to come up with creative ways to keep themselves busy, such as taking a windsurfing course or starting a local meetup group. As the island has a more laid-back vibe, those seeking constant parties may feel a bit restless here.
On the other hand, if you like the idea of relaxing for a while on an island that has a diverse and interesting landscape, plenty of areas to explore, and wonderful people to meet, then Boa Vista may certainly be the island for you. We recommend coming to stay for a few days to get a feel for the place before committing to any long-term plans.