Cape Verde Travel – Your Complete Guide
We've put together this handy guide to give you a complete introduction to Cape Verde as a whole. From where to go in Cape Verde, all the way to accommodation and food, we've got you covered. Without further ado, let's get started!
Interesting facts about Cape Verde:
Colonial history: Cape Verde was initially established as the first European colony in a tropical climate, and is often considered the start of the Portuguese colonial empire. Initially established in 1462, Cape Verde officially became independent in 1975.
A haven for turtles: Four of the world's seven sea turtles can be found in Cape Verde, with the loggerhead turtles regularly nesting on the beaches there.
Politics: In 1991, the first multi-party elections were held. Cape Verde has historically been a very democratic and safe country.
Diverse archipelago: There are ten major islands and eight islets to be found in Cape Verde, each with its own unique features and things to do.
Where to Go in Cape Verde
Let's get started with a breakdown of some of the most popular locations in Cape Verde, as well as other areas to explore that are a little off the beaten path.
Beautiful beaches
Santa Maria, Sal
Arguably one of the most popular destinations in the archipelago, the town of Santa Maria on Sal is home to a gorgeous beach, as well as many resorts and fantastic restaurants for you to explore. There are also plenty of activities to do here too, such as windsurfing, local tours, and much more.
Sal Rei, Boa Vista
With one of the most stunning beaches in Cape Verde, Sal Rei in Boa Vista is Santa Maria's even more laid-back sister town. There's an equally ample number of things to do, although the town is perfect for those looking to kick back and relax.
São Pedro Beach, São Vicente
São Pedro beach is a hidden gem for tourists exploring the island of São Vicente. Normally populated by just a few fishermen, the beach is a great place to find a bit of peace and quiet, especially in the high tourist season.
City life
Praia, Santiago
The classified Cape Verde capital city, Praia (meaning 'beach' in Portuguese) is situated on the island of Santiago and has a population of around 130,000 people. For those looking to experience a more urban environment and city life in Cape Verde, Praia is the city to visit. It's also easy to fly to the other islands from Praia's airport.
Get to know the locals
Tarrafal, Santiago
Also located on the island of Santiago, however very much the opposite of Praia, Tarrafal is a calm local town on the northern end of the island. As is typical with many places in Cape Verde, Tarrafal has a fantastic local beach and is a great place to experience the local culture of Santiago.
Embrace the culture
Mindelo, São Vicente
Mindelo is known as the cultural capital of the Cape Verde islands for a reason. Situated on São Vicente, Mindelo features many of the country's annual festivals, including the Brazilian-influenced carnival that takes place every February.
However, bright and beautiful carnivals aren't everything that Mindelo has to offer. In fact, having coffee in a cafe in Cape Verde is a great way to connect with locals and enjoy the laid-back culture that is so symbolic of the beautiful archipelago.
Gorgeous views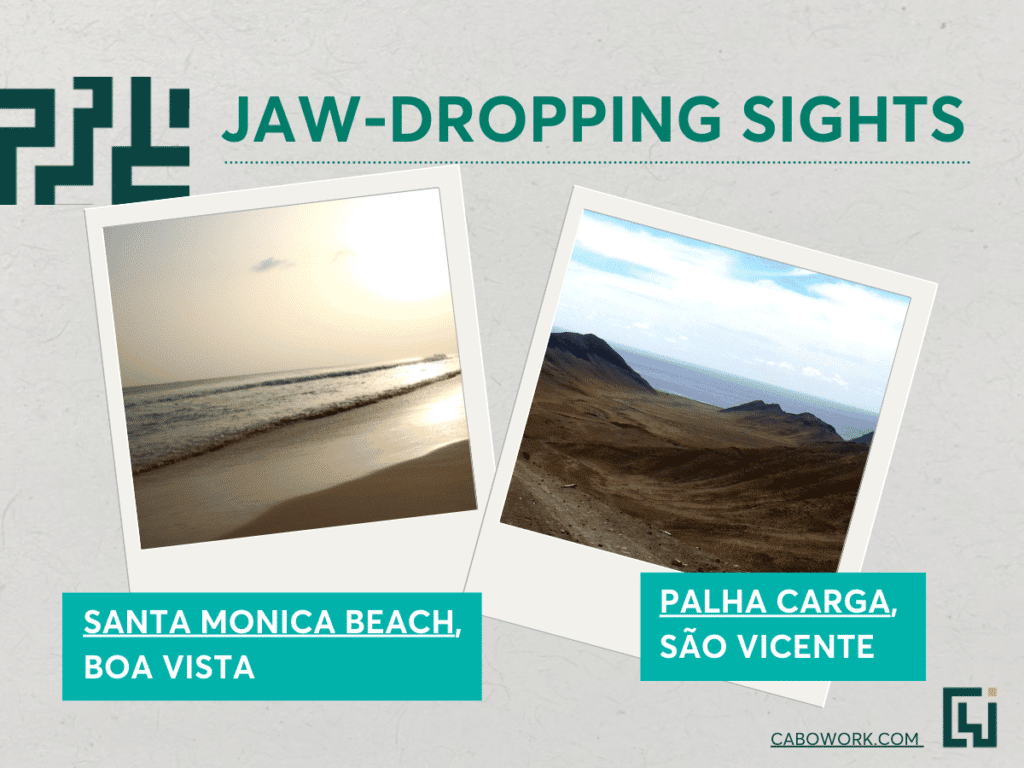 Santa Monica Beach, Boa Vista
Looking for the best of the best beaches in Cabo Verde? Look no further than Santa Monica beach, on the southwestern part of Boa Vista. 'Gorgeous white sandy beach' doesn't even do the place justice, you'll have to come and experience it for yourself!
Palha Carga, São Vicente
Tucked away on the southern end of São Vicente, you'll find another amazing hidden spot that will leave you speechless! Palha Carga is a mountain range, hill and coastline overlooking around 4 km of a green valley. Not to be missed if you find yourself on the island of São Vicente.
A hiker's paradise
The Mountains of Santiago island
The mountain range of Santiago island undergoes a dramatic transformation as soon as the rains come, from dry and dusty to green and luscious. Even in the dry season, you'll still find oases of green where farmers plant and water their crops. The mountains of Santiago are definitely worth a visit for hiking enthusiasts.
Ponta do Sol, Santo Antão
Ponta do Sol is actually a small city located on the northernmost part of the island of Santo Antão. It's the perfect springboard for hiking the local mountain range, and a great place to stay for this exact reason.
Pico de Fogo, Fogo
As the highest peak on Cape Verde, the Pico de Fogo, an active volcano, is a worthy challenge for hikers with a taste for adventure. 2,829 metres at its highest point, a trip to Fogo to climb the volcano can't be missed!
When to Visit the Cape Verde Islands
There are quite a few factors to consider when it comes to when you should visit Cape Verde. One of the most important of these is whether it is high or low tourist season:
High tourist season: October – April
Low tourist season: All other months
Whether or not you are travelling in the high tourist season will determine how expensive your accommodation and flights are. If you want to keep costs down, then travelling in the low season could be a better option.
Accommodation is most expensive over Christmas, being one of the busiest times for tourism in Cape Verde. You'll also find that the prices of accommodation in Sal and Boa Vista tend to rise in mid-summer, although it is outside the high season.
For those who prefer an active holiday, we recommend avoiding coming during August and September, as this is the beginning of the rainy season, when humidity rises and physical activities become a lot more strenuous.
How to Travel to Cape Verde
Arranging your holiday in Cape Verde
To help you better understand the options available when arranging your Cape Verde holiday, we've prepared a short guide below covering the topics that can be of use to you.
Firstly, we have the methods through which you can book your holiday. We have broken them down into the following categories:
Booking through a major tour operator
One potential option you have when considering a trip to Cape Verde is booking through a major tour operator. These holidays are often resort-orientated beach holidays, designed to provide a relaxing break away, however with little involvement in the local culture.
While these trips can be a great option for those who prefer to stay in one place, they may feel limited for those who want to explore as part of their trip. These packages do not include inter-island travel and are usually limited to just the one island (either Sal or Boa Vista).
Booking a package tour with a Cape Verde specialist
By booking a package tour with a Cape Verde specialist, you get the perks of an arranged holiday with the added benefit of customising the holiday to your personal tastes. You'll find a great deal more cultural and physical activities available when you book through a Cape Verde specialist, as well as travel between the islands should you wish to do so.
To book a personalised trip with a Cape Verde specialist, check out Reiseträume. Although the website is based in German, you are welcome to send an email or call for English support.
Independent travel planning
It is absolutely possible to book the flights to and from Cape Verde, as well as the accommodation, by yourself. While this does grant you the freedom to explore the islands at your own leisure, you are on your own when it comes to planning the activities you would like to do and researching suggestions.
How do I get to Cape Verde?
Travelling to Cape Verde is also quite accessible for travellers based in Europe, with many countries in Europe offering direct flights. Lisbon features the most international flights to and from the archipelago, with the average flight time lasting a little over 4 hours.
However, even if you cannot find a direct flight from your closest airport, a connecting flight via Lisbon will see you enjoying the golden beaches quickly.
Travelling between the islands
Due to the geography of the Cape Verde islands, there are a few options available for travel between each island. The first option is to take an aeroplane, which is by far the fastest method but also the most expensive. There are also good air travel links between the islands, with only Brava and Santo Antão not having an airport.
The second option for inter-island travel is by ferry. While this is the cheapest method there is (unless you are an Olympic free-swimmer), it also takes considerably more time than flying.
Ultimately, the choice between flying and taking the ferry is up to you and your agenda. To learn more about inter-island travel, check out our article here.
The currency of Cape Verde
Cape Verde's local currency is called the Cape Verdean Escudo – this currency is accepted across the archipelago. The escudo is also set at a fixed rate to the Euro, at approximately 110 CVE to 1 euro.
While euros are usually accepted within the more tourist-focused islands, such as Sal or Boa Vista, we highly recommend using the local currency where possible.
Weather in Cape Verde
Travellers to Cape Verde typically enjoy a year-round sunny climate, with a stable temperature in the mid-20s Celsius.
Rain is also very infrequent, with the majority of Cape Verde's rain falling in the Autumn period. This makes it a fantastic destination for sunseekers searching for a destination that is also not too hot.
The language
Cape Verde has a fascinating history, and its language is representative of this. With roots as a Portuguese colony, Portuguese is one of the islands' national languages, with the second being Cape Verdean Creole (Kriolu). When travelling the streets of Cape Verde, Kriolu is the language you'll likely hear the locals use when speaking to one another; however, Portuguese is taught in schools and is also the official language of the government.
Want to learn a few phrases in Kriolu or Portuguese? Check out our article here to learn more.
Cape Verde visa
There are three options available to you should you wish to visit or even stay for a longer period in Cape Verde. These include:
Enter as a tourist – No visa is required for this, however a short registration is currently required in advance of your journey.
Apply at your local embassy – By applying at your local Cape Verdean embassy, you can attain a visa for a stay of up to 90 days.
Remote Work Visa – Stay for up to 6 months with the possibility to extend for another 6 months.
We've gone into detail on all three of the above options in our Cape Verde visa article. You are welcome to have a look to learn more!
Activities & festivals
The culture of Cape Verde
Cape Verde enjoys a rich culture, which is directly influenced by Portuguese and West African traditions. The biggest celebrations are held in São Vicente – there is the Creole Festival held each February in Mindelo, which is inspired by Brazilian carnivals, as well as the Full Moon Festival held at Baia das Gatas in August.
Other celebrations
Aside from the major celebrations we've listed above, there are also many smaller celebrations that take place every year, which also include:
Nossa Senhora De Piedade (Our Lady of Pity) on the 15th of August
A religious ceremony that includes mass as well as swimming contests and local music festivals held on the beach.
Santa Maria Festival (Municipality Day) in September
Every September, you'll find this music festival held in Santa Maria, Sal. There is food and drink stalls as well as live music from local musicians.
Windsurfing & kitesurfing
Cape Verde features some of the best locations for wind and kitesurfing. Whether you are a beginner to the sport or are a seasoned pro, the seas of Cape Verde can be forgiving or challenging, depending on the location you choose.
#Tip: Sal Rei is one of the best locations to windsurf in Cape Verde. If you find yourself, why not give it a try?
Turtle & whale watching
Cape Verde is world-renowned for its marine life. With so many majestic animals to see, you'll be spoilt for choice (just make sure you arrive at the right time of the year!). Some of the most famous marine animals to be found in Cape Verde are turtles and humpback whales.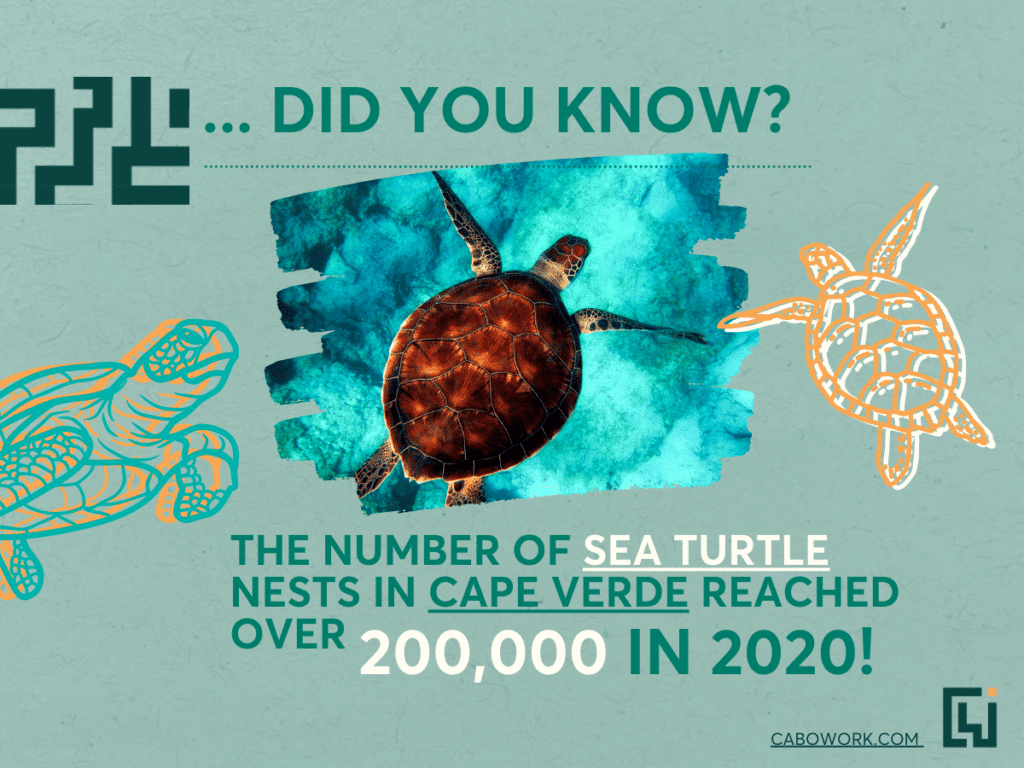 Four of the world's seven turtle species can be found in Cape Verde, with the loggerhead turtles regularly nesting on the islands every year. If you arrive between the months of July and October, do see if you can go on a tour with a local guide, who will show you the best spots to find turtles without disturbing the animals.
As for the beautiful humpback whales, sightings are possible between February and May, however the peak months are March and April. Again, arranging a tour with a verified local expert is advisable to give you the best possible chance of spotting whales
Accommodation in Cape Verde
Accommodation options vary depending on which island you will be staying on as well as your budget. Islands such as Boa Vista and Sal cater for international visitors – there are many hotels, resorts, and apartment options to choose from. However, these options tend to be more expensive than the more local options available on other islands, especially during the high season for tourism.
If you choose to travel between a few of the islands, then you may well try renting a guest house or room, which is likely to be cheaper.
Food and drink
Much of Cape Verde's rich culture can be found in the country's food. From cachupa to pastel, we highly recommend trying the local dishes for a true taste of Cape Verdean cuisine. You'll be spoilt for choice when it comes to seafood – don't forget to try the fish of the day!