Key Takeaways from This Article:
Remember: Some cafés in Cape Verde won't have easily accessible power outlets, so make sure to be fully charged and also bring a power bank with you if you can!
Less than a minute's walk from the beach of Santa Maria lies Cape Fruit, a tropical-themed café with a host of tantalising (and undeniably fruity!) options on the menu. Open from 8 am to 4 pm, it's a fantastic place to grab your morning coffee and breakfast while getting started on your work for the day.
The café has complimentary Wi-Fi and is home to a few furry cats who lounge on the sofas while the friendly staff whisk between tables.
We've visited Cape Fruit many times now, and have found that recently it's become a bit more expensive. However, if you're searching for somewhere with reliably good breakfast and lunch options that's only a few steps away from the beach, it's a great option.
What we love about Cape Fruit:
Complimentary Wi-Fi
Incredible smoothies
Diverse menu options
Outside seating
Our tip: We highly recommend trying out the fresh fruit salads and smoothies at Cape Fruit!
Another great option for coffee lovers is the Esplanada Bom Gosto café. Located less than a minute from the city centre, this café offers a well-priced menu, a variety of snacks, local beer, and some delicious crepes for when you want to treat yourself.
Open from 8 am to 10 pm, this restaurant is a great space to get your afternoon work in, followed by an evening adventure through the streets of Santa Maria. The staff members are also extremely friendly, so you'll feel right at home working here.
What we love about Esplanada Bom Gosto:
Get in contact with the locals
You'll be back for the crepes!
Free WiFi
Papaya is a charming café nestled in the heart of Santa Maria on Sal Island, Cape Verde. With its relaxed ambience and a choice of both outdoor and indoor seating options, it's a great stopping point for digital nomads searching for somewhere to work for a while and grab a bite to eat.
The best part? It's open from 7 am to 10 pm every day, accommodating the diverse schedules of us remote workers.
Like all cafés in Cape Verde, keep in mind that trying their delicious food and refreshing beverages is encouraged during extended stays. Papaya also couldn't be more conveniently located for digital nomads like us. Imagine taking a short one-minute stroll to the beach for a refreshing break amidst your work sessions – it's the best!
If you're looking to network or collaborate, you'll be pleased to know that nearby coworking spaces are just a few minutes away on foot.
What we love about Papaya:
Charming and cosy atmosphere
Flexible operating hours
Delicious diverse menu options
A few minutes walk from coworking spaces
Art Kafé is a pretty new spot that opened up in 2022, offering great food with a cultural and light-hearted atmosphere. In our eyes, it's a fantastic spot for digital nomads seeking a place to work that's got tons of character. The friendly staff create a welcoming ambience that instantly puts you at ease!
Open from Tuesday to Sunday, with extended hours from 10 am to 11 pm, Art Kafé is a great choice whether you're looking to get some work done or simply enjoy a nice meal (or both!). With reliable Wi-Fi available, you can stay connected while immersing yourself in the local and international art that's hanging from the walls.
Just like the art, the menu at Art Kafé showcases a fusion of local Cape Verdean dishes and international cuisine which are nothing short of delicious. When I last visited, I had the xauxau rice, which was incredible. I really couldn't put my fork down!
What we love about Art Kafé:
Cultural and light-hearted atmosphere
Extended operating hours: 10 am to 11 pm
Fusion of local and international flavours
Tranquil escape from the centre
Exceptional service and friendly staff
The Best Cafés in Santiago
Hop over to Santiago, home of the capital of Cape Verde, Praia, and you'll find the cosy Livraria Nho Eugenio. This is the perfect place for book lovers, as you'll find books literally lining the walls here.
With regular events discussing renowned writers, poets, and intellectual thinkers, combined with an array of tasty food and great service, expect to feed your stomach as well as your mind as you work here.
What we love about Livraria Nho Eugenio:
Ideal for book lovers
Air conditioning
Indoor and outdoor seating
A quiet retreat from busy city life in Praia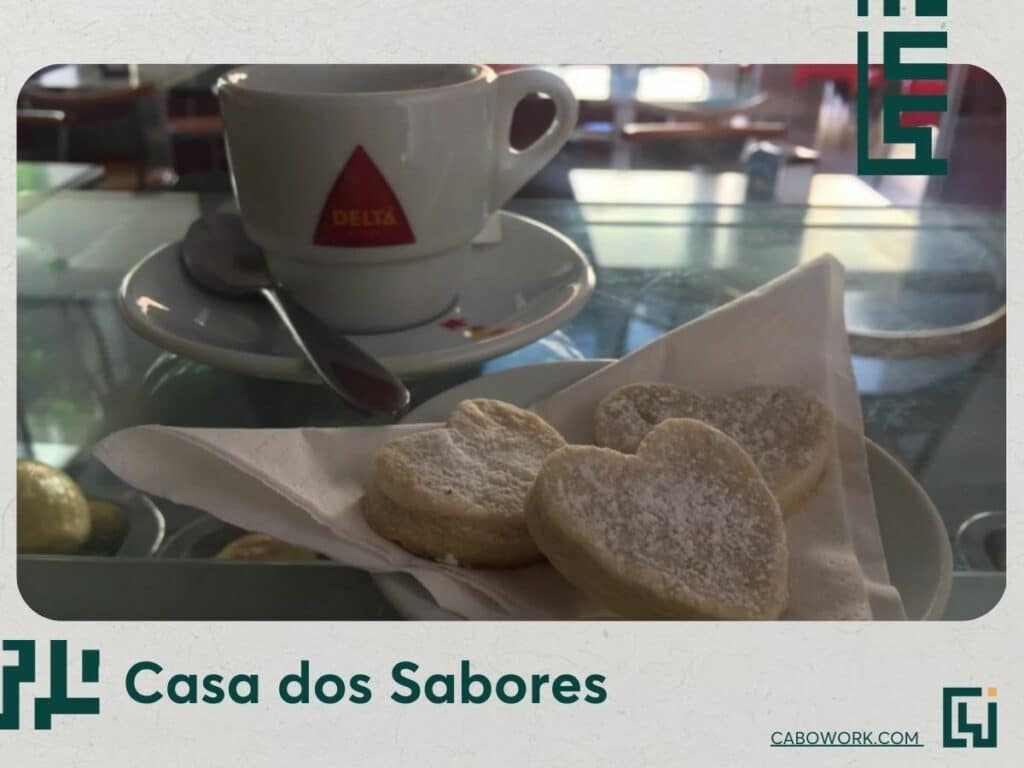 Have you decided that city life is for you, but still want to take part in the local culture and traditions? Well, Casa dos Sabores (AKA the House of Flavours) in Praia is the place to visit!
Closed on Mondays but open from 7:30 am to 10:00 pm every other day, this is a great place to be if you want to enjoy a cup of coffee while reading a book or getting some work done.
You can also sample the local cuisine and grab a light evening meal here, with a lot of amazing food on offer, such as our favourite Cape Verdean dish, cachupa. Bring a friend or two, and you both can enjoy the true Cape Verdean experience that this café has to offer.
What we love about Casa dos Sabores:
Authentic local food
A cosy and warm environment
Serves great breakfasts
Friendly staff
From the moment you step inside Natura Coffee Shop, you'll be wrapped in a warm and welcoming atmosphere, where friendly vibes are just the beginning! With its generous operating hours from 7 am to 10 pm Monday to Saturday, and 8 am to 10 pm on Sunday, this gem is a great spot for digital nomads looking for a cosy work environment throughout the week.
When it comes to staying connected, they have you covered with reliable Wi-Fi, allowing you to seamlessly tackle your tasks while enjoying the option of indoor or outdoor seating. But here's the real treat: their menu is a haven for health-conscious individuals, with an impressive array of vegan-friendly dishes and fresh fruit juices made without any added sugar. From savoury delights to refreshing sips, they've got your well-being in mind.
So, whether you're savouring their signature cachupa or treating your taste buds to the wonders of their vegan creations, Natura Coffee Shop comes highly recommended!
What we love about Natura Coffee Shop:
Warm and welcoming atmosphere
Reliable Wi-Fi and cosy seating
Vegan-friendly menu with fresh flavours
Located in Praia on Santiago Island, Tambake is one of our favourite spots to hang out at for healthy organic food and a friendly working environment. With a strong emphasis on organic and plant-based food options, this café caters to individuals who prioritize their well-being and the environment. In fact, the café is committed to promoting a sustainable and eco-friendly approach to dining, making it a conscious choice for those with a taste for healthier options.
Tambake's convenient operating hours, from 9 am to 7 pm Monday to Friday, and from 10 am to 2 pm on Saturday, make it an excellent choice for a wholesome breakfast or lunch. Whether you're looking to start your day on a healthy note or refuel with a nutritious midday meal, it's definitely worth stopping by Tambake!
What we love about Tambake:
Health-conscious organic and plant-based options
Sustainable and eco-friendly approach
Convenient hours for breakfast and lunch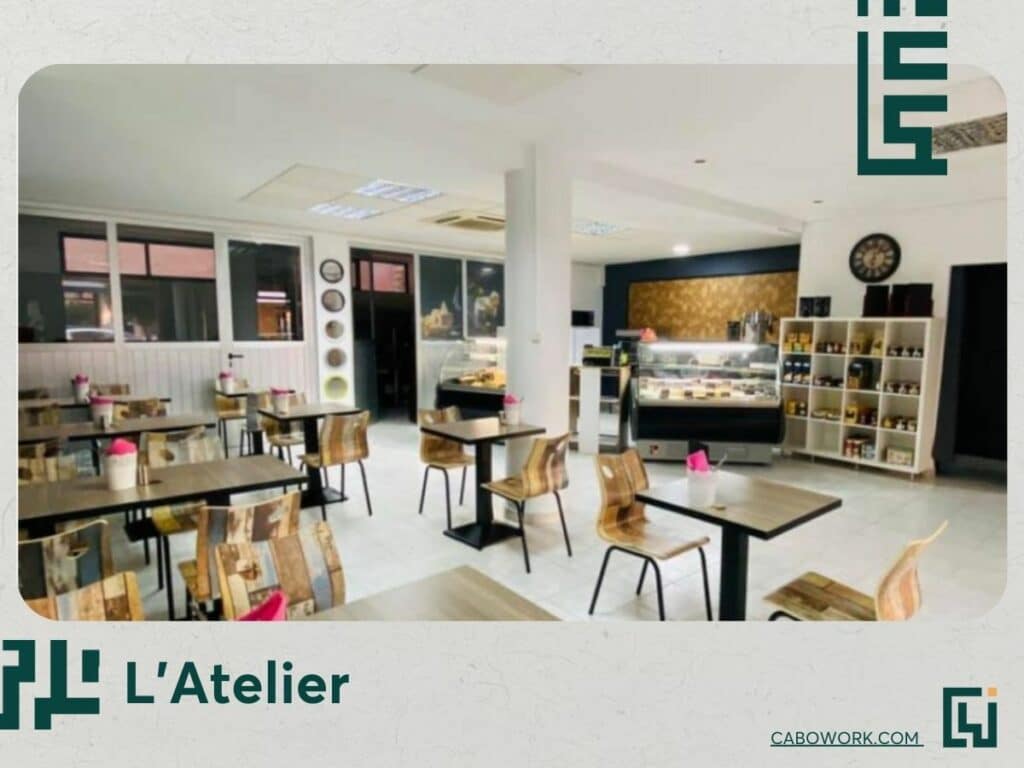 Tucked away in Praia on Santiago Island, L'Atelier is the place to be for good vibes and great food. Step into this inviting café and experience their focus on quality dishes, top-notch service, and a staff that's always ready to make your visit memorable. Whether it's breakfast, lunch, dinner, or a quick bite, L'Atelier provides a great setting to enjoy a meal while also getting in a bit of work too.
At L'Atelier, they've got your cravings covered from morning until night. Open from 7:30 am to 11 pm Tuesday to Saturday, and 7:30 am to 1:30 pm on Mondays, the flexible hours make it a great pick if you find yourself looking for somewhere to get some work done.
What we love about L'Atelier:
Good vibes and great food
Attentive service and memorable experiences
Diverse menu with tasty highlights
The Best Cafés in Boa Vista
There's a lot to love about Boa Vista, with the white dunes stretching for miles towards the horizon. Take the essence of a chilled-out island and distil that into a café, and you have Café Encontro.
Located in Sal Rei, a popular destination for tourists looking to explore the relaxed and undoubtedly island of Boa Vista, Café Encontro is a great space to enjoy a coffee while getting invested in your work.
What we love about Café Encontro:
Free Wi-Fi
Local feel
Fantastic smoothies and coffee
Seconds away from the beach
The Best Cafés in São Vicente
Mindelo is known as the hub of Cape Verdean culture, and for good reason too! With live music pouring through the streets and the famous carnivals taking place each year, Mindelo is absolutely bursting with tradition.
Café Verde is found right in the centre of town and serves a variety of food and fresh drinks. You'll be able to get your coffee fix here while admiring the fantastic building the café is situated inside. Let's not forget that this café also offers strong Wi-Fi!
Café Verde also has some great food on offer, including fresh fish tacos and grilled tuna sandwiches.
What we love about Café Verde:
Fresh pancakes, organic food… Tasty!
In a unique location
Serves a fantastic breakfast
Low prices
If a turntable playing classic Cape Verdean music doesn't breathe culture, then we don't know what does. This cosy space located in western Mindelo is perfect for a coffee and to catch up on work. You'll feel right at home as you chat with locals and enjoy the music and poetry events that take place.
There's also a variety of incredible cakes and tasty snacks to be had as well. Check out Bombu Mininu in Mindelo to enjoy an intimate café experience while you work.
What we love about Bombu Mininu:
A variety of cultural events held here
Meet local people and make friends
Relax in a true 'no stress' environment
Affordable food and drink
Situated in the heart of Central Mindelo on São Vicente Island, Mi Café offers a lovely and welcoming atmosphere. If you're seeking a comfortable work environment, you'll also appreciate Mi Café's reliable Wi-Fi, which is great for seamless remote work or just browsing.
Mi Café is open from Monday to Friday, serving customers from 6 am to 1:30 pm, and on Saturdays from 8 am to 12:30 pm. They are closed on Sundays, giving the staff a well-deserved break!
When it comes to the menu, Mi Café serves up delicious breakfast and lunch options to satisfy your cravings. From natural juices to delectable sandwiches and more, you'll find a variety of tasty items on the menu to fuel your productive day.
What we love about Mi Café:
Welcoming and friendly atmosphere
Reliable Wi-Fi for remote work
Convenient coworking-style desks
Delicious breakfast and lunch options
Metalo Restaurante & Fast Good
Metalo is more than just a café; it's a restaurant that has gained a reputation for serving delicious dishes at affordable prices. With live music featured every day from 8.30 pm, the atmosphere is infused with the traditional sounds of Cabo Verde, creating a local jazz vibe that adds to the charm of the place.
Metalo opens from 8 am to 12 am Monday to Saturday, and from 5 pm to 12 am on Sundays. It also offers plenty of seating, making it a great place for digital nomads to visit, especially during the daytime when it tends to be a bit quieter. In the evening, the atmosphere shifts to a more restaurant-like setting, and it does tend to get busier.
When it comes to the menu, Metalo serves up tasty delights and offers a variety of options, including some delicious burgers and desserts. There are a ton of options on offer, but if you love burgers, you have to try one here, like their signature Bacon Burger!
What we love about Metalo:
Lively atmosphere with daily live music
Delicious and affordable dishes
Wide selection of tasty burgers
Outstanding service and ambience
Enjoyable place to work
Should you work in a coffee shop or coworking space?
There are quite a few options out there now for digital nomads searching for a place to work. This does depend on the country you want to explore, but whether you are travelling around Europe or further afield, you can usually find a coffee shop at the very least.
However, in areas that are more established as digital nomad hotspots, you'll also find coworking spaces, which offer a more office-styled approach to remote work, without the awkward small talk around the water fountain.
In a coworking space, you'll find desks where you can work, as well as information on local networking events and meetups to join.