The 10 best digital nomad tools in 2023
With new services and tools for digital nomads being brought out every day, deciding which ones are best for you can be a daunting task. In this guide, we've selected 5 categories that you should focus on, whether you are a beginner digital nomad or are looking to update your existing list of online tools.
For complete transparency, we have also included info on whether the tool has a free or paid version, and what benefits these bring.
Best tools for: Managing your finances
From budgeting for activities to paying rent for your accommodation, effectively managing your expenses is a large part of achieving success as a digital nomad. Here are two of our favourite financial apps, plus an extra bonus!
1) Wise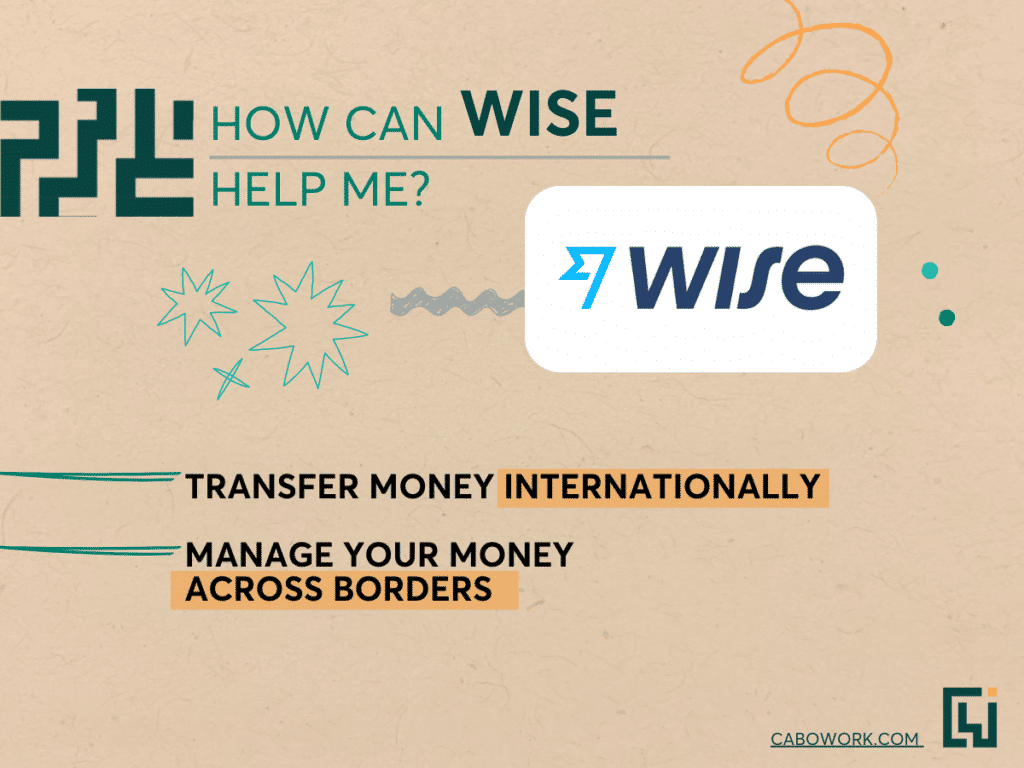 The first digital nomad tool on our list is Wise, a very popular money transfer service. Used by nomads around the world to move money internationally, you can also use this service to make payments with a fair exchange rate.
It's especially popular for nomads who spend an extended period of time in one location and are looking for a cheap and fast way to access their money.
Free to use? – Yes. However, there are small, transparent fees for sending and converting money.
Links: www.wise.com/ | Google Play Store | Apple App Store
2) XE Exchange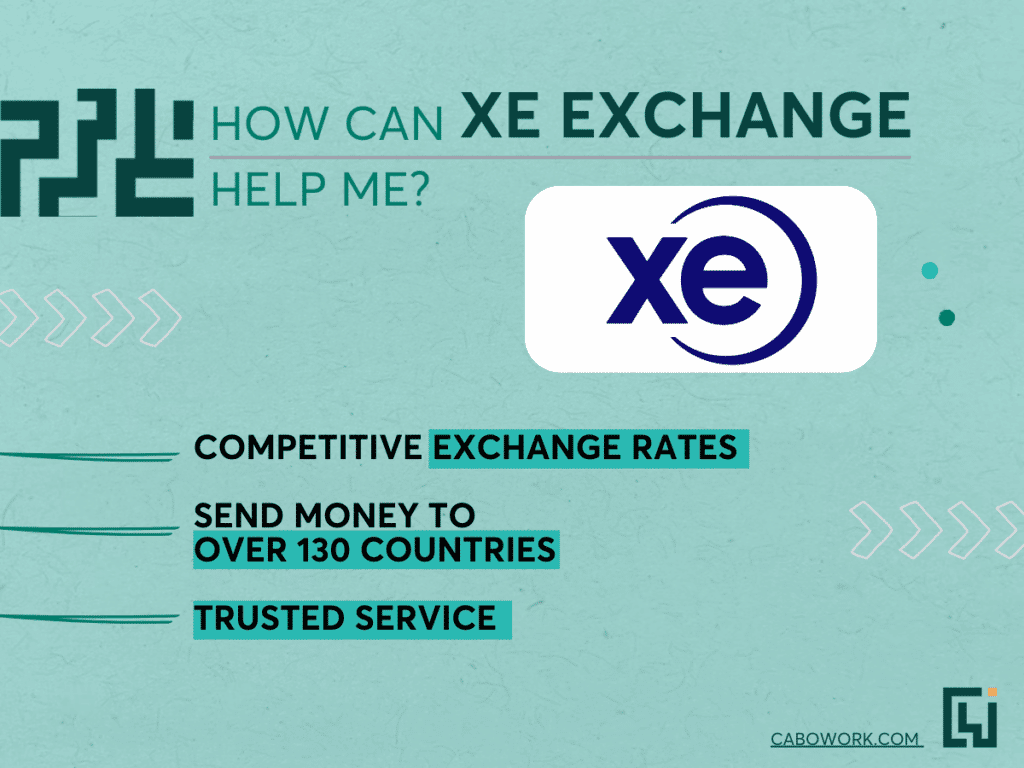 Struggling to get your head around the ever-changing exchange rates? XE has you covered. While they do provide money transfer services, one of the most useful parts of this tool is the up-to-date exchange rates that are free to view. If you're standing outside a currency exchange shop, you can quickly whip out your phone to see how close the offered rate is to the mid-market rate.
Free to use? – Yes. If you decide to use their money transfer service, there are fees associated with this.
Links: www.xe.com/ | Google Play Store | Apple App Store
Bonus: Budget planning apps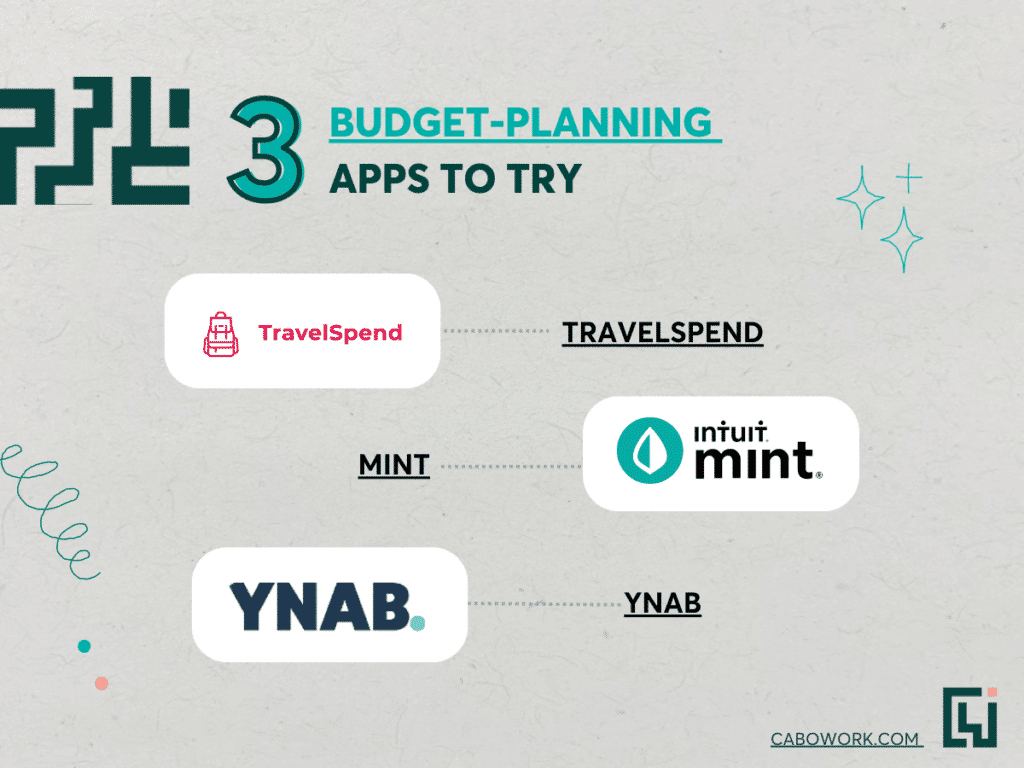 With many excellent ones to choose from, budget apps are abundant online. Most of these have a free or trial version for you to test the app, as well as a paid version. In brief, here are three of our favourites for you to check out.
TravelSpend – With a simple interface, this app helps track your day-to-day expenses. | Google Play Store | Apple App Store
Mint – A very popular budgeting app that can connect with your bank account to keep on top of expenses.
| Google Play Store | Apple App Store
YNAB – Another great app is YNAB (You Need A Budget). There are many fantastic features to explore; however, this app does have a slightly higher price tag. | Google Play Store | Apple App Store
Best tools for: Organising your schedule
As many digital nomads quickly find out, managing your schedule effectively is crucial to keeping on top of your work while enjoying your travels. Nobody wants to be cramming in their work at the last minute, causing unnecessary stress (especially if something goes wrong). Here are two of the best apps we've found to help you achieve a balanced digital nomad lifestyle.
3) Evernote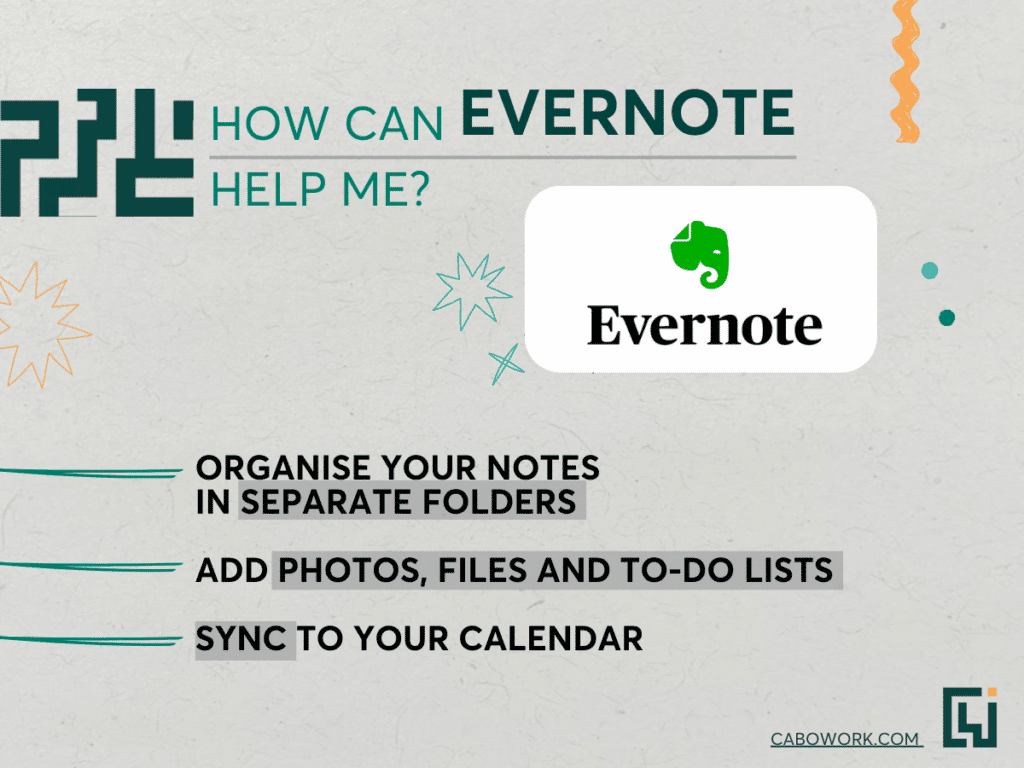 With a user-friendly task management system and straightforward note-taking functionality, Evernote can be found on the phones of many remote workers. It combines multiple other useful features too, such as document scanning, a calendar, and more. You can also integrate Evernote with other apps that you like to use, such as Gmail, Outlook, or Google Drive.
Free to use? Yes, there's quite a bit of functionality to be found in the free version. There is also a premium service which provides greater storage space, offline access, syncing across 3 or more devices, and more.
Links: www.evernote.com | Google Play Store | Apple App Store
4) Notion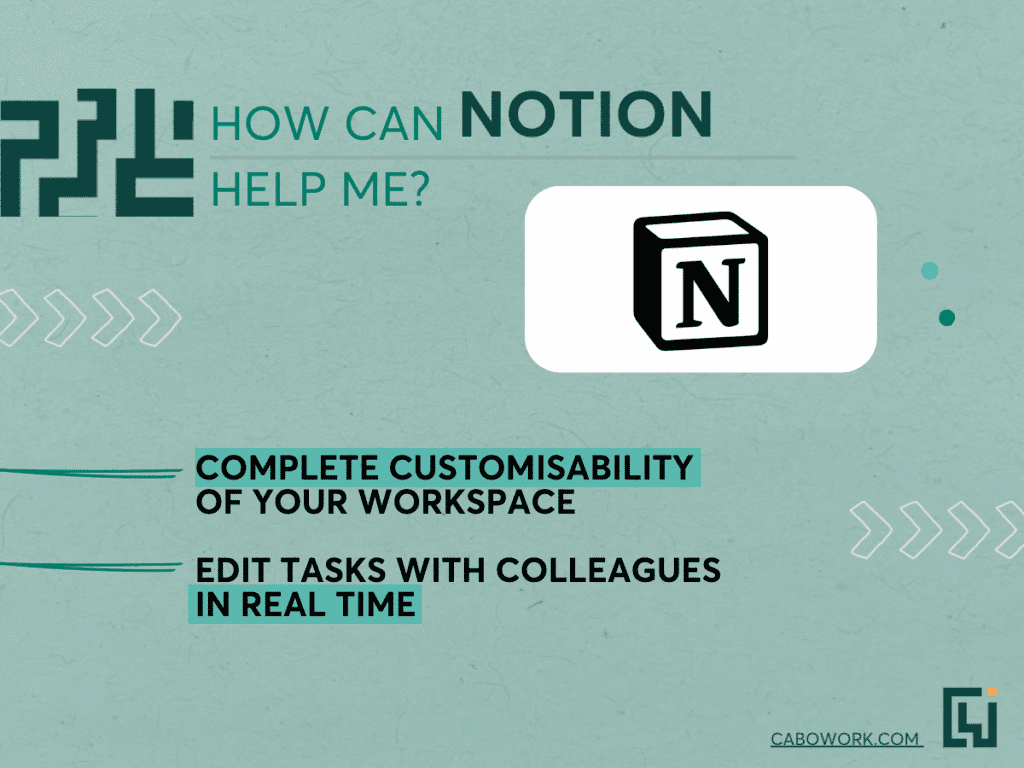 Over the past few years, we've seen Notion become more and more popular among digital nomads. (We've lost count of the number of times we've heard it mentioned at international meetups!)
This project management app can be used by anyone, from individual freelancers all the way to small businesses and beyond. With thousands of templates available that you use to create boards for your projects, keep a diary, write down your schedule, or even take notes from your favourite books, Notion is a deceptively powerful tool.
Free to use? For individual users and small businesses, you'll get all you need from the free version. There are also countless templates available for purchase.
Links: www.notion.so/product | Google Play Store | Apple App Store
Best tools for: Planning your travels
Now we get to the exciting bit, planning where exactly you want to work from and explore! But just how do you find the right destination for you? While some countries may instantly come to mind, you'll want to take some time to explore your options and decide the best way of getting there. That's where our hand-picked digital nomad tools come to your aid.
Tip: Looking for travel inspiration? Check out our recent article on the top low-monthly income digital nomad visas.
5) Teleport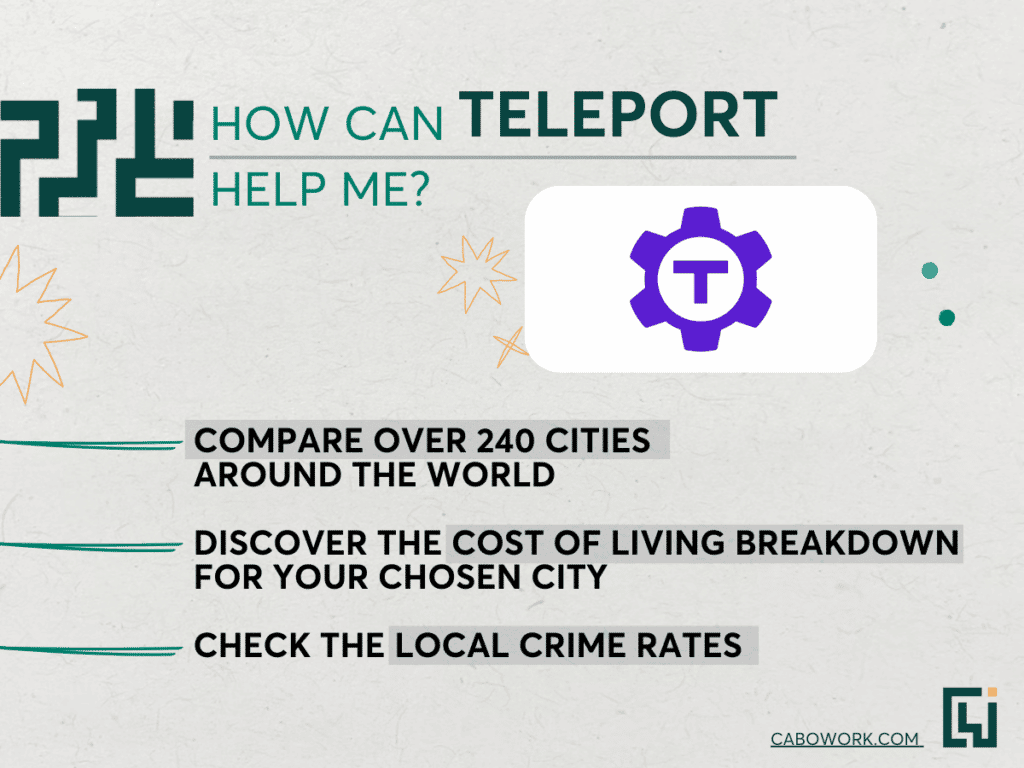 While us digital nomads would love to teleport straight to our chosen cities, sadly we're not quite there yet… In the meantime, Teleport.org is your next best option for getting an in-depth look at your destination before you leave. Simply enter the name of your selected city, and you'll be given a detailed breakdown of a variety of factors, including cost of living, safety, tax, internet access, leisure activities, LBGT rights and much more.
While it's unlikely that you'll be travelling to a city with terrible or no WiFi, it's always worth double-checking before you hastily book those flight tickets!
Free to use? Yep! This is a straightforward, free tool that's perfect for digital nomads.
Link: www.teleport.org/
6) Rome2rio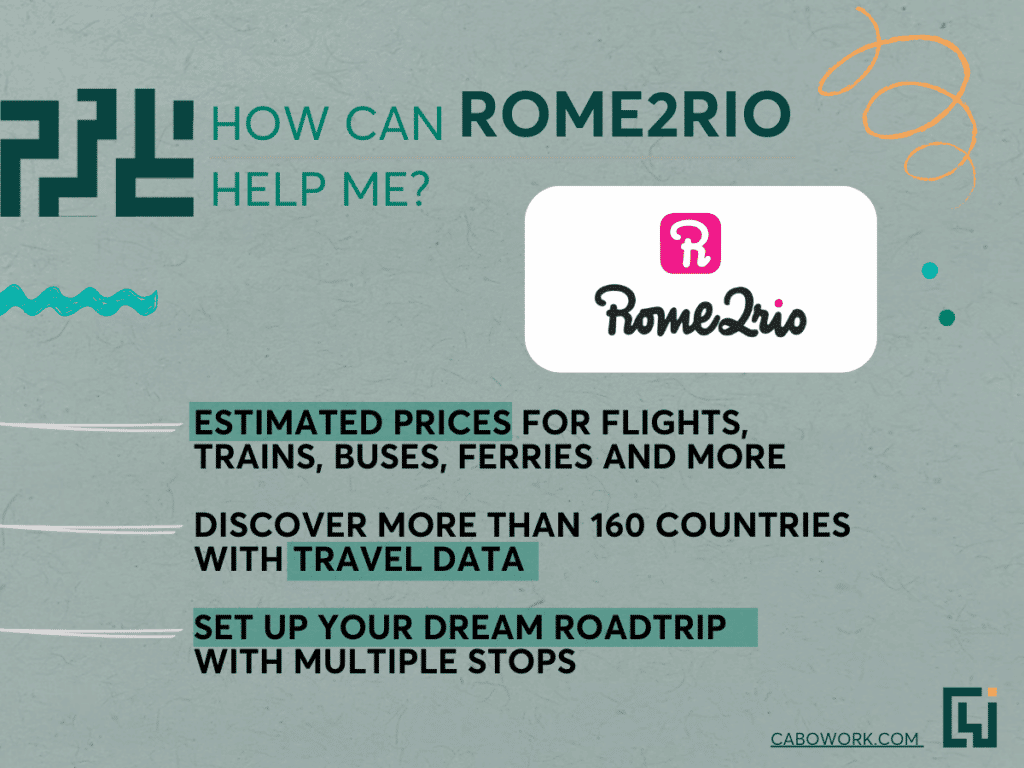 With your notebook of countries you'd like to visit, it's now time to figure out how you're going to get there.
There are many great tools out there for digital nomads looking for the most affordable means to reach their destination, and Rome2Rio is among the best. Using their online tool, you can compare hotel and flight prices, find the quickest route to your destination, and so much more. Digital nomad life just got a whole lot more straightforward!
Free to use? Yes! There's no paywall stopping you from finding the best deals on cheap flights and more.
Links: www.rome2rio.com/ | Google Play Store | Apple App Store
Best tools for: Keeping yourself safe
Personal safety is something that you should always keep in mind as you travel. In the modern age, however, it's not just your own safety, but the safety of your files and data which can also be at risk. Let's look at the ways you can keep yourself and your files safe as you travel.
7) Using a VPN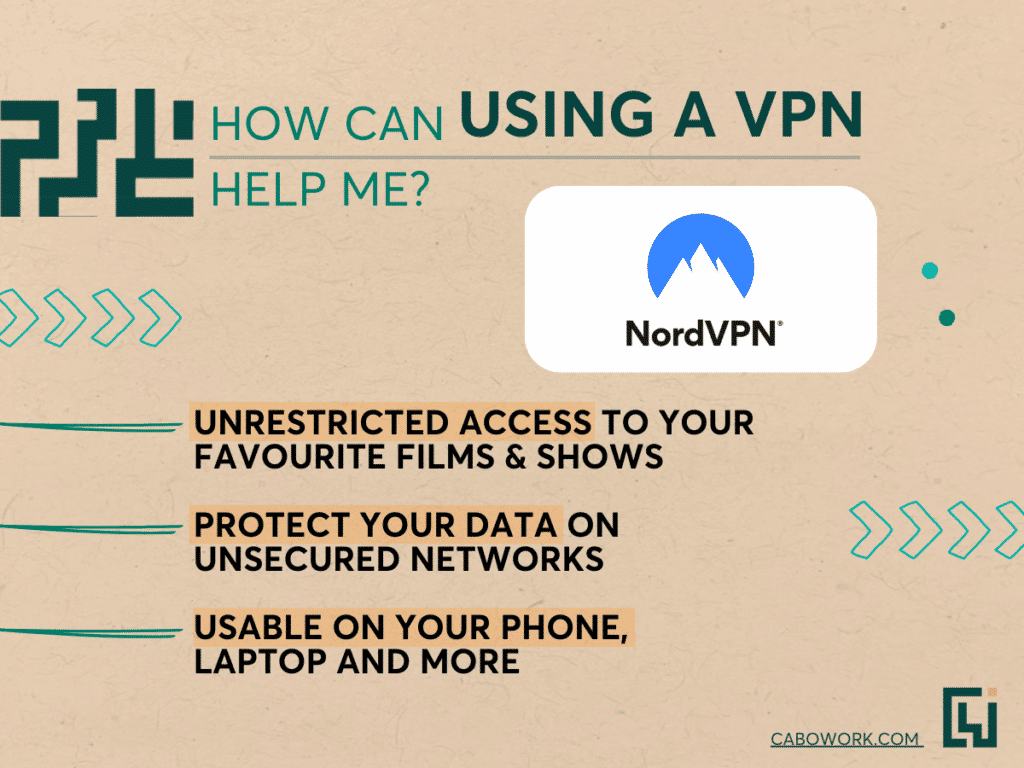 Most digital nomads when they start their remote work will have at some point learned what a VPN is. If not, there's always time to learn! VPNs (or Virtual Private Networks) are handy tools that mask your internet traffic, which is especially useful when working in a space with public Wi-Fi, as without one your traffic can potentially be intercepted.
There are plenty of VPNs to choose from, however two of the most popular are NordVPN and ExpressVPN. These services often run sales on their annual plans, with free trials available too.
Free to use? You can find VPNs that offer free trials, however for the fastest connectivity speeds you'll likely need to pay for the full versions.
Links:
NordVPN | Google Play Store | Apple App Store
ExpressVPN | Google Play Store | Apple App Store
8) bSafe
Personal safety should not be overlooked when travelling as a digital nomad, especially if you are travelling alone. GPS tracking tools such as bSafe can be used to monitor your location (only when you allow them to), providing real-time location information for your friends and family, which you set up in the app. This is especially useful if you are travelling at night, or are travelling through more remote areas.
When you return to your hotel room or apartment, you can use the "I'm home" function to let your close contacts know that you are safe.
Free to use? Yes, bSafe is a free app for Android and iOS. There is also a paid version available.
Links: www.getbsafe.com/ | Google Play Store | Apple App Store
Best tools for: Finding your community
Moving to a new country can have its challenges, but building a strong network of like-minded digital nomads can make all the difference. From getting tips from those who have lived there for longer to making lasting friendships, it is really worth the effort to get out there and meet new people on your travels. Here are two tools that can help you with that.
9) Meetup
From wine-tasting events to pub crawls, there are all kinds of events hosted on Meetup by enthusiastic locals and travellers alike. The sheer variety of events, hosted across countries all over the world, means that you'll likely find some that interest you. These meetups are the perfect way to meet fellow digital nomads, as well as local people looking to get to know an international crowd.
Free to use? Yes. It's free to browse and join events, although some events and excursions may require you to put down a deposit to secure your space.
Links: www.meetup.com/| Google Play Store | Apple App Store
10) WorkFrom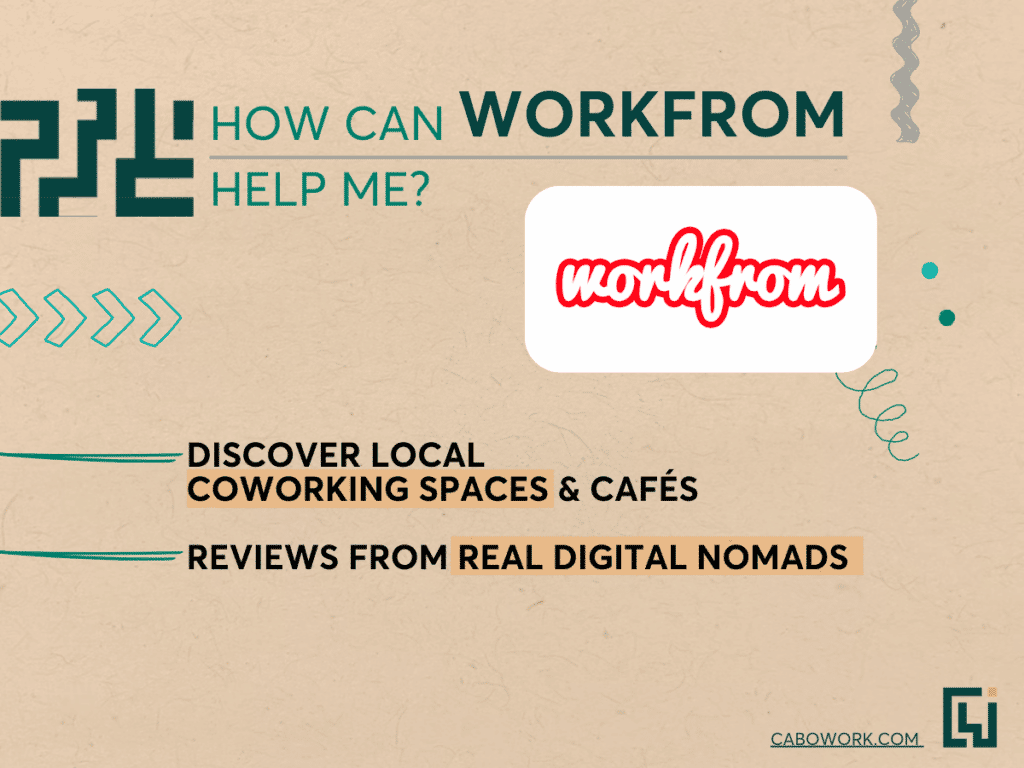 While apps like Google Maps can be great for finding local cafés and coworking spaces, it can be a bit more difficult to find out if these places are good for remote work. WorkFrom helps you discover the best local coworking spaces and cafés which have been rated by other nomads just like yourself. Find out whether the Wi-Fi is fast and if the service is good with reviews and tips from your fellow travellers.
Free to use? Yes, you can browse reviews and tips from other users for free.
Links: www.workfrom.co/ | Google Play Store